New name, concept do not atone for Buddha Bar: FABB
The Jakarta Post, Sept 3, 2010
Jakarta, Indonesia -- The Anti-Buddha Bar Forum (FABB) is persisting in its demands that the Buddha Bar be shut down, even after the company changed its name to BB Restaurant and Lounge.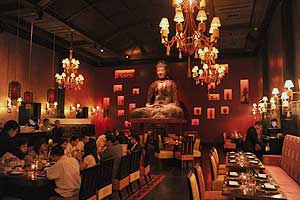 FABB attorney Sugianto Sulaiman said the restaurant's owner, PT Nireta Vista Creative (NVC), continued to use the name Buddha Bar in its permits issued by the Jakarta Tourism Agency on Sep. 12 2008.
"BB is an abbreviation of Buddha Bar. We want the agency to revoke its permit and close the place permanently," he said, adding that if NVC wanted to open the place under a different name and concept, they had to apply for a new permit.
"As long as they continue to use the old permit under the name of Buddha Bar, we will fight to have the place shut down based on rulings by the Central Jakarta District Court," Sugianto said via telephone.
FABB consists of representatives from the country's two largest Buddhist organizations: the Indonesian Organization for Buddhist Followers (Walubi) and the Indonesia Sangha Buddhist Conference (KASI).
The court on Wednesday ordered the city's tourism agency to revoke the Buddha Bar's permit because it used ornaments and symbols of the Buddha, considered as a blasphemy.
The court ruled that NVC, the agency and Jakarta Governor Fauzi Bowo had to pay Rp 1 billion (US$110,000) in compensation to FABB, twice the amount requested by the FABB.
NVC made several changes to the controversial restaurant after protests from Buddhists in the city.
"About a month ago, our management changed the name to BB Restaurant and Lounge," an NVC official, who declined to be named, told on Thursday.
She said NVC had also removed Buddhist ornaments from the place. The restaurant also opens daily between 5 p.m. and 10 p.m. during the fasting month of Ramadan.
NVC has not officially commented on the recent court ordder.
The first Asian franchise of the French-owned lounge chain opened on Nov. 25 2008 in an event attended by the governor.
The company claimed to have permission from several Buddhist organizations to use the Buddha name and concept for the bar.
However, the two organizations denied that they had granted any permission.
Key religious figures and liberals last year signed a petition to protest the use of religious icons by the Buddha Bar restaurant, calling for the owners to cease using the symbols for commercial purposes.
NVC's attorney Kurnia Girsang previously said that his client would file an appeal.
"We will not close the place or pay the plaintiffs as the appeal is ongoing," he said.