The Buddha light
by PP Wangchuk, Hindustan Times, Aug 30, 2011
Leh, Ladakh (India) -- This year is auspicious for India and Buddhists all over the world. It is the 2600th year of the Buddha's enlightenment. A number of celebrations in the form of prayer meetings, seminars and conferences are being organised all over the world.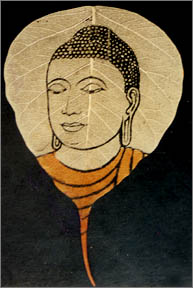 The Buddha was not a mere Buddhist; he was universal and his principles are the pillars of all religions of the world. His Four Noble Truths and the Eightfold Path have changed the very outlook of life and people all over the world have seen in Buddhism an "alternate way of life".
Those were the points of discussion on the role of the Buddha and Buddhism on one's life and culture at a seminar organised by the Central Institute of Buddhist Studies (CIBS), Leh. If India is seen today as a liberal and multiracial and multicultural society existing harmoniously and homogeneously, Buddhism gets a fair share of the credit.
Ven. Wangchok Dorjee Negi, Principal, CIBS, said that the Buddhist way of life was one of simplicity, generosity, contentment and liberality. These enable man to face the difficulties and sufferings that cripple life. Buddhism makes one see the difficulties of others and hence one becomes a "giver" and a "helper". By being generous and loving, one does not lose anything but gets rewards in multifold.
Other scholars felt that Buddhism today had enabled the troubled minds all over the world have solace in Buddhism because of its qualities like adaptability, scientific nature and its stress on tolerance.
Buddhism, as Nehru had said, "Even as it ceased to be counted as a separate kind of religion except in some pockets of the world, remained ingrained in the culture and minds of the people and hence a national way of life in India.
Gandhi too shared this view when he said, "Buddhism influenced the Indian life in a hundred ways." Buddhism is a science of the ways of life and the Buddha was perhaps the greatest social scientist. He enabled mankind look at life from an angle that soothed life.