The monk who flew in a jet
Source: Business Bhutan, January 1, 2011; Published on the Buddhist Channel, Nov 14, 2011
Kuala Lumpur, Malaysia -- In 2008, as my friend and I sat down in the restaurant to eat our dinner, we saw a man in the hotel lobby. Immediately, we assumed that he was alone so decided to invite him for dinner.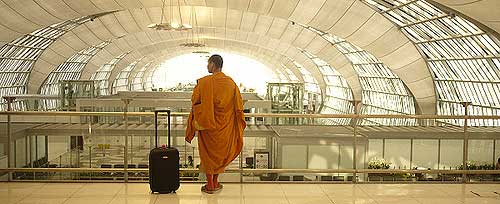 "I don't eat dinner," the elderly man declined the offer, "I am on my way to the gym."
The next morning, I met him in the hotel lobby and noticed that he was wearing the same clothes.
"Excuse me," he said politely and then looking at the young monk sitting next to me, said affectionately, "Son, it is time for us to go home." The son obediently picked up his small cloth bag from the floor and followed his father.
Earlier, curious to see a monk in the Uma hotel in Paro, I had started a conversation with him.
"Yesterday was my father's 70th birthday and he wanted me to spend it with him in a special place," the monk informed me. The monk could have been in his early thirties. He had short hair and was wearing saffron robes and had a pair of slippers on. "What a beautiful country you have? They had flown into Paro in their own jet.
So who are these people? The elderly man is Ananda Krishnan and the monk his only son.
Krishnan is the second richest man in Malaysia . According to Forbes he is worth 7.6 Billion dollars. The Tamil Malaysian of Sri Lankan Tamil origin is a self made man and is a notable philanthropist but leads a low profile life. He and his son are both Buddhists.
Few years ago, the billionaire lost his son. He started to look for him and his search stopped in a Buddhist monastery in north Thailand . Shocked to see his son in saffron robes, short hair with a begging bowl in his hand the father invites his son for a meal.
"I am sorry; I cannot accept your invitation." Like all my fellow monks, I have to beg for my food." Krishnan reply made headlines, "With all my wealth I cannot even afford to feed my own son."
The son still lives in the monastery in the forest of Thailand and like all the monks in the monastery depends on other people's generosity for his sustenance.
Hearing stories like these one wonders if we are giving up everything that we already possess to acquire things that we really don't need.
This story clearly demonstrates that human contentment and well being in real terms requires us to go beyond physical, mental, and emotional dimension. Krishnan's son clearly shows that detachment could be a greater wealth and devotion a bigger asset in our lives.