Maverick Buddhist nun dedicated to helping the needy and homeless
By TAKESHI NISHIDE, The Japan Times, Feb. 2, 2012
Kyodo, Japan -- Koshu Hirao, 58, is not your ordinary Buddhist nun. Since leaving the Jishu sect about 20 years ago because of discord over her antinuclear activities, she has kept her head shaved and her religious garb but has stayed fervently independent.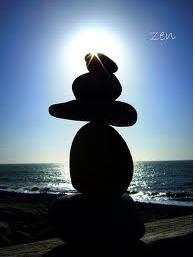 But this unorthodox devotee - who jokingly refers to herself as a "fake nun" who enjoys "costume-playing" - has found her mission in helping the needy, setting up shelters for homeless people and refugees, and providing nursing care for those with severe illnesses.
While Hirao has been doing this for years, her activities have increasingly come under the spotlight as many people have become more aware of the importance of social bonds after the March disasters.
As part of her activities, she heads Street Workers Co-op Potalaka, a nonprofit organization that supports the homeless. Potalaka is an ancient Dravidian word that means utopia.
In early January, Hirao attended a "shijukunichi" (49th day after death) memorial service at Myoshoji Temple in Mito, Ibaraki Prefecture, for a man who died of colon cancer in November at the age of 61.
After moving from shelter to shelter, the man, a native of Hokkaido, spent three months at a facility operated by Tokyo-based Potalaka, before being hospitalized.
Just before passing away he expressed hope of returning to Potalaka, and died peacefully the next morning after being assured he would be allowed to return there.
"I wanted to do my part by seeing him off in an appropriate manner, as a divine bond made our paths cross," Hirao said. "Potalaka is a home for homeless people and the staff are their family."
Eighteen people live at Potalaka's main shelter facility, which was converted from a construction materials warehouse, most of them in their 60s and 70s. Close by is another facility, intended exclusively for women.
Some of the people at these facilities suffer from diseases such as advanced dementia and schizophrenia. As Potalaka is willing to accept people who are shunned elsewhere, Hirao receives a constant stream of applications for shelter.
Hirao also operates a shelter facility for refugees from abroad. "Nationality doesn't matter when we help people," she said. The refugees affectionately call her "Mom."
Shoko Tokumoto, a manager at a care service facility, expressed admiration for Hirao's iron will in carrying out her relief mission as a Buddhist.
"She never closes the door to anyone. That is what's awesome about her," she said.
If someone at the Potalaka facilities dies, Hirao gives a posthumous name to the deceased in line with Buddhist practice and covers the body with decent clothes before the funeral ceremony.
Her activities increased after the Great East Japan Earthquake that devastated Tohoku and sparked the nuclear crisis.
Hirao bought a vacant house in Iwaki, Fukushima Prefecture, a region where locals are fearful over radioactive fallout from the wrecked Fukushima No. 1 nuclear plant.
"Keeping the lights on at home is the least I can do," she said.
She is looking for more ways to engage in activities to support people in the disaster areas. "Everyone is looking for an excuse for doing nothing. But what we should do is take action," Hirao said. "I enjoy doing what others dodge."
Hirao, who hails from Okayama Prefecture, became interested in Buddhism at elementary school when she read about the itinerant Buddhist preacher Ippen (1234-1289) in a history book. She was captivated by the missionary activities of Ippen, who founded the Jishu sect.
When she became a nun at the age of 26, she took up residence at a Jishu temple in Obama, Fukui Prefecture, where she met Ryogen Takada, a priest who had been imprisoned before the war for distributing antiwar fliers.
Under Takada's guidance, she became involved in protests over nuclear power - activities that eventually led to her departure from the Jishu sect.
Despite her exit, Hirao still follows the teachings of "jishuseikai," a collection of sermons by Ippen. "I look to this for a warning against myself. When we set ourselves to do welfare work, we tend to indulge in self-satisfaction," she explained.
But feeling pity for the needy is not enough, Hirao said. "Like Ippen, we must stay with them, mourn with them and cry with them."
Given her lack of affiliation with a Buddhist sect, Hirao may technically no longer be a nun, but she is determined to stick with the shaved head and religious clothes, which she believes encapsulate the tradition of Buddhism.
"I cannot do away with this appearance," she said. "No, I must not throw it away."