Scent of a pristine dew
by Kooi Fong Lim, The Buddhist Channel, May 8, 2012
Petaling Jaya, Malaysia -- It was once said that meeting a good teacher is like having the chance of waking up high in the mountains and taking in fresh, pristine air. A breath like that is priceless, almost immeasurable.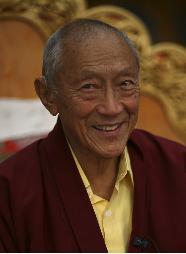 << Venerable Dagpo Rinpoche
But if you attempt to explain such an unexplainable experience to someone who has never done it, you'd probably be questioned "What is the scent of a pristine dew?"
Good teachers and wise people, like clear, fresh morning dew are never seen. They can only be experienced. And the experience can only take place in their presence, where both conditions meet and when both are present at the same moment.
Like pristine dew, the teacher that is Venerable Dagpo Rinpoche has touched many people with his humble presence, despite his low key nature. His many students vouch for the deep Dharma emanating from this gentle man, despite not knowing the language that he speaks, which is Tibetan.
Dagpo Rinpoche, also known as Bamchoe Rinpoche, was born in 1932 in the region of Kongpo, located in southeastern Tibet. Dagpo Rinpoche was recognized by the Thirteenth Dalai Lama as the reincarnation of Dagpo Lama Jampel Lhundrup when he was only two years old. At the age of six, Rinpoche entered Bamchoe Monastery where he first learned to read and write, studying Tibetan Buddhism.
Throughout his studies, Dagpo Rinpoche had the opportunity to study under many great Buddhist masters such as His Holiness the Dalai Lama, Kyabje Ling Rinpoche and Kyabje Trijang Rinpoche, and His Holiness himself. In 1959, as the Chinese invaded Tibet, he followed His Holiness the Dalai Lama into exile in India.
When Dagpo Rinpoche came to Malaysia in 1990, little did he realize the impact he would make on the small community of Buddhists here in Petaling Jaya. Over the years, the Kadam Tashi Choe Ling (KTCL) Buddhist Centre has been the home of Dagpo Rinpoche's teachings.
It is through this KTCL centre many have become devout Buddhists not just by label, but Dharma practitioners reflective of the great tradition and lineage of the Geluk School of Tibetan Buddhism.
Despite this prestigious and noble spiritual lineage, Dagpo Rinpoche today remains a master whose great simplicity, kindness and infinite patience makes him extremely accessible and allows his numerous following to benefit from his remarkable teachings and skilful spiritual guidance.
As reflection of Wesak 2012, his students here in Malaysia give their views of how Dagpo Rinpoche and his teachings have made a difference in their lives. Like pristine morning dew, their words are refreshing and invigorating, a testimony that Buddha Dharma is timeless, in whatever age we live in.
------------
"Rinpoche's voice exudes calmness and it is very pleasant to my ears. Upon meeting him for the very first time he struck me as being a very kind figure. Years later in following his retreat and teaching, I discover that he is indeed very virtuous in his thoughts and actions." - Cheryl Tan
"Though I only see Dagpo Lama Rinpoche once or twice a year, I do not feel the distance affects the relationship shared by a teacher and disciple. His words and presence are always beside me." - Sylvia Tjakra
"Through Rinpoche's invaluable commentaries on the scriptures, I find eye opening insights on the causes of suffering, what stops it, and more importantly, how to stop it. But this was just a passageway which lead to a staircase taking me up to higher levels of understanding. At each landing, the corridor runs left and right with doorways leading to more gems of knowledge. As I exit each door, I'm happy with what I've learnt and yearn to open more doors …" - Gene Lim
"I fully believe that access to Dagpo Lama Rinpoche's teachings given his lineage of previous incarnations of renowned Tibetan Buddhist Masters, the large number of oral transmissions he has personally received and his dedication in providing very precise and thorough teachings to his followers is a clear privilege." - Claire Featherstone
"Venerable Dagpo Lama Rinpoche's kindness to us is so great. He epitomizes the perfect role model - whatever Rinpoche teaches, he 'lives' by it. His love and compassion to us is greater than a mother's love for her only child." - Lim Yan Pok
"With perseverance and Rinpoche's blessings, I was able to gradually make some sense of it. I now know that my life is truly precious and full of good fortune and not only that, I am able to make use of it for many beings sake." - Sean Tan
"Serving in KTCL makes my life meaningful because I realize that it is so extraordinay and precious to have such a rare opportunity to do so. This is because our precious master's wish for the centre is so far reaching since Rinpoche's wish is for the centre to benefit all sentient beings so that they can ultimately attain true happiness and be freed of sufferings." - Vivien Pun
"Rinpoche's teachings Lam Rim provides a roadmap on the path to enlightenment. Lam Rim teachings are quite different from Abhidharma teachings or any usual subjects taught in schools in that it requires more than just intellectual understanding of the subject matter. As one listens to the teaching one simultaneously receives the lineage transmission passed down from one lineage master to another which could finally traced back to the Lord Sakyamuni Buddha himself (without breakage). As such there are tremendous blessings from the merit field, blessing one's mindstream. It helps one to purify and increase merit." - Tan Chin Szu
"The pure altruistic motivation and sincerity shown in the members of KTCL definitely draw people to participate in your Dharma activities and thus promote Buddhadharma." - Lam Chook Hong
Read also: Dagbo Rinpoche's Wesak Message
On the web: Kadam Tashi Choe Ling (www.ktcl.org.my)