Resting a restless mind
by Tara Khadro, The Jakarta Post, June 3, 2012
Bali, Indonesia -- I want to stop wrestling with my restless mind," I said to a friend one day. He suggested a Vipassana retreat at the Brahma Vihara Arama Monastery near Lovina in Bali, and I signed up to attend an eight-day silent retreat there.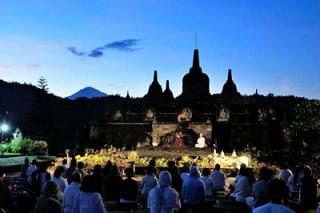 << Stupendous: The Brahma Vihara Arama Monastery near Lovina in Bali has a variety of spaces where students can reflect, including a replica of Borobudur on a grassy open field with stunning views of the sea and surrounding mountains. JP/Budhi Arta
Vipassana is a non-sectarian meditation practice. Commonly referred to as "insight meditation", Vipassana cultivates an awareness of the direct relationship between body and mind, moment to moment. The technique is simple: place attention on the breath, rest in the belly and welcome and watch all thoughts, feelings and sensations that arise.
The guiding meditation teacher was a visiting monk from Burma, Sayadaw U Tejaniya. He said he feels the purpose of meditation is to understand defilements: cravings, aversions and delusions in their many forms. Vipassana guides practitioners to consciously choose to change directions in their lives - learning how to stop running away from defilements and accepting and understanding them.
Vipassana meditation invites practitioners to take a journey into self-transformation. Daily attendees emerged out of silence for group interviews. Mealtimes proved to be challenging for the majority of retreat participants. "Greediness tends to come in as soon as a meal begins," Sayadaw said.
Laughter rose up in agreement when I said: "Yes, the craving mind yells 'I want more! I want more!' when our bellies are full."
"How do we get rid of that gnawing voice?" one student asked.
"Observe the mind," Sayadaw said. "What state of mind are you eating with? How is the mind feeling? Is it relaxed? You can get to know this talking mind. You are observing to understand the mind as it is, not to make anything disappear."
Hirok Ghosh, a Singapore businessman and 15-year Vipassana practitioner, shared a personal story: "I was teaching a university class. I saw this woman that I was attracted to speaking to a man. Anger arose. I allowed the feeling to be present and I kept on teaching. Throughout the class, I maintained a watchful awareness on my anger."
Hirok watched and inquired about this anger for four days. Eventually, insight led him to the awareness of the origin of his suffering - expectations. Hirok held expectations about giving and receiving love. After realizing that, he was then able to make a conscious choice as to how to act based on knowledge and wisdom.
Vipassana asks practitioners to remain with disturbing feelings, thoughts or physical sensations like a loving mother sits with a hurt child. Sayadaw cautioned to refrain from making a journey into the story of the disturbance. "If a pain from the past arises, it is not old. It is now. It is new."
As we sit and observe, we cultivate a forgiving, detached view. Our restless mind begins to rest. Out of this restful view, curiosity arises. We begin to wonder and ask, "What is this?" Or, "What is happening?"
These questions lead to insights about the origins of the disturbance. From insight arises wisdom, knowledge and thus understanding, naturally leading toward preventing the disturbance from reoccurring. We may encounter and welcome the disturbance many times, and have various insights before true understanding arises.
Hirok said, "Once you start your journey on the path of awareness there's no turning back and saying you wish not to be aware anymore. Awareness is automatically there. That's when I chose awareness to not being aware, because awareness gave me respite from things which caused me suffering when I was unaware."
Brahma Vihara Arama's voluptuous gardens, stupas and fountains are the perfect setting to nurture agitated retreat students to dissolve into a relaxed rhythm of moment to moment awareness. The monastery was built in 1970 and is the only Buddhist monastery in Bali. Mediation retreats are held throughout the year with visiting teachers from around the world, and are offered on a donation basis.
There are a variety of spaces on the compound where students can get to know and understand the mind. The upper tier of this four-tiered compound is a magnificent grassy open space with stunning views of the sea and surrounding mountains. This green space sits in front of a replica of Borobudur.
The Dalai Lama attended the opening ceremony for a Tibetan stupa on the grounds, and next to that stupa is a carefully maintained alcove with a statue of Gautama Buddha sitting underneath an imported bo tree - the tree that the Buddha was sitting under when he attained enlightenment. A practitioner can sit for hours cocooned in the netting of individual meditation huts set along a jungle ravine.
The monastery remains open to tourists and pilgrims while retreats are being held. One afternoon, anger arose when I was hard pressed to find a quiet place to meditate. But I remained with my anger until understanding and insight dawned.
I thought, "Aha! I'm seeking outside of myself for solitude. The tranquility I seek is inside of me!"
Vipassana shows us how to sustain that tranquility throughout everything one might experience in our daily lives. This inner equanimity is our radiant, true nature, and expresses itself as joy.
Sayadaw is an excellent example of how continual cultivation of a restful mind can enlighten us. His heartfelt teachings are transmitted on the edge of laughter.
One student asked him, "What is the right attitude if we are in a love relationship?"
"Laugh! Whatever happens. A relationship is a powerful practice. Keep laughing!" he replied.