Dying? It isnít nearly as awful as itís cracked up to be
The Bristol Post, September 19, 2012
Bristol, UK -- IT is the ultimate human fear – one we generally put to the back of our minds until we are forced to face it, but confronting our own death is probably the most difficult psychological hurdle we will ever face.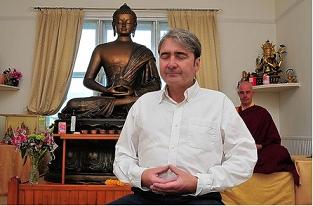 For 52-year-old Dave Thomas, who is terminally ill, his own mortality is a fear he has grappled with thanks to his powerful belief in his Buddhist faith and by using the meditation techniques he has developed over two decades as a practising Buddhist.
"This dying lark isn't nearly as awful as it's cracked up to be," the former Fleet Street journalist tells me, flashing a warm smile, as we meet at the Buddhist meditation centre he has attended for the past four years – the Amitabha Buddhist Centre in Gloucester Road.
The centre is run by a community of Buddhist monks, including Dave's own personal meditation tutor Kelsang Chonder, who bristles with kindness as he shuffles out of the room in his full monastic habit to arrange the coffee.
A Bishopston landmark for the past 20 years, the centre, based in an old vicarage, has trained more than 5,000 Bristolians in the ancient Buddhist art of meditation.
For Dave, the calming aspects of meditation came into their own after being told he had only a short time to live.
"I was diagnosed with pulmonary fibrosis back in 2010," Dave explains. "I had found myself getting increasingly breathless, and had no idea what was causing it.
"But the consultant at the BRI explained the condition to me – essentially the air sacs within my lungs are increasingly failing to transfer the oxygen from the air to my bloodstream. Sadly it is terminal without a lung transplant.
"That was a couple of years ago now, and as things currently stand the doctors believe I may have just a couple of months to live.
"Being told you are dying is an extraordinary experience. Suddenly you are facing the big one. It's an awful lot to get your head around.
"But the meditation has helped me enormously – both in terms of having already developed an accepting frame of mind, but also practically, in terms of helping my breathing as it increasingly fails."
Dave uses a mobile oxygen canister, which pumps oxygen into his nose to assist his breathing, but when he meditates he doesn't need to wear it.
"It's not a psychological effect," he explains. "I regularly visit Southmead Hospital to have the oxygen levels in my blood tested, and the consultants there have been able to actively see that the oxygen levels in my blood are improved when I am meditating.
"Dying isn't all bad," he says. "From the moment someone tells you you're dying, you see the world very differently. You value everything so much, it's actually quite wonderful.
"I was recently walking in some woods near my home, and it struck me that the last time I was there I was jogging through in a track suit.
"This time I was shuffling through, struggling for breath, but because I was walking so slowly I was able to pay attention to things I wouldn't previously have noticed – individual trees and flowers. The beautiful detail."
Dave says he was "the typical old-school Fleet Street hack" when he first discovered Buddhism, while working on the Sunday People at the height of the Maxwell era in the 1980s.
"I had a wonderful time, doing a job I loved, and with a beautiful family, but I was conscious that for some reason, at the back of my mind, I was not contented. I didn't feel complete happiness.
"I decided to give meditation a try – but I was a cynical journalist, and didn't really expect to get anything from it. After about five sessions, I was all ready to pack it in. But then I had a big story fall down, and I found myself accepting the disappointment in a way that I would never previously have been able to – previously it would have at least ruined my week.
"I realised that slowly, subtly, the meditation was changing my mindset – calming me. So I carried on with my meditation sessions, and over time, together with the Buddhist teachings that have come with it, it has had a profound effect on me and my ability to find peaceful acceptance when bad things happen.
"At first I was ribbed mercilessly by my newsroom colleagues about it," he says. "But slowly they too could see the powerful effect it had on me, and increasingly they became genuinely interested – some even took it up themselves."
Dave moved to Bristol in the 1990s as one of the founders of news agency South West News Service, and later founded another media business, Medavia, but was forced to retire a couple of years ago as his health deteriorated. He has now reached an extraordinary level of acceptance as he faces the end of his life.
"I have been admitted to an intensive care unit twice in the past few months, and on both occasions I thought I was hours from death.
"So I've been very lucky to have had two dry runs – so I know that through using compassionate meditation, that is, meditating on the sorrows of the people around me in the intensive care unit, I was able to focus my mind entirely away from any fear about my own death, and what is left is pure peaceful acceptance.
"What concerns me much more is the suffering I know it will bring to my family and close friends when I die.
"After my diagnosis each one of my children separately offered me one of their lungs, which was heartbreaking – it showed so much love, but concerned me that they were unprepared for my leaving them, even though I have been able to come to terms with my own mortality.
"I know I will feel sorrow about leaving behind my family and friends and all that I have worked towards in my life, but I also know that through meditation I will be able to take away the fear of death. Once you take that away, there really is nothing left to fear. Acceptance is tremendously liberating.
"In one way I'm actually sort of excited about the challenge I will soon face. The next time I am in an intensive care unit, it will no doubt be the big one. I am excited to be facing the final challenge of this life – to put into practice all that I've learnt through meditation over these past 20 years."
Dave smiles that warm smile once more. He glances briefly at the enormous figure of the Buddha that dominates the room, and briefly at his meditation mentor, Kelsang Chonder. There is so much peace in his eyes, it is impossible to feel sad. I shake his hand, and he returns to his meditations.
For more information about joining a meditation session at the Amitabha Buddhist Centre – which is open to people of all faiths – visit the website at www.meditationbristol. org.
A free public talk on modern Buddhism is to be given by Kadam Bridget Heyes, at the Colston Hall on Tuesday October 23, from 7pm-8pm. For more details, call 0117 974 5160.
Source: http://www.thisisbristol.co.uk/Dying-isn-8217-t-nearly-awful-8217-s-cracked/story-16929747-detail/story.html