'Don't Go to Temples for Monks'
By Kim Heung-sook, The Korea Times Freelance Writer, May 12, 2005
Seoul, South Korea -- I get up from bed as if summoned. It is three in the morning. Middle-aged peers complain that they can?t go back to sleep once they awake. Some say that sporadic insomnia is part of aging. In any case, I welcome the early morning hours as a bonus. As I am sitting at my table, the sound of a wooden gong comes from the mountain of darkness, bringing memories of my two monk friends who I have been out of touch with for quite some time.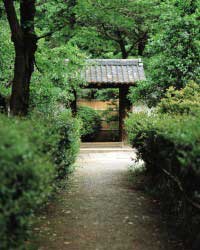 My first meeting with ``Dono?? - a Buddhist name meaning ``sudden enlightenment?? - was at a teahouse in Seoul back in the 1980s. The small place had only a few seats and the proprietor let me share my table with him and another monk, who were in the same gray robes, but looked strikingly different. Dono had the intelligent, inquisitive eyes, while his friend?s smile beamed with nothing but heartwarming compassion. Dono threw questions at me under the pretense that he and his companion had been meditating at Haein Temple in Mt. Kaya for so long that they couldn?t understand why collegians were demonstrating against the government everyday. I was answering, probably in a way that reflected my troubled mind, but I could tell that they understood the situation better than I did.
Though I had a scanty comprehension of Buddhism as an occasional tourist of temples, I came to cherish my friendship with Dono Sunim very much as time went by. We were in different attire, but we had many thoughts in common. When we talked about Christianity, we agreed that we were Christians as we struggled to imitate Christ in his love of people despite our failure to attend church. There were many things about Dono that I envied. He was humorous, full of knowledge and ideas, and, above all, was free from influence. As we met only rarely, we would often talk through the night, sipping coffee or green tea. I wasn?t able to sleep after a single cup of coffee or tea, whereas he would fall asleep whenever he wanted even after having twenty cups. After sitting up all night, I would look like hell; he would look as fresh as morning dew.
The other monk friend of mine was not at all like Dono. Not only her name, Hwa-ja, was as plain as mine, she also kept her hair long, wore ordinary clothes and lived in the city. In fact, I was the only one who regarded her as a monk. The first time I saw her I wondered: what is she doing here? Doesn?t she know that she belongs to a temple? When I revealed my thoughts to her, she said she couldn?t agree more.
Born to an impoverished family in a mountainous village far from Seoul, she had never had any formal education, but by the time I met her at a poetry writing class late in 1990s, she had acquired, through self-study, quite a mastery of Korean, English and Chinese literature.
As she was busy making a living as a practical nurse, we couldn?t meet often, but whenever we were together, I felt humbled. She had been living alone for most of her life without any help from her own family or others, but she was so inspiring, carefree and full of love. In my eyes, she was a monk, a good one. One day I found her look even more wonderful. After a roundabout questioning, I could figure out the reason as she casually informed me that she had moved out of her rented room in northern Seoul. The landlord, who was as poor as she, was suffering from cirrhosis and she had left the house empty-handed, leaving the key money or her entire possessions to him.
A considerable time has passed since I last heard from Dono or Hwa-ja and I have come to apprehend why the late Venerable Songchol (1912-1993) Sunim once said: ``Don?t go to temples for monks.?? While I miss my two friends a lot, I know they are out somewhere making uninterrupted efforts towards enlightenment and liberation that Siddhartha Gautama achieved some 2,500 years ago. I also know that I shouldn?t disappoint them when we meet again someday.
Outside the window, darkness has gone completely and the blue sky and the greening mountain are in its place as if they had been there forever. Morning comes so suddenly. I wonder if enlightenment came to Siddhartha that suddenly as he was sitting in a lotus position under the great ``bo-tree?? or the tree of wisdom. I wonder what came into his eyes first when he finally grasped the reality of universe and the meaning of suffering to become the Buddha or the ``enlightened one.?? I hope my friends will be able to tell me someday.