New Year's Message by Master Hsing Yun
The Buddhist Channel, Jan 5, 2014
Taipei, Taiwan -- As we celebrate Fo Guang Shan's 48th anniversary, I myself would also be turning 88 years old. Looking back to a life that involved much traveling, I can truly feel the following to be true, "Hope and a bright future come with willingness to reach out." In time of the new spring, I wish you every success with your life and career pursuits. May you be like the noble steed which gallops into a bright future. Keep striving forward, hope is right ahead of you!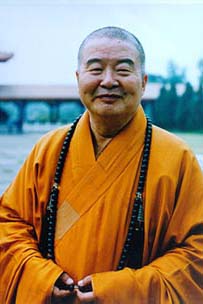 Ever since Fo Guang Shan was founded, I have been succeeded by Ven. Hsin Ping, Ven. Hsin Ting, and Ven. Hsin Pei as the Head Abbot. Last March, the Inaugural Ceremony of Fo Guang Shan's 9th Abbot and Dharma Transmission Ceremony for the 49th Generation of the Linji School was held with Ven. Hsin Bao as the new Head Abbot, and with Ven. Hui Chuan, Ven Hui Lun, Ven. Hui Kai, Ven. Hui Zhao, and Ven. Hui Feng as Deputy Abbots.
It brings me much assurance and comfort to see the new leader of the Fo Guang Shan Order elected by system. My words for them were that Fo Guang Shan is humanistic, is open, is about team effort, and depends on a heritage. It is the entire order's duty to create a new future, build a new milestone, and disseminate Humanistic Buddhism in every part of the world. On the same day, 72 monastics from all Five Continents including Ven. Ming Guang, Director of the Buddhist Association of Taipei, and Ven. Jing Yao, Director of the China International Offering Ceremony to All Buddhas became the Dharma Descendants.
Last year, after I completed Buddhist Affinities Across One Hundred Years under the invitation of Academia Historica, I continued my narrations and published a new edition in April. The new book set consists of 160 million characters in Chinese, a total of 16 volumes that come with a collection of 1,600 pictures. The book launch took place at the National Taiwan Library in Taipei. Later in October, the Simplified Chinese edition was also published in China by Beijing's SDX Joint Publishing Company. For the book launch, I was invited to the National Library of China in Beijing, where I also gave a talk on "Seeing the Power of Dreams."
As I look back on my life, everything still appears so real, and what I am most grateful for are the blessings given by the Buddha and everybody. Having witnessed the wars, I truly feel that peace is so hard to come by, thus is very precious. If it were not for the Dharma, how could I have remained strong and faithful despite being separated from loved ones? Especially after all these years of devotion to the establishment and development of Fo Guang Shan and the Buddha Memorial Center, my emotions towards the Buddha has only become more sentimental.
For this reason, I had written a poem, "Dear Buddha, Where Are You?" to express my feelings towards 80 years of searching for the Buddha's whereabouts. As has been said, "The world is but a creation of the mind, so is the Dharma realm. Even into the infinite future, the Buddha will always be in my heart." May every affectionate Buddhist be able to establish a heart-to-heart connection with the Buddha.
In light of the importance of Humanistic Buddhism to the future development of Buddhism, the FGS Institute for Humanistic Buddhism was established last March, and co-organized the Academic Conference on the Practice and Theory of Humanistic Buddhism with the Center for Chinese Cultural Research Institute of Nanjing University. During my plenary speech, I expressed my hope for Humanistic Buddhism to be recognized as what Buddhism is: something that symbolizes happiness, peace, joy, and equality. May everyone work together to enable Buddhism regain its original intent.
Fo Guang Shan has always placed a great emphasis on education. My ideal is not just to establish a school, but to establish a good school. Last January, Dr. Ling Tsong-ming, former Deputy Minister of Education took the post of president at Nanhua University. When he invited me to speak at the teacher and student training camp, I reminded them of the university's objective: to live righteously, think openly, act morally, and learn diversely. It is hoped that while acquiring knowledge, they will also understand the importance of enriching themselves spiritually.
Other than the above, I was also invited by Fo Guang University's president Dr. Yung Chaur-shin to the "102 National Conference of University and College Presidents", which was also attended by President Ma Ying-jeou and over 100 university and college presidents. I have great expectations in Fo Guang University to become the world's top center for Buddhist studies. In addition, with much gratitude to Dr. Wu Chin-shun, former University of the West president, the university has developed consistently, and received new leadership in June from Dr. Stephen Morgan. I also have good news to share with you all, that is, approval has been granted by the Philippine Board of Education to establish the Lokavid University.
This will be the 5th university of Fo Guang Shan, and will focus on humanities, art, and Buddhist studies.
I never went to school, and never saw a school during my younger days, however, with much gratitude to the support given by many, last year, Shandong University, Wuhan University, and Renmin University of China each conferred an honorary doctorate to me.
In addition, Macau University and National Chung Cheng University also conferred an honorary doctorate in humanities, and social sciences respectively. According to my disciples, I have so far received such an honor from 14 universities. Feeling undeserving for all of these, I nevertheless hope to inspire people by telling them that even if they don't have a chance for education, they must not give up on themselves. We do not have to rely on others to learn; as long as we learn with our ears, and think, our efforts will surely enable us to improve.
Other than the above, I also had the opportunities to visit various universities, colleges, and institutes. Last year, I was invited to lecture at Beijing's National Museum of China, Tianjin Library, Wulanqiate Grand Theater in Inner Mongolia, China Taiyuan Coal Transaction Center, National Library of China, Zhong Shan Memorial Hall in Guangzhou, Zhudao Guest House, and the Yangzhou Forum. I also lectured at the Hainan Broadcasting Group on "Happiness and Peace"; Shandong University on "Heaven, Earth, and Humans"; Renmin University of China on "How to Rediscover Ourselves" ; and at Nanhua Temple's Caoxi Forum on "A Buddhist's Dreams."
On a different note, last February, I was invited to visit Beijing with Lian Chan, Honorary Chairman of the Kuomingtan, along with a group from Taiwan. Inside the Great Hall of the People, I was one of the three representatives to speak on behalf of the group during a meeting with Xi Jingping, the General Secretary of the Communist Party of China. During the meeting, I proposed that other than political and economic exchanges between the two sides of the Strait, cultural and educational exchanges could also be enhanced. After that, I presented my calligraphy to Xi, which says "Rise High Above, and Look Far Ahead."
Not long after that, I also met with Hu Jintao, President of the People's Republic of China, and then Jian Zhemin, former President of the People's Republic of China in Yangzhou. People said that I am the first Buddhist monk to meet with three generations of China's leaders. Nevertheless, my only intent in such an accomplishment is for leaders from both sides to place greater value on the Chinese culture and Buddhism's influence on purifying human minds, so that Buddhism can contribute to greater peace and happiness for the nation, society, and the people.
In March, I was awarded Lifetime Achievement Award for Most Influential Chinese by the 7th Most Influential Chinese People's Award co-organized by Phoenix Satellite Television and over 10 Chinese media companies.
In April, I received invitation to attend the Boao Forum for Asia Annual Conference 2013, where I met with Liu Changle, CEO of Phoenix Satellite Television again and spoke on "The Strength of Honesty and Integrity" together. After that, I was at the Asia & Culture, Health & Tourism Roundtable hosted by Jian Xiaosong. Initiated by 28 countries and attended by leaders of over a dozen countries, this world economic and trade summit was integrated with topics related to humanities.
From this, we can see that no matter how our environment changes, how fast the economy grows, or how much our materialistic life is fulfilled, people still hope to enrich their spirituality by turning to faith in order to find reliance for the heart.
In October, I was awarded the World Ecological Safety Award by the United Nations Ecological Safety Collaborative Organization Executive Committee, and then the Lifetime Achievement Award at the 11th Annual Global Views Business Forum, which was awarded by President Ma Ying-jeou. CCTV in Beijing has also awarded "The Brilliance of China--Choice for Chinese Culture Promoter of the Year" to me recently.
Such honor belongs to all Buddha's Light members; I was only the receiver of their behalf. Without the Buddha's blessings and everyone's support, all the achievements today would not have been possible.
Throughout last year, my One-Stroke Calligraphy was subsequently exhibited in the museums of Hainan, Tianjin Beijing, Inner Mongolia, Shanxi, Gansu, Xian, Henan, Guandong, and Yunan. In particular, the local media informed me that I was the first Buddhist monk to ever hold an exhibition at the National Museum of China. I owe this to the support of many who have allowed me to develop affinities with the world through my One-Stroke Calligraphy.
In October, in order to fundraise for Da Jue Temple's Sutra Repository, a charity auction was hosted by Yang Lan, Chairperson of the Sun Culture Foundation, Cui Yongyuan, CCTV host, and Zhou Libo, Shanghai Style Small Talk Stand-up Comedian. For the charity, I had donated all the gifts I have received across the years, and there were also people who came for my One-Stroke Calligraphy. I find joy in that people are able to look beyond my writing and see my heart, and are willing to contribute by accumulating merits for themselves and leaving wisdom behind as their family legacy.
Other than the above, the 5-day International Vegetarian Expo held at Da Jue Temple in Yixiang attracted a crowd of 300,000; while at Jian Zhen Library in Yangzhou for the first time, the Expo also attracted a crowd of 180,000. This turnout was far beyond Yangzhou government's expectations, and gave them new perspectives on the influence of vegetarianism. The Yangzhou Evening News even published an article on "The Positive Energies of Volunteers Exhibited at the Vegetarian Expo" to praise the spirit, the well-organized manner, and the demeanors of volunteer workers from Taiwan. The Vegetarian Expo not only enhanced Cross-Strait exchanges, but also promoted healthy eating and peace, which was indeed a "win-win" outcome.
In order to fulfill my promise to return to Singapore and Malaysia, in November, I visited again the Stadium Melawati Shah Alam in Malaysia, and held the "The Refuge-taking and Five Precepts Ceremony cum Prayer for the Public" inside the Singapore Indoor Stadium. Seeing more than 20,000 youth's faith and enthusiasm at the Marvellous Malaysia Buddhist Cultural & Dharma Blessing Function 2013, shows much hope for the future of Buddhism.
Additionally, the ceremony in Singapore was graced by the presence of Prime Minister Lee Hsien Loong. In his speech, Lee expressed his admiration in BLIA members who have offered selfless services while overcoming religious and racial differences. As a token of appreciation for his kind words, I presented my One-Stroke Calligraphy which says "Embrace the World with Your Heart" to him.
The Buddha Memorial Center has celebrated its 3rd anniversary now. Each year, a total number of 12 million visitors is attracted to the center, which, compared to the annual visitor's number of 8 million at the Louvre in Paris, has become an alternative "miracle" in Taiwan.
Last year alone, the Buddha Memorial Center hosted various international conferences, Buddhist Wedding and Bodhi Couple Vow Renewal Ceremony, Buddhist Hymn Concert, Taiwanese opera performances, and children's dramas. There were also the "Humanity and Love - Touring Exhibition of Li Zijian Oil Paintings"; "Buddhist Art Along the Silk Roads: Light Shines on the Universe" co-held by 16 museums in China; "None Other Than Compassion – 26 Years of Lazurite Exploration in the World by Yang Hui-shan and Chang-yi"; and "Life Protection Paintings by Master Hongyi and Feng Zhikai" by the Cross-Strait Cultural Heritage Festival.

In September, the 2013 Fo Guang Shan International Book Fair was organized by the Kaohsiung government and hosted by the Buddha Memorial Center. Mayor Chen Chu attended the Book Fair by hosting a story-telling session for the children. On the other hand, Professor Charles H.C. Kao, founder of Commonwealth Publishing Group, organized the 2nd Hsing Yun's World Forum, during which Nobel Prize for Literature winner, Mo Yan, gave a speech on "A Literary Writer's Dream."
Furthermore, a marathon that linked the Buddha Memorial Center to Mount Beatitude not only presented the message of love, but also commemorated the respectable Cardinal Paul Shan S.J.. Producer Liu Jia-Chang also held a three day "It's Great to Have You: Liu Jia-chang Concert," where the proceeds went to cultural and educational projects. There was also a "Buddha and Gods Gathering" to promote interfaith harmony as well as the diversity of the Chinese culture. Such wonderful and joyful happenings take place at the Buddha Memorial Center every day. I believe that education and culture will exert greater influences to the world and will allow people to see the truthfulness, goodness, and beauty of Humanistic Buddhism.
For 5 consecutive years, we have organized the National Buddha's Birthday and Mother's Day Celebration on Ketagalan Boulevard in front of the Presidential Office. This year, in order to respond to the World Book Day, FGS and BLIA Chunghwa donated more than a thousand titles with reference to Humanistic Buddhism to the universities and colleges of Taiwan. The donation ceremony was initiated by both President Ma Ying-jeou and myself. This was then extended to the National Library of China in Beijing, Beijing Normal University, Tsinghua University, and many others in hopes that the knowledge of reading can be spread far and wide.
Having taken more than a decade's work, Encyclopedia of World Buddhist Art was finally completed last May. In these ten plus years, under Editor-in-Chief Ven. Ru Chang's leadership, scholars and volunteers from around the world have helped collect, validate, edit, and proofread the data.
As fragile and impermanent as the world can be, unforeseeable natural disasters and manmade calamities occur very often. Last April, an earthquake measured at 7 on the Richter scale struck Yaan in Sichuan, China. In October, a 7.2 earthquake occurred in Cebu, Philippines. In November, Typhoon Haiyan devastated the Philippines. Each time, BLIA mobilized immediately to provide emergency relief aids. In particular, Mabuhay Temple in Manila established the "Typhoon Haiyan Disaster Center" to offer aids to the victims. At the same time, the
Fo Guang Shan Academy of Art of the Philippines performed "Siddhartha – A Musical Journey to Enlightenment" in Manila, Los Angeles, and San Francisco to fundraise for the displaced people. May Buddha bless and comfort these people, and give them the strength to rebuild their homes and get back on their feet.
In August, one of Fo Guang Shan's honorary benefactors, Pan Xiao-rui, passed away at the age of 93. Pan and I have been friends for more than half a century. Ever since the founding of Fo Guang Shan, he has unconditionally supported our endeavors in care for the old and young, emergency reliefs, temple construction, as well as education and cultural projects. He always kept a low profile and never boasted about his contributions. My unending gratitude to his kindness.
Over the past year, due to my continuously deteriorating physical body, I have had to visit the hospital on several occasions. Nevertheless, Dharma propagation is bigger than the self, so I have continued to give my best in following past masters' steps by continuing to give Dharma talks, write calligraphy, receive guests, write books, ad teach. Yet, despite my efforts, my physical conditions are limited, with blurred eye-vision and hearing difficulty, and if I am no longer to oblige everyone's wishes, all I can ask for is your forgiveness and understanding.
I dare not claim to have any profound understanding of the Dharma, but regarding the current situation of Buddhism as well as many popular misinterpretations of Buddhist terminology, I have had many realizations. For this reason, I will be giving a talk this year on the "New Interpretations of the Dharma" to share my experiences in the Dharma with you all.
In the coming New Year, I wish for everyone to: acquire firm faith, be your own mentor, stay strong in the face of adversity, and strive forward with courage.
May you be blessed with galloping hope, peace, and auspiciousness.
Hsing Yun
New Year's Day, 2014
Founding Master's Office
English translation by: Ven. Miao Guang