Action drives "One Billion Acts of Peace"
By Kooi F Lim, The Buddhist Channel, June 25, 2015
Petaling Jaya, Selangor (Malaysia) – Buddhist Gem Fellowship (BGF), a key Dharma learning hub in metro Kuala Lumpur, last night became the center of attention of an abnormal kind. Abnormal because the star attraction was not a well known monk nor a widely revered Rinpoche, but someone who calls himself a Buddhist "on most weekdays, especially Mondays".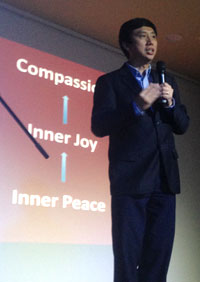 << Chade-Meng Tan presenting "One Billion Acts of Peace" at the Buddhist Gem Fellowship (BGF) on Wednesday evening.
He is more than a Buddhist however, as his name card says he is a "Jolly Good Fellow" who works at Google. More precisely, he serves with Google's People Development Team, and his job description is, "Enlighten minds, open hearts, create world peace".
Meet Chade-Meng Tan, or just Meng. At 40 years young, Meng has practically met some of the biggest names in the world: Presidents Obama, Clinton and Jimmy Carter to name a few. Not to mention Nobel laureates like Desmond Tutu and the Dalai Lama (who gave him a hug on his 40th birthday).
Google and Buddhism are not synonymous. But in Meng, Google and Buddhism are basically one and the same, yet different. Google searches everything, while Buddhism teaches one to search within.
"The currency of information is attention," he tells the capacity audience at BGF. "But with information overload, the capacity to pay attention diminishes," he warns. And that is why the practice of Buddhism, to see within and to pay attention, helps one to attain peace and harmony.
As he puts it this way, "…the Buddha teaches us to search within, and from within that search discovery extends beyond the self."
It is this philosophy, together with the core teachings of loving kindness (metta) and compassion, which drives him to search for the "how" in creating global peace.
This "how" – the methodology and techniques, together with action (as in upaya, skillful acts) – contributed to the realization of a global movement called "One Billion Acts of Peace". The movement is simple: get people to perform a thoughtful action that contribute to peace within themselves and their immediate surroundings.
But an isolated act is not effective. If a group of such like-minded individuals can come and act together, then that global community of everyday people performing thoughtful actions becomes a force that contributes to world peace.
"Everyone matters. Everyone can make a difference. And together, we are unstoppable", so says the movement's motto. In Meng's term, it just boils down to three keywords: inspiration, community and technology.
And that fits just nicely for Buddhism and Google, wisdom and technology - spiritual hand in a technical glove.
Will it work?
As Meng says, "wisdom and loving-kindness" won't heal poverty, injustice and inequality. But compassion can, because "com" (as in community) and "passion" (a compelling enthusiasm or desire for something despite suffering for it) becomes the positive, spiritually engaging force that motivates one to give and heal.
It is the compassion to act, the spiritual drive coupled with upaya (skillful means) that makes the difference. To date about 4 million have registered their acts in the http://www.1billionacts.org website.
All are invited to play their part in making global peace a reality, and the first step is to start with oneself.
About One Billion Acts of Peace
The One Billion Acts of Peace campaign was initiated by Dawn Engle and the PeaceJam family. It is directly focused on the United Nation's Millennium Development Goals, which identify the root causes of the problems that destroy families -- violence, war, extreme poverty, and disease.
Confronting the most pressing issues facing our dynamic global community, the founders have engaged 13 Nobel Peace Laureates from around the globe with youth, to undertake the critical conversations that need to keep happening. The campaign is supported by The Peacejam Foundation, Google, Wells Fargo, Hill+Knowlton Strategies and many others.
To participate, please visit: http://www.1billionacts.org.