10 rituals to honour Buddha on Wesak Day
By Christina Low and Jarod Lim, The Star, May 21, 2016
Petaling Jaya, Malaysia -- TODAY thousands of Buddhists across the country will be visiting temples to celebrate Wesak Day and pay homage to the Lord Buddha.
This special day marks Buddha's birthday and his attainment of enlightenment as well as to commemorate his death.
StarMetro spoke to Sasana Abhiwurdhi Wardhana Society president Sirisena Perera and Thai Buddhist Chetawan temple resident monk Rev Woon Kitisakh Panyatipo to find out what are some of the practices observed by Buddhists on this day.
1 Prayers and quiet contemplation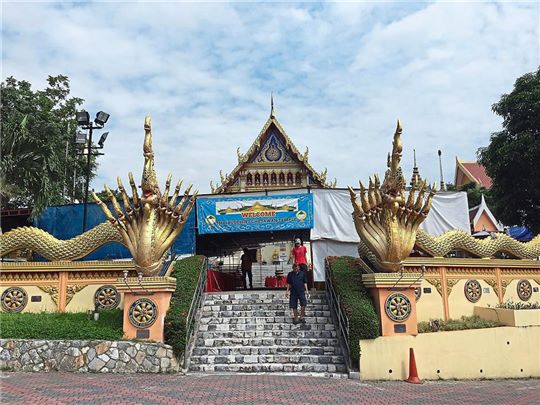 There is a fair number of Buddhist temples in Klang Valley including those of Thai and Sri Lankan origins. The temples usually have programmes lined up to commemorate the day and devotees go to the temple nearest to them.
2 Wear white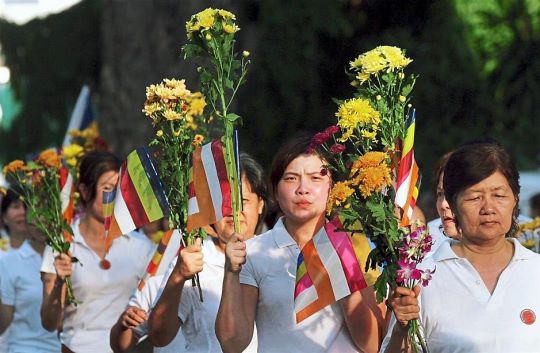 Although there was no restriction on the colour one wore to the temple on Wesak Day, Sirisena said devotees were encouraged to wear white.
"White reflects purity and it is advised to wear that colour for prayers," he said.
Buddhist Associations members dressed in white holding stalks of chrysanthemum and Buddhist flags following the annual Wesak Day procession
Buddhist Associations members dressed in white holding stalks of chrysanthemum and Buddhist flags following the annual Wesak Day procession
3 Observe the five precepts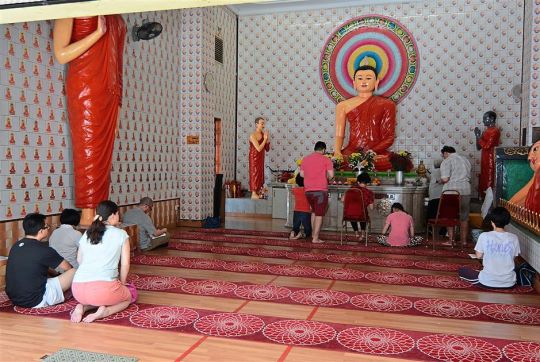 Most Buddhists already practise them in daily life. According to Sirisena the five are abstain from killing, stealing, sexual misconduct, lying and taking intoxicants. Devotees are also encouraged to refrain from talking bad about others or indulging in negative activities and instead try to do good.
4 Light oil lamps / candles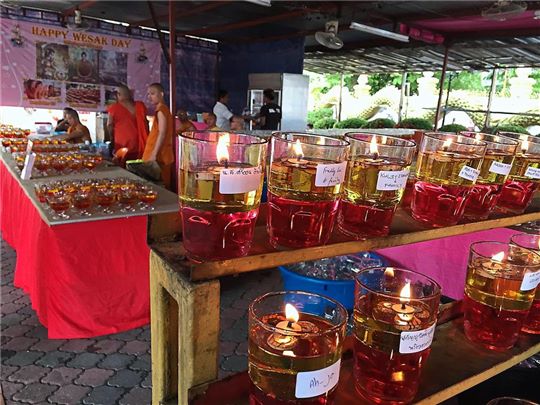 Devotees lighting oil lamps during Wesak Day is a common sight.
"The oil lamp chases away darkness and it symbolises lighting up someone's life.
"Usually the candles are in the shape of a lotus flower and there is a significance to it.
"Lotus flowers grow in murky water; they are a symbol to mean that despite the messy world, Buddha blooms from it," said Sirisena.
5 Bodhi tree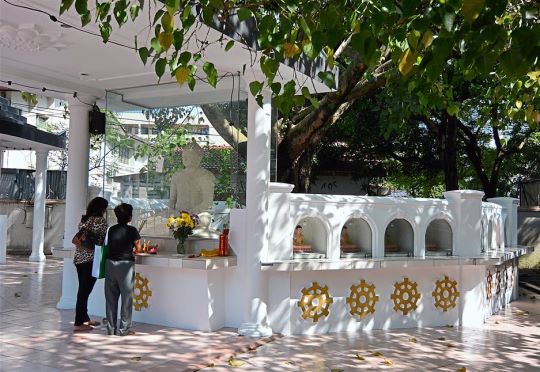 The Bodhi tree was where Buddha sat in meditation in Bodh Gaya, India, and attained his enlightenment.
"We respect the Bodhi tree by praying to it and we also believe that there are devas, good spiritual beings that surround the trees," Sirisena explained.
At the same time, he cautioned that while it was alright to seek blessings, devotees should not depend on it.
6 Be vegetarian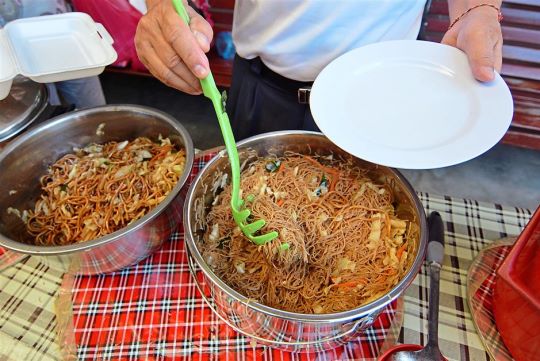 It is common to see vegetarian food served at temples on Wesak Day as many Buddhists believe that it is good to start the day on a note of purification. This is also in observation of the precept of abstaining from killing.
7 Candlelight procession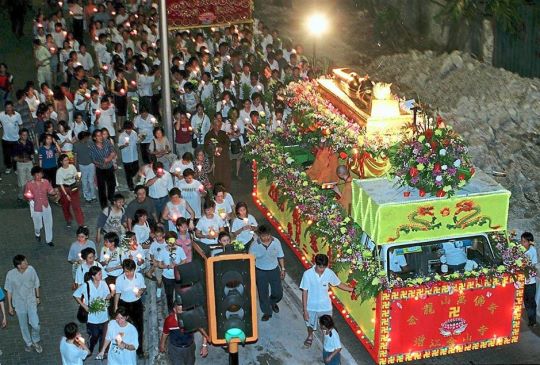 On the night of Wesak Day, floats from different temples gather for the annual procession in Kuala Lumpur. Devotees participate by carrying candles and flowers accompanying the floats.
Such processions are also popular in Sri Lanka and Thailand.
"In Thailand, each temple organises their own procession unlike the one held in Kuala Lumpur but the idea is still the same, to gather Buddhists and appreciate Buddha's teachings together," said Rev Woon.
8 Raise the Buddhist flag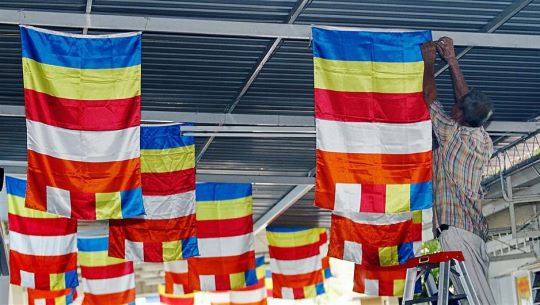 The flag has six vertical bands in blue, yellow, red, white and orange. The sixth band consists of a combination of all five colours stacked horizontally. It was designed by J.R. de Silva and Colonel Henry S. Olcott in the 1800s. Many temples distribute the flag for free to devotees, for them to hang it at home during the occasion.
9 Offering dana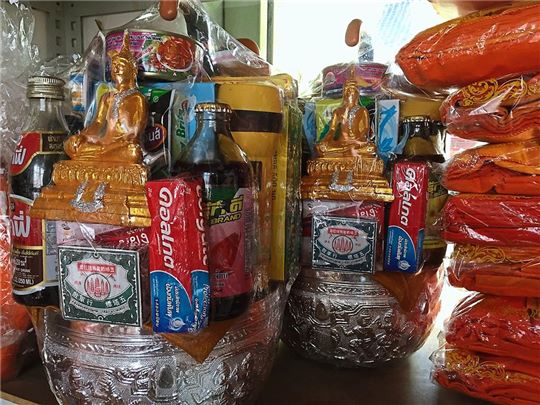 Offering alms to monks can come in the form of food or basic necessities such as toiletries and medical supplies.
As is the practice of monks to eat only one meal a day -- at noon, many devotees take this opportunity to volunteer in the meal preparation either by donating food or cooking it themselves at the temple. Basic necessities, which come in hamper-like buckets, can also be purchased prior to visiting a temple.
10 Bathing of the Buddha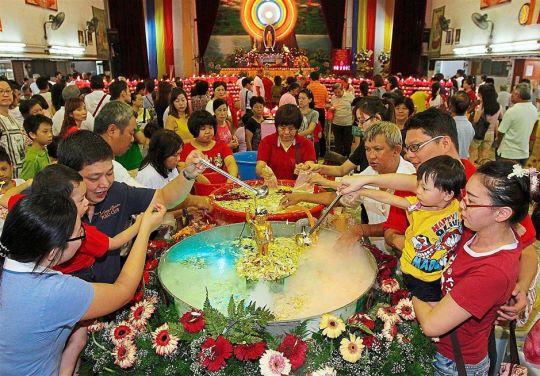 Devotees make a beeline to perform this holy ritual at temples.
"Bathing of the Buddha is popular as it signifies purifying the heart and mind from greed, hatred and ignorance," said Rev Woon.
He said other practices at the Thai temple included pasting of gold leaves onto Phra Phom, a four-faced deva, and the statue of Luang Phor Tuad, a revered monk from Thailand.