The Buddhist Channel - 15 years of Buddhist news service
Editorial by Kooi Fong Lim, Founder of Buddhist Channel, October 10, 2016
Petaling Jaya, Malaysia – We will be fifteen years old on October 10, 2016. It is hard to believe that 15 years ago, we started this platform on the heels of the Bamiyan Buddha destruction.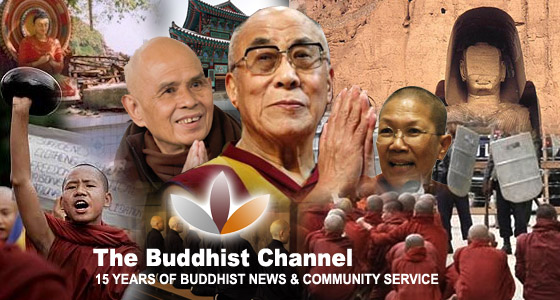 I remember clearly that day on February 2001, reading a note posted on a forum which discusses Asian biodiversity. A Pakistani entomologist wrote that he heard on the radio that the head of the Taliban in Afghanistan, Mullah Mohamed Omar had issued a decree to destroy the 2,000 years old Buddha carved out of mountains in the valley of Bamiyan. With that one decree, which the mullah described the Buddhas as "un-Islamic", he made famous these giant artefacts which until then not many – not even Buddhists - had ever heard of.
I remember trying to dig out whatever information about the Bamiyan Buddhas on the internet. In those early days, Google was still very much an infant and whatever information that could be found was scant. There was no social media to share the news.
When I tried to alert local Buddhist organizations to lobby for protests, none seem interested. "I don't see any news on the media about this. Could be just a rumour," said a local leader. "Let's just see what our government says. Then we will issue a statement," said another.
And that was the problem. There was little information of the Buddhas on mainstream media. And since the matter bore direct relevance to Buddhism, we were at the losing end.
Global mainstream media are controlled by Christian and Muslim interests. Some Buddha stones carved on hills in some remote country carry little significance for them. Remember, this incident was pre 9/11. And Afghanistan was as interesting to western media as some penguins in Antarctica.
At that time, only the governments of Saudi Arabia and Pakistan - sunni Muslim nations - issued official protests to Afghanistan. Ultimately, the pleas failed. On March 10, 2001, the Buddhas were dynamited.
As the icons of 2,000 years came crashing down, it gave rise to the "Buddhist News Network (BNN)". A platform to deliver news to serve Buddhist interest worldwide was born.
It was not until October 10, 2001 when BNN was officially registered. By that time, Afghanistan was in turmoil, as the country bore the brunt of western forces for harboring parties deemed responsible for the September 11 attacks in New York.
9/11 became impetus for BNN to make its mark globally. For the first time, our content team scoured opinions and op-eds by western Buddhists on the tragic event. These efforts opened up access to Buddhist views from those in the western hemisphere. BNN, which was later rebranded as The Buddhist Channel, became a global name. 
What do we actually do?
Here is a surprising primer: Many do not know what we actually do. Most see us as a news portal, serving Buddhist interests. We are known as a "non-sectarian news aggregator", meaning we cover news from all mainstream Buddhist schools – Mahayana (including Zen), Theravada and Vajrayana, which is well and good. But truth be told, we are far more than that.
Due to funding limitation, we do not have a full time news agency setup. Although an "
International Advisory Panel
" exists, it is more for consultation purposes.
The operation is entirely run from the Bodhi Vision office in Petaling Jaya, Malaysia, with technical support provided in Dessau, Germany. Everything is done on a voluntary basis. We receive no monies for our effort and all expenses are borne by volunteers.
So apart from news aggregation, what we do really well is to "spot" issues, and to highlight matters which impact Buddhist interests. As mentioned earlier, Christians and Muslims (or the West and Middle East) have very strong global media networks. We have none. The strong ones that we have are either sectarian inclined (for example Tzu Chi, Fo Guang Shan), western centric (see Tricycle, Lion's Roar or Shambala) or regional (such a television channels serving local viewers in Sri Lanka, Thailand and South Korea).
Buddhists do not have an equivalent to Al-Jazeera or Christian Science Monitor. While there have been calls in Sri Lanka and Thailand to establish a global Buddhist media, these remain words, not deeds.
We do not claim to be a forefront in Buddhist media. We do not even pretend to be. Our limited funding is scarcely enough to keep up with server maintenance and basic operations.
But whatever limitation we face financially, we double up with effort. And in these 15 years, we can say that our network of partners developed and reputation have been excellent.
And so to assist newcomers to the Buddhist Channel (and to refresh our regular readers), we hereby present to you a list of our key contributions and achievements spread over 15 years of service to the world community.
The Buddhist Channel has a daily page views of 7,500 per day, with 2,300 unique visitors on a daily basis
Our biggest viewer base is from the United States of America.
Our news coverage on the American sub-continent is the most organized of any other media groups, breaking down the region into the US Northeast, South, Midwest, Central, Southwest, West and Canada, with a regional presence based in San Francisco.
We have gone to the ground, reporting major events which have impact on Buddhist interests. Among major events covered are:
Cover major Buddhist gatherings
We scour for news on small events, namely meditation retreats and Dharma gatherings in non-Buddhist countries or Buddhists in remote locations, so as to provide optimum publicity to help boost attendance.
The Buddhist Channel has the most comprehensive site on Buddhist archeology in the world (http://www.buddhistchannel.tv/index.php?archaeology)
We showcase Buddhist arts and cultural events all over the world, including museum exhibits (http://www.buddhistchannel.tv/index.php?arts)
We promote Buddhist music, from small band groups to indie production houses (http://www.buddhistchannel.tv/index.php?dmix)
We provide space to review movies with Buddhist point of view (http://www.buddhistchannel.tv/index.php?bwood)
We have a dedicated travel site to help highlight Buddhist sights, temples, temple stay programs and locations (http://www.buddhistravel.com/)
We forge regional and global networks with other Buddhist groups on mindful communication and news syndication. Among others are:
Despite limited funding, we have sponsored the following:
The Buddhist Channel was invited by The Rt Hon Baroness Warsi PC to Whitehall, London on June 13, 2011, to attend a celebratory reception organized by HM British Government in recognition of our contribution to the Buddhist community in the UK.
Moving forward, we will strive to improve our services through the adoption of new technologies. A Buddhist Channel app is on the drawing board. We are also planning for an E-Publishing program using AppBooks. These ideas, however, are subject to availability of funds. We will remain true to our motto of providing services without burdening the communities which we serve. This we will hold dear to our heart.
Thank you for your continued support. May the Buddha Dharma ever protect you and your loved ones.
With loving kindness
The Buddhist Channel
Kuala Lumpur | San Francisco | Berlin | Bangkok | Colombo | London | Singapore
---