The Righteous King who ruled for the benefit and happiness of the Siamese people
Editorial, The Buddhist Channel, Oct 25, 2016
Bangkok, Thailand – One of the most enduring images of the late Thai Monarch, His Majesty King Bhumibol Adulyadej is that he is almost always seen with a camera around his neck or in his hand. His camera and a map accompanies His Majesty during his time visiting regions within Thailand, checking on projects which he personally supported and followed up.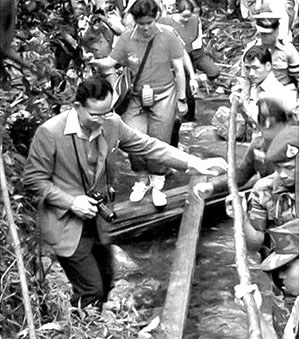 For over 70 years of his reign, His Majesty King Bhumibol kept a promise - the promise that he would reign with righteousness for the benefit and happiness of the Siamese people. As of 1998, there were 2,159 royal development projects initiated by His Majesty and implemented throughout the country. Most of the projects are aimed at improving the living conditions of his subjects, particularly those in the remote rural areas.
His Majesty has become not only the most traveled monarch in Thai history but also the best informed about a wide range of rural difficulties. His Majesty learnt first-hand, from the people themselves, of the local conditions and problems they encounter.
After consulting with the officials in his entourage, which on many occasions comprised of engineers, agricultural and irrigation experts, His Majesty makes his own conclusions about problems faced by his subjects, including the causes and the possible solutions to address them. Upon his return to Bangkok, or sometimes even on the spot, he will share what he has learned with the members of the Government, requesting them to assist and give support to the people wherever feasible.
Sometimes he would use his own funds in the early stages to help a project get off the ground. In 1988, he established the
Chaipattana Foundation
(
http:// www.chaipat.or.th
) to fund and help in accelerating rural development projects that are beneficial to the people and the country as a whole.
Among the private projects initiated by Their Majesties the King and Queen are crop substitution and the preservation of watershed areas in the northern region. The objectives of the crop substitution project are to stop opium cultivation, deforestation, and the slash and burn cultivation methods used by the hill tribes, which comprises the communities of the Akha, Lahu, Karen, Hmong/Miao, Mien/Yao and Lisu. Advice and assistance given to the hill tribes by His Majesty include planting cool climate fruits and flowers, which yield a better income.
Sufficiency Economy
The off-shoot of his passion for the deprived sections of the Thai people is his "New Theory" in land management and the development of water sources for agricultural purposes. His Majesty's "New Theory" was a simple formula: 30-30-30-10.
Under this theory, a plot of land was divided into four portions, namely 30 percent for a water source, 30 percent for a rice field, 30 percent for mixed crops such as fruit trees and vegetables and 10 percent for residence, animal farms and rice barns.
Farmers who followed the "new theory" found the plan to be uncomplicated and easily implementable. It also did not involve costly technology. Many who tried and tested the system produced satisfactory results. As a result, large sections of the farming communities became self-sufficient and self-reliant.
In the aftermath of the 1997 Asian financial crisis, which negatively impacted his country greatly, His Majesty suggested a self-sufficient economy as a way to pull Thailand out of the economic crisis. Calling it "Sufficiency Economy", the idea was that all Thais should live a life that leaves them with enough to eat, while relying on their own economy.
"Sufficiency Economy" called for research and development on soil and crop improvement, with effort to produce enough for Thailand's own consumption first."
As a country governed on Buddhist values, the philosophy of "sufficiency economy" stresses the middle path as an overriding principle for appropriate conduct by the populace at all levels. In a "sufficient economy", generation of material wealth is not the ultimate aim. Instead the final goal is to create environmentally healthy, self-sufficient communities in which basic human needs are met through Iocal natural production methods.
"Sufficiency Economy" applied
Here is a case study of how a monk from Wat Doi Pha Som in Chiang Mai and his local community used the principles of "sufficiency economy" to undertake an environmental revitalization process in the Samoeng District.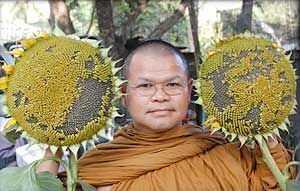 Phra Sangkom Thanapanyo Khunsiri from Wat Doi Pha Som in Chiang Mai, Thailand devotes himself to promoting "sufficiency economic practices" among the local communities >>
When farmers from the village of Samoeng first approached Phra Sangkom Thanapanyo Khunsiri they told him of their problems in producing quality crops. What Phra Sangkom and his consultants found was that the soil quality in the local area was very dry with little nutrients, and thus provided limited growth potential for crops.
The key in addressing the issue of water scarcity was creating environmental structures that retained natural water resources (mountain springs and rain water). The rainy season was capable of providing sufficient water resources to support the needs of both a thriving forest ecosystem and local agricultural practice.
Deforestation of the land in favor of expansive farmlands removed necessary natural structures for water retention and increased water lost to run-off, which left the area's soils thirsting during the non-rainy season months. The monk's initial development projects constructed a long network of check dams which are able to retain natural water resources in a series of small reservoirs. The construction of the check dam system involved local community members, military personnel and government officials.
The collaboration between both local and external organizations was key In Wat Doi Pha Som's sustainable development scheme. Twelve months after the check dams' construction, the moisture content and growth potential of the local soil steadily increased. Currently there are over 100 check dams of different sizes [0.25m-2m] in the Hoi Bong watershed.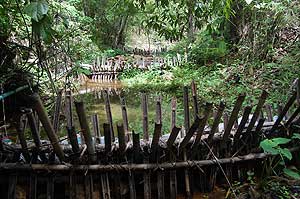 << These "check dams" helps to retain moisture content and enables growth potential of the local soil
Reforestation efforts during the first year of development complemented the check dam network by supporting the soil's ability to retain natural water resources. Plants regarded in the 'sufficiency economy' categories as "resourceful plants" i.e. for food, usage and economic, were prioritized.
These included banana, papaya, rice, guava, coconut, teak, bamboo and red wood. The local ecosystem then saw improvement in biodiversity and water retention. Not surprisingly, the habitat restoration became refuge for numerous birds and wildlife.
In the four years following the first year of the revitalization process, efforts continued to improve the system for natural water retention. The creation of a water line system involved upgrading wooden check dams to concrete and the creation of separate water storage reservoirs, known in Thai as "monkey cheeks'.
These storage reservoirs collect and diffuse moisture to surrounding soil and can be tapped to meet community needs during the dry season. During this time as well, the reforestation process continued. More resourceful plants were planted. As soil moisture increased, an increase in the number of annual harvests coincided.
The development of the alternative energy is an essential component of Wat Doi Pha Som's sustainable development scheme. Initial experimentation in the community has been a success in creating biofuel from locally grown sunflower oil and recycled cooking oil. Future development hopes to harvest clean energy through the construction of solar cells and small scale-hydroelectric dams.
The success of land revitalization as shown in the Samoeng District under the guide of "sufficiency enconomy" is important on two counts.
One, it dispels the notion that regeneration of soil nutrients for each year's crops is dependent on the use of expensive chemical fertilizers. Such "modern farming methods" usually compels the farmer to be financially indebted in the long term.
Two, high investments as such have pushed many people to abandon their ancestral farming tradition and to take jobs in the nearest urban center, in this instance, Chiang Mai city, which is a two hour drive away. Urban migration denigrates people from honing their skill to work the land. When people lose the skill to manage the land, this denigrates self-sufficiency, which in turn disables "sufficiency economy".
King's vision, people's well-being
We can certainly deduce that King Bhumibol's vision of "sufficiency economy" was – and still is - a very Buddhist idea. It is compassion in action, an idea implemented with caring heart and deep wisdom. In a globalized world, economic decisions are expected to produce quick results, without realizing that some of these hasty choices affect us adversely and the lives of generations to come.
His Majesty's death could just be the wake-up call for all of us, not just Thai people, that perhaps, indulging in an economy that gradually develops based on principles of "self-reliance" and the notion of having "enough" is the only sustainable way to go. Like Bhutan's Gross National Happiness, a country's economy should not just be about growing wealth and more wealth and then finding ways to distribute it.
If "sufficiency economy" works for that small time farmer in Samoeng District, it should too for that prairie farm owner in small town Wisconsin. But to do so effectively, we need to address this one thing: When is, and to what amount, is "enough"?
The Buddhist Channel - Donate to Support Our Work
An Appeal

In deep gratitude for your support! We are half way to meeting our target (US$ 10,400 of US$ 18,000 already achieved)!
The Buddhist Channel is a dedicated group of "mindful communication practitioners" striving to make a positive impact on the Buddhist community. We deeply believe in the power of mindful journalism and are reaching out to you with a heartfelt request for your support. Your donation, no matter the size, can make a tangible difference in the lives of countless Buddhist monastics, local communities and other dedicated engaged workers. With your help, we make their stories known, and thereby opening up avenues for them to obtain sustainable support for their work.
Please indicate whether your support will be a donation or a loan. We will get back to you via email. We thank you in advance for providing us financial relieve. May the Buddha Dharma ever be your guide and protector.

Note: To date, we have received the following:

US$ 900 from Esa Myllykoski (donation)
US$ 9,500 from Lance Edwards/Kau Soo Kin (loan)

We express our deep gratitude for the support and generosity.
If you have any enquiries, please write to: editor@buddhistchannel.tv