Finding New Hope by Taking Buddhist Path
by Beth Roberts, State College, Pa., June 30, 2006
Pennsylvania, USA -- The events of September 11th shook my sense of security in the world and reminded me of the ultimate fragility of life. But most of all, they made me wonder how people could be filled with so much hate that killing themselves and others in this horrible way was the answer.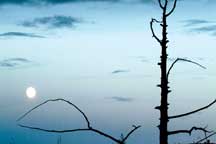 This question continued to plague me for some time. I could see that something was fundamentally wrong with the way many people viewed one another. I knew that dividing the world into "us" and "them," and seeking to annihilate "them," would only lead to more violence.

While I was pondering these questions, I read that the Dalai Lama was coming to speak at Washington National Cathedral on the two-year anniversary of the attacks. I waited for several hours in a line that extended for what seemed like miles. I was unable to get into the overflowing cathedral, but I heard his talk on loudspeakers from the lawn.
He spoke about how hatred leads to more hatred, and said this was not an effective long-term solution to the problem of terrorism. He discussed the need to understand that we are all human beings with the same desire for happiness and that we all need to be compassionate with others. He was a voice of reason and hope in a dark time.
This was a turning point in my spiritual life. For many years, I had been interested in Buddhism but had not pursued it seriously. The visit by the Dalai Lama re-ignited my interest. Nothing I had heard prior to that talk had spoken to me in the same way.
His message gave me the hope that people can change and can stop the cycle of hatred and violence. To stop this cycle, I knew that I had to start with myself. I became dedicated to Tibetan Buddhist teachings and regularly attended and took classes at the Shambhala Meditation Center of Washington, D.C. Approximately one year later, I took my "refuge vows," expressing commitment to the Buddhist path.