Top of the world
by KARNJARIYA SUKRUNG and Main photo by YINGYONG UN-ANONGRAK, The Bangkok Post, Aug 9, 2007
Time in Tibet allowed Prachawan Ketavan to see things more clearly - it changed her perspective on life, her career, happiness and compassion
Bangkok, Thailand -- Her journey to Tibet was not undertaken for soul-searching reasons - brand strategist Prachawan Ketavan simply wanted to pursue her passion for the colours and geometric patterns used in Tibetan furniture, arts and crafts, and the country's natural beauty.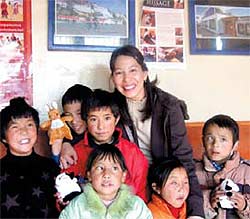 << Prachawan poses with blind children.
But the trip gave her much more than she expected. At the top of the Himalayas, she found things that had been missing from her life.
"I have had such a wonderful journey, which continues to have a profound effect on my soul. It has changed the way I think about life and people, inspired me to seek simple happiness and encouraged me to embrace the freedom of my future," Prachawan reflected on the feelings she had during her first trip to Tibet, last August.
She will give a talk - Pure Happiness from the Roof of the World - at an upcoming academic conference on "Happiness in the Contemporary World: Spirituality, Society and Science", organised by the Thousand Stars Foundation. (see sidebar).
Her trip changed her perspective - Prachawan decided to leave her full-time job and start freelancing as a brand strategist and market researcher. Less income, yet more time of her own: She tends to her two daughters, learns arts and the Chinese language, joins meditation retreats and volunteers for jobs that help promote Buddhism, well-being and the cultural heritage of her Tibetan friends. And she has made four more trips to Tibet within a year.
"I realised that I have other passions, skills and dimensions to my life I wanted to pursue. Had I followed the pattern of my routine life and work, I would have ended up running endlessly away from myself," she said.
"In Tibet, there's a saying, 'Next life or tomorrow.' We will never know which comes first, so I think it's time I followed my inner voice and lived life as I believe," said Prachawan, 38.
The spiritual land
Prachawan went to the temple to make merit, as many others do. She did not care much more about Buddhism. But in Tibet she was shown Buddhism she could touch.
"Buddhism is so ingrained in their daily lives," she said. "You see mantra flags flying alongside national flags. People in the street recite prayers, count beads and in their conversations, there are aspects of their faith."
On Bhakor Street, the famous trading and religious hub in Lhasa, Tibet's capital, vendors pray while waiting for customers.
Along with the Chinese surveillance cameras, Prachawan observed scores of devout Buddhists spinning prayer wheels containing mantras, and pilgrims prostrating themselves, stretching their entire bodies onto the ground at Jokhang Monastery, said to be the holiest place of Tibet.
"I was galvanised by such sights. Pilgrims are everywhere. They prostrate themselves more than ten thousand times in front of the holy place.
"I feel that they are liberated and inwardly free. The dirtier they appear, the purer their minds seem to be," she said.
Having gained her first degree in political science, Prachawan read and heard stories of the pressures and political changes that Tibetan monks, nuns and ordinary people have had to endure since 1959.
But her understanding of these issues and the Bodhichitta ideals deepened when she came into contact with the people. "I admire their inner strength, courage and compassion. Even in times of trouble, they are not praying for themselves, for their happiness or to be rid of life's troubles. They are praying for all beings," she said.
"For many, the moon invokes feelings of loneliness, forlorn romance, or yearning for home. But my Tibetan guide told me while we were looking at the moon that to him and many Tibetans, the moon is Avalokiteshvara.
"Wherever we are in the world, everyone can pay homage to the Buddha and the Dalai Lama," she said.
Despite over 50 years of coercion, the Tibetan people managed to retain their spirituality - until the last 10 years.
Modern Tibet is now teeming with bars, discos and shops. Local news sources report rapid economic growth, a jump in GDP, soaring numbers of tourists and increased revenues, which authorities aim to use to expand industry.
"I feel pity that the so-called 'modernisation' is uprooting the sacred spirit of this land. I'm saddened and uncomfortable seeing a picture of Potala Palace [the Dalai Lama's traditional residence] on a beer bottle, even if I understand that the logo is just part of a marketing strategy.
"But Potala Palace is not just an historic or tourist place. It was built to represent the pure land of Avalokiteshvara. It's not right. We should be more sensitive and thoughtful about it," she said.
Her new-found insight had an impact on her career.
"I think we should ask if what we are doing is morally responsible," she said. "I no longer feel comfortable working on products that consumers have no need for. I don't like the idea of creating needs in people," she said, admitting that before she would see it in terms of a creative challenge.
Mindful travelling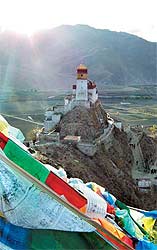 Snow-capped mountains, a vast arid plateau, great river valleys, clear blue skies. Prachawan wrote in her notebook, "Here, I feel the stillness of the late afternoon. Golden sunlight gently touches and warms my face. The wind blows from all directions, carrying a beautiful mantra recited by a million colourful prayer flags to the sky. In this moment, I was touched by genuine happiness."
Natural beauty and silence, she found, are simple sources of happiness.
"I am happy and feel so complete, despite being alone," she said, adding that being in the city, with its throngs of people and noise, she could at times become very lonely and disconnected.
The untamed beauty of Tibet also has its cruel side, providing tough lessons for visitors.
At 4,000m above sea level, low levels of oxygen can cause altitude sickness, symptoms of which include headaches, dizziness, lethargy, nausea and breathlessness, and which can be a life threatening condition.
"I became aware of my breath, by taking long and slow breaths. The high altitude taught me to be mindful of every action, otherwise I could easily become out of breath," she said. "We had to walk, talk and do things more slowly, three times more slowly than I used to do back home," said the Bangkok-born woman.
"To be mindful and to do one thing at a time allowed me to observe the details of things along the way and the people around me. This, I found, is a way to learn more deeply about life and to make connections."
Back at sea level in Bangkok, Prachawan continues her mindfulness practices. She joins the Weekend Mindful Club, started by Jitr Tantasathien. Almost every week she attends mindful activities and discussions with other branding and marketing professionals. She also goes on extensive meditation retreats with monks.
"I've never thought I'd come this far on this religious thing. However, meditation and mindful practices calm me down. I am less hot-tempered now. I think before I say anything," she smiled.
Happy simplicity
In the advertising world, happiness and pleasure are things one has to work for, or buy. Here, the Tibetan nomads she met during her trip to the mountains taught her that happiness is just a matter of being.
The nomads roam the valleys, rivers and lakes; they live close to nature, which at times can become very hostile to people. "To me, these people are constantly aware of the impermanent nature of life and they adjust their lifestyles to live with the flow."
Their food may not be plentiful or delicious, but it taught her the value and meaning of food and to "eat to live".
"They haven't got much, but they smile, laugh, sing and dance and make me happy.
"While my life in the city never lacks 'things', I complained to them about the discomfort, unhappiness and lack of time in life," she said.
Time, to her, is filled with managing other peoples' lives and business schedules, running to do lots of things, wasting time in traffic jams, however, we have little time for ourselves.
"Here I am happy, despite no television, no advertisements, no newspapers to update me on the world's troubles, no silly movies to numb my brain, no telephones.
"Without those things, what I have is time. Time for myself - something I rarely had in my previous urban lifestyle," she said.
Realising compassion
In return for the nomads' hospitality, Prachawan emptied out her rucksack and gave anything she could to her new friends. "I felt like giving. And it wasn't because I thought they were lacking anything, or poor.
"It's their good hearts, liveliness and friendship that somehow planted the seeds of compassion in my heart."
Back home, Prachawan could not forget her experiences in Tibet or her desire to do something for her Tibetan friends.
"There was too much information, inspiration and feelings inside me that wouldn't rest. I felt sad to sit on them without doing anything," she recalled.
Instead of putting the pictures she took on her first visit in an album, souvenirs of a visit to an exotic place, she chose some and turned them into postcards. She then sent 800 postcards to a souvenir shop and school for blind children in Lhasa, so that they could earn some extra income from her creations.
"I love taking pictures, so I thought about turning my passion into something that could be of help. It's a way to express my gratitude to the people and land that inspire me deeply and changed my world," she said with a smile.
The vendor does not take her postcards for free, though. He donates part of the profits to the monastery, and makes merit on her behalf.
While in Lhasa, she visited a school for blind children, Braille Without Borders, opened in 1988 by a German woman, Sabriye Tenberken, who has been blind since the age of 12.
"Children could see me very vaguely or not at all, but I could clearly see the smiles, liveliness and friendliness they offered to me. I was so moved and alive being with them," she said. "I promised to myself to do anything I can to help."
Whenever she visits Lhasa, she stops to play with children. To help them, Prachawan made a small notebook, featuring some of her photographs of Tibet and some notes of her impressions during her visits. The sale of 1,000 notebooks would go to help support the school for blind children and other charitable causes in Tibet.
Now she is writing a book on Tibet and hopes that, if published, it will become another channel to help raise funds for the Tibetan people.
"It's my personal reward that I can't find in my job. It's to see that we can do something to make others happy," she said. "When we do things from the heart, we are full of energy and happiness. What I do is just a small contribution, but that doesn't matter. I think what's important is that when you feel moved to do something, you have the courage and compassion to realise it.
"My trip to Tibet gave me the courage to follow my heart and my dreams. It's not easy to leave our comfort zone, but to really learn something, one needs to step out of the things and people we are used to," she said.