In front of the Starving Buddha
by Jyoti Malhotra, The Wall Street Journal, May 30, 2008
Lahore, Pakistan -- If Lahore is the jewel in South Asia's crown, then the Lahore museum is a self-contained, little island located in the heart of the city's bustling Mall Road, witness to the rise and fall of empire and ideology, not entirely a participant, but not strong enough either to have completely escaped the ravages of time.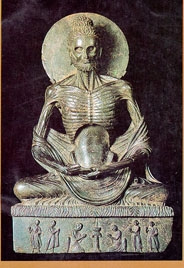 The museum is widely known, not least because Rudyard Kipling's father was once its curator, but also because its spectacular collection of Gandhara art is unrivalled. Like so much else with the partition of India in 1947, the collection of the Lahore museum was also split into two. We don't know if the new countries fought over the Starving Buddha, but Lahore, as usual, won that round.
So there it is, the sculpture of the Starving Buddha, in the centre of the large gallery, and on a Monday afternoon I have him all to myself. I have crept upon it quietly, moving through the Sikhs and the Tibetans and the Mohenjo-Daro galleries with cathartic intent. The man at the ticket counter has sold me a ten-rupee ticket, the abysmally low entry that only Pakistanis pay. (Since my father was born in India/Pakistan, I am grateful for the generational extension.) I believe the sculptors in modern-day Mardan and Sikri and Charsadda can still turn the stone, just like their ancestors did, and infuse it with the same tenderness and compassion once manifested in Buddhist art.
There's the statue, then, about two feet high, seated in the lotus position. The Buddha had thought he would be able to escape the pain of reincarnation and attain nirvana, if he focused on the godhead to the exclusion of all else. So he decided not to eat and drink. The skin slowly shrivelled up and the Greek god-like body, a common feature of Hellenistic art of the time – as well as of scores of other Buddhas in that room -- was consumed in the trauma of wilful self-abnegation. The Buddha's eyes receded into dark hollows, his cheeks became blades of bone and his rib-cage a shocking skeleton. The facial hair is grey on the dark-blue stone.
In the semi-circle of my universe in front of the glass cage, there is the Buddha and me, me and him. A couple of noisy children loiter by, happy to kick the imaginary football in this cavernous room, anticipating the soft footfall of accompanying adults. They can't intrude upon my semi-circle, though. Later, my Lahori friends tell me how lucky I have been, not to have encountered hundreds of Japanese Buddhist tourists, kneeling and praying in front of the caged Buddha.
Two women and a man stroll by, one of the women in black hijaab, that is she's covered from head to toe in black, although her fair, smiling face is fully revealed. The other woman's face is partially clothed in a cream-coloured nikaab, edged with white lace. They walk up and down in front of the Buddha a couple of times, when the cream-coloured one asks me where I am from and if this is my god. India, I say, and in answer to the second question I add, maybe, I suppose so. So you pray to him? Not really. Sometimes. I wish I did, I think to myself, wish I knew more than buddham, sharanam, gachaami…
The cream-coloured one is obviously not happy with my indeterminate answers. But why do you have to pray to a statue, she says, in Islam we believe there is only one god, his name is Allah, and he doesn't have a shape or size.
I, we, some of us, I confess, pray to statues because it's easier to pray to something with a shape. I want to tell her that I belong to the Arya Samaaj sub-sect of Hinduism, which doesn't believe in idol-worship, a bit like Islam actually. I don't really use a statue, I say instead, but recite shlokas or mantras. My god is inside me. I know I am blathering by now.
Aha, she says triumphantly, that's the thing. In your religion, your god is inside you, but in my religion, Allah is everywhere.
She's executed the perfect manouevre, seen right through my religious confusion and whacked me with a temporal side-step the debaters of the Mahayana school would be proud of.
She's right of course. And I am completely nonplussed. But I'm not about to let her leave, smilingly secure in the knowledge that her god is better than mine. (One part of me is keenly aware that this sounds like the old Hindu-Muslim argument, where we have all killed in the name of our respective gods.) And so I embark upon the equally old repartee, how there is enough space for all of us to pray to those we wish, to Allah and Ishwar...

(One part of me is aware that this sounds like a speech).
The man, who has accompanied the two women, is pulling her away by now. What was that about anyway, I can hear him telling her, as they move on, past a roomful of mute Buddhas.
And yes, the story isn't over yet. We meet again, upstairs, in the 'Pakistan Movement' section of the museum. I have gone there to find out how Pakistan treats its heroes, hoping that I can look at the history of the sub-continent, about the agonising birth of Pakistan from the old country, from another perspective. It's a small exhibit, and I guess I'm disappointed. The too few walls are covered with reproductions of Jinnah and Iqbal (who, like my father, graduated from Government College, Lahore), but sadly, many of the reproductions are from newspapers of the time, and their quality is pretty shoddy. I was hoping Pakistan would have a better sense of history, that it would have better articulated the hopes and fears of the new nation (I find that later, in Islamabad, in the brand new National Arts Gallery, but more of that later) in a display that could rival anything else in South Asia.

We meet like old friends. The man wants to know if I know so-and-so in Delhi, in an attempt to restore the temperature and I want to know the woman behind the cream-coloured 'nikaab.' She responds by holding my hand.
After a few more minutes, we agree that we're not trying to convert each other. I'm glad we have differences, I say weakly, otherwise how would we be able to discuss and debate them? She laughs from behind her nikaab, warmly.