A very Buddhist Christmas
by Jennifer Moreau, Burnaby Now, December 24, 2008
Burnaby, Canada -- In the midst of Christmas spending and a national recession, one Burnaby family is keeping it simple for the holidays.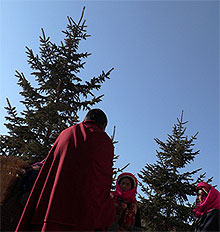 Yi Ling Chen and her husband, Brandon Lin, are among Burnaby's 9,360 followers of Buddhism, the city's second most common religion next to Christianity. But for Yi Ling, Buddhism is a philosophy of living that carries a message of simplicity during the holidays.
"A kind of philosophy of Buddhism is to reduce what we want," Yi Ling says.
"If we have desire, we always want more," she says, adding this leads to emptiness and dissatisfaction. "It's a bad cycle."
That "lowering of desire" cuts down on insatiable materialism and helps one lead a simple life.
"(We) just think of getting what we need ... and living an eco-friendly life."
Yi Ling and Brandon moved to Canada from Taiwan and later met through the Tzu Chi Foundation, an international Buddhist volunteer group founded and led by Cheng Yen. Yen believes that suffering is caused by material deprivation and spiritual poverty and that a lack of love for others lies at the root of many worldly problems. Yi Ling and Brandon now have a baby girl, Chloe, and a boy on the way.
As Buddhists, they wouldn't normally do anything for Christmas, but, since they are in Canada, they partake in family dinners and exchange presents.
But even gift-giving is carefully examined.
"We just buy what we need," Yi Ling says, a practice they follow every day. "We have to ask ourselves: Are we really getting what we need or are we getting what we want?"
Rather than giving each family member presents, they think about who really needs something replaced.
For example, they bought relatives a TV to replace their aging set. They also bought it and delivered it in November to take advantage of sales - much more practical, Yi Ling says.
"That's another way we do the gift exchange," Yi Ling says. "That's one way to save money and really give something they really need." And that helps reduce desire and lightens the load on Mother Earth. Many worldly problems, such as global warming, are caused by people's desire, Yi Ling says.
The family gets together for a hot pot dinner on Christmas Eve. Since Buddhism promotes compassion for all forms of life, both husband and wife are vegetarian. Dinner is usually tofu, vegetables, fruit and a lot of soy-based food. They also donate old clothes to charity.
"We believe it's time to give and time to share," says Brandon.
For Brandon, the message from Buddhism is to appreciate and give back to society.
"The idea is a lot of us are new immigrants, and we believe we are consuming (resources from) this society," he says. Volunteering is part of the Buddhist philosophy, and the Tzu Chi Foundation gives back to local causes, Brandon says.
According to Yi Ling, the Buddhist Christmas message is not that different from any other day: We should appreciate the day, the whole new start and the fact we are privileged to live in a country free of war, disease, political unrest and terrorism.
"In Christmas, we take the appreciation and turn it into compassion and sharing and respect towards others - not only human beings, but everything on earth."