The Buddha as Astute Businessman, Economist, Lawyer
By Ajay Singh, UCLA Today, March 19, 2009
Wall Street bankers would have benefited from being in the Buddha's audience. At the 106th Faculty Research Lecture, Gregory Schopen explains
Berkeley, CA (USA) -- THE BUDDHA was a businessman. But don't take anyone's word for it - it's written in stone.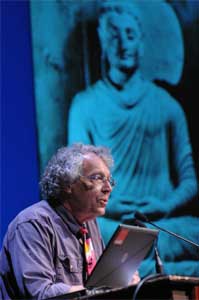 << Todd Cheney/UCLA Photo.
Of all the iconic scenes found in the earliest Buddhist art from India, none are more striking than the sculpted representation of a title deed involving one of Buddhism's most venerable monasteries: The transaction, involving 10 million gold coins, clearly shows that, far from being an ascetic, other-worldly religious tradition, Buddhism was, in fact, "deeply entangled with money – and a very great deal of it at that," according to Gregory Schopen, chair of the Department of Asian Languages and Cultures and an authority on ancient Indian Buddhism.
Schopen spoke March 10 at the 106th Faculty Research Lecture at the Freud Playhouse on a topic that has much to say about why our world has sunk into a recession: "The Buddha as Businessman: Economics and Law in an Old Indian Religion." The prestigious event was attended by Chancellor Gene D. Block and hundreds of faculty, staff and members of the public. Dressed casually in jeans and sporting a colorful tie, Schopen delivered his hour-long lecture with iconoclastic wit, verve and vitality, prompting frequent bursts of enthusiastic laughter from his audience.
Partly because of popular culture, it's hard to imagine the Buddha as anything other than a great sage, "seated in what appears to be serene and deep meditation," or surrounded by students craving enlightenment, said Schopen. Neither image suggests that the Buddha, who taught that "all things are impermanent," might, in fact, be "pondering how to avoid paying custom duties and taxes" — or that he might well be teaching his followers "how to write a loan contract and not make unsecured loans."
Indeed, Wall Street bankers would have benefited from being in the Buddha's audience, said Schopen — a sobering reminder that, despite the world's progress, much of history remains repetitive.
Neither the language nor the organizational structure of the Buddha's monastic community suggests that it was a religious institution, said Schopen, who has been separating Buddhist fact from fiction for the past 30 years. Buddhist sources, he said, refer to their organization as a "sangha," a term used in early India to denote a commercial guild or economic enterprise that functioned in some ways like a modern bank.
These groups were led by a "pramukha," or chief, which is how the Buddha is repeatedly referred to, Schopen explained. As in modern unions, the status of the guild's members was determined by seniority — not spiritual attainment — and their training in the group was structured on a system of master and apprentices, the scholar added.
What's more, Buddhist guilds used seals to mark their goods, which were subject to taxes. "The Buddha, according to some sources, devised a number of clever strategies to evade them" and even admitted that they weren't always successful, said Schopen.
For all that, it was customary for the guilds to inscribe copies of legal documents on monastery walls or on porches. These inscriptions, like many others elsewhere, not only recorded gifts to the monastery, but also publicly advertised the fact that the monasteries held large sums of money intended to generate interest and were "therefore presumably available for both personal and commercial loans," said Schopen, adding: "Given this kind of publicly available information, it is not surprising that Buddhism in early India was attractive to the mercantile class."
If the Buddha was a businessman, what stopped him from being greedy?
Schopen's reply to this question from an audience member squarely addressed one of the major issues at the heart of our troubled economy.
"I think perhaps the Buddha foresaw in his wisdom what happens to greedy businessmen," he said. Alluding tongue-in-cheek to disgraced financeer Bernard Madoff, he added: "What's his name, now, in New York City …?" The Buddhist doctrine, Schopen noted, was also presented as the Middle Way, which is "a very good business principle."
The Buddha's life is a reminder that poverty, not money, is the root of all evil. In fact, modern research is making it increasingly clear that monks everywhere were overwhelmingly middle-class, and in early India, said Schopen, "the predominant ideology was not, in spite of representations in bad movies, particularly ascetic, and certainly not averse to the accumulation of wealth."
Despite widespread Western fascination, both scholarly and popular, with India's wandering monks, "it has always been clear that they were never more than a tiny minority," Schopen said. In fact, he quipped, they were often perceived as an "idiotic fringe, respected in a way, but more often feared and grouped in Indian secular literature with criminals, charlatans, lunatics, spies — and probably university professors."