Buddha taught to find peace by shunning selfishness
by Rajendra Kerkar, TNN, 9 May 2009
New Delhi, India -- Buddha Pournima, celebrated here on Saturday, has special significance for the Buddhist community spread all over the world. On this day the Buddha was born, attained supreme knowledge and attained Nirvana when he died at Kusinagar.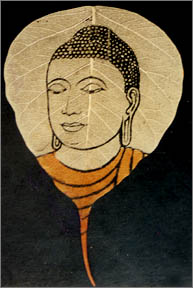 The three important incidents associated with the life of Gautam Buddha occurred on the day of Buddha Pournima. That is why this day is considered as the most sacred day in the Buddhist calendar.
Queen Mahamaya, the wife of Suddhodhana, the ruler of the Sakya clan, gave birth to Siddhartha in 544 BC on the full moon day of Vaishakh, under the shade of two Sal trees at Lumbini.
A week later Mahamaya died and the child was nursed by his step-mother Gautami. Hence he was known as Gautam. Since Gautam could not enjoy the peace of mind even after his marriage with Yashodhara and the birth of a son Rahul, he discarded all material pleasures and went to seek the light of knowledge.
He received enlightenment and was known as Buddha in Gaya under a peepal tree at the edge of the river Niranjana. On his 35th birthday, he secured four noble truths of life. He taught these truths to his five disciples at Sarnath near Varanasi and formed the Sangha or community.
On the day of Buddha Pournima, Buddhists bathe, wear white robes and pay a visit to the nearest Vihar for listening to discourses on the life and teachings of Buddha. The five principles or the panch sheel which include not to take life, not to steal, not to lie, not to imbibe intoxicants and not to commit adultery are emphasized.
Buddha tried to convince people through reason and persuasion rather than through displays of supernatural power. He regarded the social world as the creation of humans rather than of divine origin.
In Goa, there are Buddhists. With Dr Babasaheb Ambedkar embracing Buddhism, it gave new hope and dimension to the life of a large number of downtrodden people.
Anant Kaushal, a teacher at Shivoli says, "Buddha taught that people can find peace and contentment in life by getting rid of selfish wishes. He preached the message of unity, harmony and peace which helped us to get a new path."
During the pre-Portuguese period, Buddhism existed in Goa. The bronze head of Buddha found in the house of the Mhamal Kamat of Panaji might have been brought to Goa during the Bhoja period by Buddhist merchants.
A copper plate of Konkan Maurya ruler Chandravarman C of 500 AD, mentions the grant of land to the Buddhist Mahavihara of Shivapura, which has been identified as a locality in Shiroda of Ponda taluka.
In Rivona of Sanguem taluka, a Buddha stone sculpture with two pedestals belonging to 700 AD was discovered. In 1930 Fr Henry Heras had discovered a stone sculpture of Buddha at Mushirvada in Colval, which belonged to C. 950 AD. There is a possibility of Buddhist monasteries being in existence at Colval, Lamgao and Rivona.