Handling The Troublesome Mind
By Priya Devi R, OneIndia, Dec 14, 2009
New Delhi, India -- A Buddhist story about freeing oneself from the tyranny of thoughts, paving way for a silent mind. A short story about leading one from the mind to the no mind, a state of eternal peace.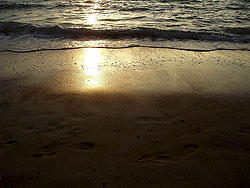 Gautama Buddha one day asked one of his disciples to beg alms from a certain household and report to him at dusk. The monk returned to the master as per his command only to let him know that he would not beg for alms in that particular house again. When pressed for the reason, the monk answered, " I savoured the delicious food served and I suddenly felt an urge to eat something sweet. The lady of the house offered me a sweet dish. I then felt like sleeping and the lady immediately asked me to rest for a while. I was surprised by her ability to read my thoughts that I asked how she knew of my desires?"
"The lady replied, 'Witnessing my thoughts, my mind has become silent now that I can now see other thoughts as well"
The monk continued to Buddha, " Looking at her I had sexual thoughts also and now I am embarrassed to see her again for alms as she would have read my sensual desire as well. So I do not want to visit her house for alms"
The Buddha said that the monk ought to go to the particular house for alms again. He advised, "This time you will go as a changed person. Just be aware of your thoughts, every bite of your food and every step that you take. You will just have to watch every thought that arises, but do not co-operate with it . Disassociate with it and do not analyze it. No thought is yours, they come from outside!"
The monk did as advised by Gautama Buddha. He remained a mere witness to his thoughts and there was no co-operation from his end. There was a change within him, an inner peace, though the world continued to remain the same.
The one and only trouble is one's own mind. When one knows one's true self, the mind ceases to be.