Up the middle path
by Sharon Fernandes, Express India, Aug 8, 2010
What brings a group of youngsters to a crash course in Tibetan culture? At the Namgyal monastery in Mcleodganj, the answers are as varied as the people looking for them
Dharmsala, India -- Said Reza, from the land where the Bamiyan Buddhas were built and then felled to dust, traces a map in the crisp Mcleodganj air. His fingers draw, in a few centimetres of space, the centuries-old trade route that linked Central Asia to Tibet.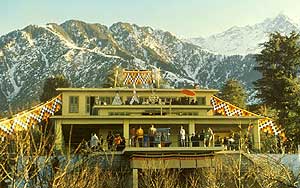 This is also the path, he tells us, that Buddhism took when it travelled from Afghanistan to Tibet in 7th century AD. The conversation fits right in with the scene around us. A cup of ginger honey tea cools at an open café near Namgyal monastery, the crowd passing by is a rainbow hue: Germans, Africans, Americans, Indians and Tibetans. Buddhist monks, their iPods and iPhones gently gleaming against maroon robes, walk up the rocky lanes of the various monasteries scattered around Dharamsala.
Twenty-seven-year-old Reza from Balkh in Afghanistan is a student of Persian and Central Asian studies at Jawaharlal Nehru University in Delhi. Unlike many visitors to this mountain refuge, he is not here to escape the summer raging in the plains. He is here for the Gurukul Foundation course, a 10-year-old initiative of the Foundation for Universal Responsibility that invites students from across the country to learn about Tibetan history, culture, art and the government of His Holiness, the 14th Dalai Lama in Dharamsala.
If Reza found rare books and rarer Tibetan manuscripts in the library of Tibetan Works and Archives in his month spent here, others in this year's batch of 30 students were drawn to this crash course in Tibetan culture for different reasons.
Here to find some answers in detachment is 22-year-old Dibyajyoti Das, a postgraduate student of physics at IIT, Kanpur. He is serious about snapping his ties from the world he comes from, at least for a month. "This is not a vacation. I deleted my Orkut and Facebook accounts before coming here. I wanted to have some time alone just with myself," he says. At the Tushita meditation centre, he spent 10 days getting comfortable in that solitude, minus his mobile phone and iPod. Will life return to the tyranny of the status message once he returns to Kanpur? Das doesn't have an answer.
"I wanted to be in a place where no one knows me," Rajarshi Sen tells us when we meet him, a string of prayer beads around his neck. He is 21, an undergraduate student at BITS, Pilani. "I am arrogant. I wanted to come to a place where I could be alone. And yes, in this month, I saw that the philosophy the monks talk about is really practised here. These were humbling experiences," says Sen.
The flaming colours of the thangka are what drew Riddhima Jaiswal from Delhi to Dharamsala. This student of fashion at NIFT, Delhi, says she "wanted to get a closer look at Tibetan symbols and culture, so I can use it in the future in my work". Twenty-one-year-old Aheibam Preetibala, who is studying anthropology at the University of Hyderabad, has no designer dreams. But most of her stay here has been involved in learning the thangka technique, handling the lush silk and the spools of thread. She is taking back with her the fruit of her labour—a tiny thangka in brilliant indigo, on it a yellow sun and smiling flowers.
This is not a rigidly defined course. Students are left on their own, to pick and learn what they wish, to find their middle path. They can saunter up to the departments of the Tibetan government in exile and find, not stuffy red tape, but genial bureaucrats ready to listen to their suggestions. Or, find a cause to rebel for. Vikram Doshi, for example, wants to draw the country's attention to a Tibetan treasure. An artist. "He is Pemba Dorje. He is 80 years old. He was the master sculptor at the Namgyal monastery and has made over 10,000 statues," says Doshi, a 21-year-old who has studied computer science from St. Xavier's Kolkata. Doshi wants to know what he can do to convince the Indian government to include Dorje in the list of Padma awardees next year.
Jyotsna Sara George, a 20-year-old student of philosophy from St. Stephen's in Delhi, is here because she wants to see how the monks bring the solemn truths of Buddhist philosophy to bear on their quotidian lives. At the Dormalinga nunnery, she sits on the floor, a wooden desk before her, as monk Rinchin conducts a class on philosophy. "When I show you a book, what do you see? What really is a book? Is it the pages? Is it the colour? Is it a shape?" she says.
The answer, she says with a smile, lies beyond the physical fact of the book. George is an eager student and has plenty of questions. But what moved her, she says, more than philosophical abstractions, were the monks—their easy, smiling detachment from the world, their unobtrusive enjoyment of life. "Staying with them, eating with them and observing how they share the smallest thing teach you more than the lessons," she says. And later, in a moment of perception, she adds, "Here each question begets more questions and in between somewhere are the answers."
Some of the students have kept things simple. Shruti Srivastav, a 23-year-old literature graduate from Ahmedabad, says, "I came here to learn the Tibetan flute." Perched at the edge of a mountain is the Tibetan Institute of Performing Arts, home to the sounds of the damnyen (a six-stringed lute) and the Tibetan flute. The prayer flags dance to their tunes. Hitting the high notes on her damnyen is Tenzin Nagdon, a student of political science at Delhi University. Her reasons are slightly different. "Tibetans in my own college don't interact too much. Perhaps I can take back something that can bring my community closer," she says.
A month has whizzed past and they are on their way back. Many still too tickled about meeting the Dalai Lama — "He opened the door and bowed before us! Can you imagine? We were shocked". The others have new Facebook profile pictures of them at prayer wheels. Reza is armed for a presentation on the Silk Route for a conference in October. New routes are being laid out from Dharamsala.