Blossom Bus and Lotus Pedals: Back2School!
by Michaela Haas, The Buddhist Channel, Aug 12, 2010
'Back to school' season just got brighter for thousands of girls in India and Cambodia
San Diego, CA (USA) -- It's 'Back to School' season, and while American children lament the end of a summer filled with leisure and play as they board their local school bus, millions of girls in Asia are forced to watch their hopes and dreams slip away because they have no way to get to school.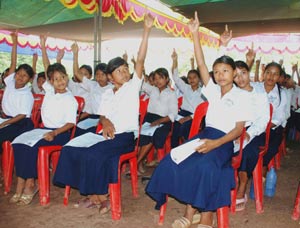 In a given academic year, the U.S. will spend 2 for each student that receives transportation to and from school. Unfortunately, this fundamental element of ensuring children's access to education does not exist in much of the developing world and millions of girls are left behind as they transition to their nation's equivalent of junior high and high school. Public secondary schools are few and far between in India and Cambodia, and transportation repeatedly proves to be the greatest hurdle to higher levels of education for girls.
Cambodia in particular is falling behind in the area of girls' education. Only 23% of rural Cambodian girls attend secondary school with the rate dropping to a mere 6% for the nation's poorest girls. One of the key barriers to girls' education in Cambodia is a lack of transportation.
Expanding upon a comprehensive scholarship initiative, Lotus Outreach (LO) is funding bicycles and repair kits () to ensure hundreds of girls can get to school each day. "Lotus Pedals" provides heavy-terrain bicycles to hundreds of impoverished and exploited Cambodian girls who would not otherwise be able to traverse the considerable distance to the nearest schoolhouse—often over five miles each way. "It is amazing to think that something most of us consider a recreational device can mean the difference between whether or not a girl in Cambodia can achieve the promise of education," says Erika Keaveney, LO's Southern California-based Executive Director. "We know that there are hundreds of
girls literally sitting at home right now instead of going to school for want of a simple bike."
http://www.globalgiving.org/projects/lotuspedals/
In Mewat, a remote Muslim district in India, only three out of every 100 girls learns to read and write. LO's Lotus Education as a Right Network ("LEARN") encountered great hesitation among the conservative villagers to let young girls leave the house on their own to attend one of the few schools within reach.
LO found a simple yet effective solution: "The Blossom Bus" and a parent chaperone safely deliver village girls to school each day for $150 per girl, per year. "Over three years, LEARN officers have earned the trust and confidence of Mewat's families through their hard work, dedication, and tangible results," says Glenn Fawcett, LO's Executive Director of Field Operations. "The improvements they have brought to schools were instrumental in convincing these families to take a leap of faith and break with social conventions by sending their adolescent girls to available schools. Already our first three buses are fully booked and the waiting list is growing every day."
http://www.globalgiving.org/pfil/5307/projdoc.pdf
Girls' education is internationally recognized as one of the most powerful catalysts for human development. Educated girls marry later, space pregnancies, and are much more likely to raise healthy and educated children, thus halting the transmission of poverty through future generations.
About Lotus Outreach: Founded by Tibetan Lama and renowned filmmaker Dzongsar Khyentse Rinpoche, Lotus Outreach is a 501(c)(3) non-profit organization dedicated to ensuring the education, health and safety of vulnerable women and children in the developing world. LO's unique approach to tackling poverty and its tragic consequences involves working with grassroots organizations in its target countries (India and Cambodia).
Lotus Outreach has been working for almost two decades to empower local partners by providing critical, on-the-ground support in the areas of funding, program design, performance management, technical support, training, and data collection and analysis, while giving them enough autonomy to ensure the local ownership and cultural relevance of each project.
For more information and photos visit www.lotusoutreach.org/press.php
Lotus Outreach International
P.O. Box 620222
San Diego, CA 92162-0222
Tel / Fax: 888.831.9990