Humor, Humility and Sincerity: The Dalai Lama Speaks at WestConn
By Jaimie Cura and Craig Donofrio Email the authors October 19, 2012
Thousands came to see the Dalai Lama speak at Western Connecticut State University in Danbury
Dansbury, CT (USA) -- People from all walks of life and from all parts of the country attended the Dalai Lama's visit to Western Connecticut State University Thursday afternoon.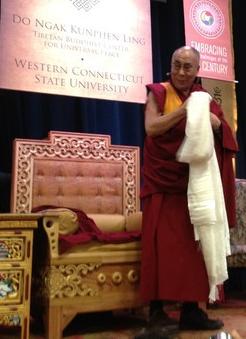 Roger Poling and his friend, Rick Drumwright, travelled 650 miles from Morehead, North Carolina, to see the Dalai Lama speak.
While it was Poling's first time seeing the Dalai Lama speak, Drumwright participated in two weeks of teaching by His Holiness in Washington, D.C., some years ago. Drumwright had obtained tickets via lottery, but Poling had to buy them. When tickets became available, he called the ticketbooth, hitting 'redial' for an hour and 20 minutes until he was able to get through for a purchase.
Drumwright, whose green prayer beads were wrapped around his left wrist, spoke of the virtues of meditation and how difficult yet rewarding it is.
"Meditation is one of the hardest thing to do," he said. "But it's important. You'll never quiet the mind completely, but you'll be able to give your subconscious time to come to the surface."
The Dalai Lama's visit was a surreal experience for Poling.
"I'm an old man and I never expected to get to see him in my lifetime," said Poling, who described himself as a practicing Buddhist. "In any generation, we're lucky if we can have one holy man on the planet. For this generation, I think the Dalai Lama is it."
When the O'Neil Center's 4,500 seats filled up and the time turned to 1:30, a group of red-robed monks from the Drepung Gomang Monastery began a Tibetan chant encouraging kindness and selfless benevolence.
The press lined up with cameras ready for a 60-second window to snap photos up close when the Dalai Lama would approach the podium.
A security guard whispered to an aide, "He's here."
Long minutes passed as the crowd waited in an anxious quietness, ruffling pamphlets and speaking in whispers. But before His Holiness would arrive on stage, Western Connecticut State University President James Schmotter began an introduction. He thanked the Do Ngak Kuphen Ling Tibetan Buddhist Center (DNKL) located in Redding, for its vital role in bringing the 14th Dalai Lama to WestConn.
It was "an historic occasion," said Schmotter.
Gyumed Khensur Rinpoche Lobsang Jampa, the Spiritual Director at Do Ngak Kuphen Ling, spoke next.
"The university has undertaken extraordinary efforts to make today a wonderful and historic event for our community. Our work together has developed a warm and lasting friendship between DNKL and our friends at WCSU. We pray for their continued success in educating thoughtful, ethical and happy students," he said.
The crowd applauded, and then applauded even more when Richard Gere came on stage to introduce the Dalai Lama. Click here for the video of Gere's introduction.
Finally, the Dalai Lama himself spoke with his trademark mix of humility, humor and sincerity.
Wisdom from the Dalai Lama
Inner peace, a necessary goal in Buddhist philosophy, was one of the topics His Holiness discussed. After asking, "How do we develop inner peace?" he offered up prayer as one possible avenue but cautioned people against putting all their stock in prayer.
"I believe more in action rather than prayer," the Dalai Lama said with an infectious laugh that inevitably caused the audience to chuckle as well. "I believe action is more important. These prayers should translate into action."
Education and emotion were another two topics the Dalai Lama broached. He spoke about where emphasis should be placed in order for one to be happier and more compassionate. Click here to watch a clip of the Dalai Lama's talk.
A Once in a Lifetime Opportunity
While not all travelled from afar, those in attendance knew they were witnessing something unique, if not extraordinary.
Several people in the audience had ties to Bethel. Two Bethel High School teachers, Jennifer Scott and Katie Kellog, said they came to listen to His Holiness' words and share them with their students.
"It's a once in a lifetime opportunity," said Kellog. "He stands for peace, compassion and kindness—we wanted to see that and relate those feelings back to our students in our classes," she said.
Both her and Scott teach modern world history at Bethel High School. She pointed to one of the huge televisions bordering the main stage.
"Our seniors did that video," she said.
The video being broadcast (see the whole YouTube video attached to this article) was done by Bethel High School students from the school's Amnesty International chapter. It played on a loop before the beginning of the event.
Another Bethel resident, Tia Murphy, said she was eight years old when she told her sister that she would see the Dalai Lama someday.
"I read about him in National Geographic," she said. This would be the second time she saw His Holiness.

"I saw him many, many, many years ago," she said, when he came to Winston-Salem, North Carolina.
Murphy said the first time she saw the Dalai Lama, he wasn't announced and never spoke; it was only after the monks left the area she was in that she was told one of them was the Dalai Lama.
"So I did see him but I didn't know it at the time," she said with a smile.
Southbury residents Carol and Tanya Brenton felt the positive energy around the day, even before the Dalai Lama walked through the curtains.
"I've been smiling like an idiot all day," said Carol with a laugh.
The Dali Lama will speak again today at 10 a.m. His theme will be "Advice for Daily Life."