Buddhist programís end prompts student outcry
by Carole Bass, http://www.yalealumnimagazine.com, November 5, 2012
Yale University, USA -- Yale has abruptly ended its Buddhist program, Indigo Blue, and the chaplaincy of the program's leader, Bruce Blair '81, prompting protests from some students.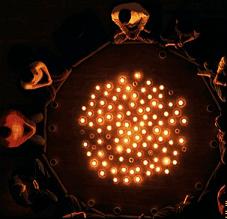 << Indigo Blue's nightly Stillness & Light meditation sessions are canceled. Photo: Mark Ostow
At a meeting yesterday with University Chaplain Sharon Kugler, "nearly half" the students "walked out in the middle of the conversation, expressing dissatisfaction with the way in which Yale has handled the situation," the Yale Daily News reports.
Students who arrived at Battell Chapel for Indigo Blue's nightly meditation session, Stillness and Light, on October 22 found an empty room. The Buddhist Chapel, in Branford College's Harkness Tower, was dismantled a week later. Kugler told the News that the university decided to end its nine-year relationship with Blair and Indigo Blue but declined to say why: "We have decided it would be best to go in a different direction to serve our Buddhist community."
In an e-mail to students, Kugler said the chaplain's office is working on restoring the Buddhist chapel and creating new programs for Buddhist students. "This change may feel sudden," she wrote, "but it was carefully thought out."
On a new Indigo Blue website, Blair writes that "the reasons Yale gave for annulling its relationship with Indigo Blue were allegations, mainly new, and neither detailed nor substantiated." He also declines to detail the reasons, saying he hopes they can be addressed privately: "I still feel I have done nothing wrong and hope misunderstanding can be addressed and the relationship renewed.… for the moment it is not appropriate to discuss in detail the issues Yale raised."