Local Buddhist, meditation groups look forward to Zen masterís visit
By Anne Neville, Buffalo News, April 8, 2013
Lectures, workshops and retreat planned for four-day visit
Buffalo, New York (USA) -- Buffalo's Buddhist community is anticipating a rare visit from the abbot of a Buddhist monastery later this month, which will involve six events, all open to the public, including instruction on the basics of meditation.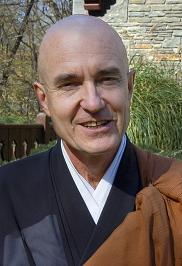 << Ryushin Sensei
Konrad Ryushin Marchaj, known as Ryushin Sensei, the abbot of Zen Mountain Monastery in the Catskills, which is part of the Mountains and Rivers Order of Zen Buddhism, will present three lectures, two workshops and a retreat during his four-day stay in the area.
"This is a rare and unique opportunity to have a Zen master, who is a master teacher, present and be in their presence, let alone hear talks by him," said Marguerite Battaglia, who has meditated for years and is active with the Peaceful Heart Mindfulness Community.
Although Western New York has many groups practicing Buddhist meditation traditions, "what's frequently not easily accessible to most of us in Buffalo is the opportunity to personally engage such an experienced Buddhist teacher," said Ray Eigen Ball, coordinator of the Buffalo Zen Dharma Community, which is affiliated with the Mountains and Rivers Order of Zen Buddhism.
Ball has visited the Zen Mountain Monastery and met Ryushin Sensei, who was born in Poland in 1953 and escaped with his family when he was 13. Ryushin Sensei got his undergraduate degree from Yale, served in the U.S. Navy and attended medical school in Albany, later working as a pediatrician and psychiatrist until he entered the monastery.
"He's very down to earth," said Ball, "but you do come away with a real sense of authenticity, a person who is genuine. It can be a stark contrast to what we encounter day to day."
Various strains of Buddhism developed after the death of the Buddha, Siddhartha Gautama, in 483 BCE in what is now India. The Zen community developed from Buddhist roots in China and Japan.
Ball said his visit is being greatly anticipated by members of the Buffalo Zen Dharma Community, as well as other people who follow Buddhist practices in mindfulness or meditation groups. Those groups "are peer groups; they're not led by teachers," he added.
Battaglia said every event is open to the public, including a morning workshop April 20, during which Ryushin Sensei will instruct people on meditation.
"That would be such a good opportunity for the general public to get this, and then be able to participate in the meditation that he will lead," she says. "Usually this is something you have to find, and go to training for, and here it is coming right to us."
The general theme of Ryushin Sensei's lectures and workshops will be the elimination of suffering, the basic tenet of Buddhist study and practice. All will be held in the ministry center of the Episcopal Diocese of Western New York, 1064 Brighton Road, Town of Tonawanda. Donations of $12 for each lecture, $20 for each workshop and $10 for the retreat have been requested.
• The topic for the lecture from 7 to 9 p.m. April 18 is "Unconditional Happiness vs. Pursuit of Pleasure," and will address the key question, "What is truly the basis for unconditional happiness?" Ball recommends this lecture for anyone just starting out. "This lecture's topic is at the heart of the matter, what is it that causes us to be unsatisfied with our lives," he says. "This is the basics. The first lecture will set the tone and lay the groundwork for the weekend, although they all stand on their own."
• Two events will be held April 19. From 2 to 5 p.m., a workshop titled "Ethical life and the kitchen sink: How to actually practice the Buddhist precepts" will be held. "This is aimed at the Buddhist precepts, the moral and ethical teachings," says Ball. The lecture from 7 to 9 p.m. that day is "Spiritual Bypassing: Shielding Ourselves from Our Feelings," focusing on how people avoid the opportunity to become aware of the roots of their own suffering.
• Two events will also be offered April 20: a workshop from 9 to 11:30 a.m. titled "Introduction to Zazen," instruction in the practice of Zen Buddhist meditation. This workshop, while accessible to people who have never meditated before, will also be valuable for experienced practitioners, Ball says. That evening from 7 to 9 p.m., Ryushin Sensei will speak on "Religion and Morality: Blinding or Illuminating?" in which he will consider the role of spirituality and religion in uniting and dividing people.
• From 9 a.m. to noon April 21, Ryushin Sensei will lead a retreat service similar to those held at the monastery. "It will be just like being at the monastery," says Ball. "It's the same program, where we have a liturgical service of chanting, a couple of rounds of sitting and walking meditation, but then Ryushin Sensei will deviate a bit. Normally he would just give a talk, but this year he has decided to give a short talk and then open it up with a question-and-answer period." An informal communal lunch will follow.
During his visit, Ball says, Ryushin Sensei also will meet with a group of inmates at the Wende Correctional Facility who have been practicing Buddhism.
For details, please visit: http://mro.org/smr/buffalo/visit-by-ryushin-sensei/