Exterior work nearly complete on Raynham Buddhist temple
by Mike Gay, Taunton Gazette, May 9, 2013
The 185-foot tall Buddhist temple being built in Raynham is nearing completion of major construction.
Raynham, Massachusetts (USA) -- Paul Chapple, project leader for the $60 million Wat Nawamintararachutis Thai Temple and Meditation Center, said that construction at the South Street East site will wrap up in the fall. Chapple said the general contractor for the project, Milford-based Consigli Construction, is nearing the end of its work in the next few months, before artisans from Thailand come to town for interior and exterior finishing work with a September target for completion.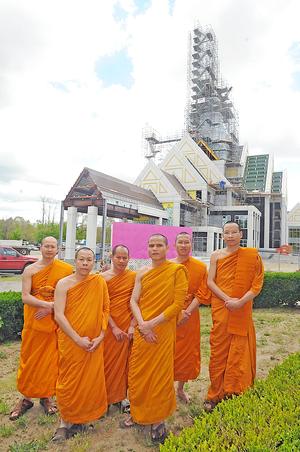 << Exterior work on the Wat Nawamintararachutis temple on South Street East in Raynham is nearing completion. Standing in front of the temple on Wednesday are, from left, Ven. Mongkol Kuakool, Phra Wanlop Ketpromma, Montri Prasroetsook, Dheerawongsa Wantha, Phra Pramuan Buddee and Pramaha Chinawatchara Nilnatr. By Marc Larocque, Taunton Gazette Staff Reporter
"It was the project of a lifetime," Chapple said. "It really is. It's completely unique. I'm not a Buddhist, but it certainly is an honor to be working on this project."
Construction for the project, which is primarily funded by private donations and is a top priority for the Thai government, started with a groundbreaking in September 2011. But building a temple in Massachusetts has been a long been a goal for Thai Buddhists, including a group of monks who moved to Raynham from the Boston area in 2005.
"It's one of the highest national priorities for Thailand right now," Chapple said. "We've invested a lot of money in quality materials to last for generations. It's something that we on the project execution side, me, Consigli, the Thai contractors and the design team should be a proud of."
The construction of the Wat Nawamintararachutis was commissioned to honor Thailand's King Bhumibol Adulyadej, also known as King Rama IX in English, who was born in 1929 in Cambridge. The temple complex will also include a museum to the king, which will be open to the public, Chapple said.
Much of the interior features of the temple are prefabricated in Thailand, and doing design work in the U.S. for the project is architect Been Z. Wang and his team at Architectural Resources Cambridge. The temple will include a solid brass grand stair, seven large Buddha statues (the largest standing 15 feet high) and a golden spire that tops off the building.
Chapple said that there has been a bit of a delay to the finishing phase of the project because of the work visa process for Thai artisans who are coming to Raynham.
The local Buddhist monks are set to obtain a partial occupancy permit and move into part of the 110,000-square-foot complex building in June, Chapple said, as finishing work is completed.
Ven. Mongkol Kuakoo, the head monk of the Raynham group now based in a small house soon to be demolished in front of the temple complex, said he and others look forward to sharing Theravada Buddhism with the world.
"The temple is being brought here as a spiritual home for meditation, simple joy and the community of Buddhism," said the head monk, whose full name is Phrakhruwinaithorn Mongkol. "It's a religion of friendship, peace and kindness. The Buddha is not property of the Buddhism. He is for mankind, for everybody to enjoy."
With 240 parking spaces on site, the temple center will be the home for two major annual events in spring and fall that draw more than 500 people, along with 10 other smaller celebrations throughout the year. The dormitory will have room for 100, to accommodate visiting monks along with about 20 monks who will live there.
Once completed, the Wat Nawamintararachutis will be the largest Thai Buddhist temple outside of Bangkok and it will be the tallest structure in Raynham.
The Thai Buddhist order plans to hold a "Marking Stone Ceremony" in June 2014, with hopes of attracting top dignitaries from Thailand for the event, along with an international conference planned for next May.
It's safe to say that local Thai Buddhists are very excited about seeing a fully functional Wat Nawamintararachutis come to fruition.
"I can't wait for the grand opening," said Suprani Japphimai, who moved from Thailand and started a family in America 13 years ago. "It's really amazing how the building is coming out to be. It's a big building showing Buddhist culture to the world, and the people of this country can appreciate. It's amazing to be out of Thailand and to see a building like this."
Chapple said he hopes the Wat Nawamintararachutis will have a positive impact not just for Thai Buddhists, but for the local community as a whole.
"I certainly hope that this facility, this institution integrates itself fully with the local community and is something the town of Raynham can also be proud of," Chapple said. "I believe it'll be a state landmark. It's really a striking building."
Contact Marc Larocque at mlarocque@tauntongazette.com.
Read more:
http://www.wickedlocal.com/raynham/news/x2062765507/Exterior-work-nearly-complete-on-Raynham-Buddhist-temple#ixzz2T5pGZNYx