Finding inner peace with Buddhist mediation
By Sara Withee, MetroWest Daily News Staff, July 3, 2005
MILFORD, MA (USA) -- One monk chanted and another told the small group to breathe deeply and set aside life's hectic pace.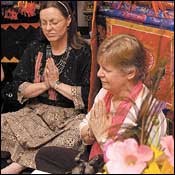 << Ann Waddell of Milford and Pamela Dee of Attleboro meditate in the shadow of a Buddha statue at Naramba Himalayan Arts in Milford yesterday. (Shane Gerardi photo)
"There is not one place on this planet I would rather be at this moment," said David Chutiko, a Buddhist monk from the Wat Buddhabhavana Buddhist Meditation Center in Westford. "When good people come together with a common purpose, it doesn't get any better than that."
"Life's good" was the focus yesterday morning as Chutiko and Ajahm Somphone Sirisavat led a meditation and Buddhist blessing ceremony at Naramba Himalyan Arts.
Over two dozen people set aside their shoes and sat on the store's floor yesterday to be led through the meditation technique of Anapanasati, the Buddhist word for mindfulness of breathing.
Nine months after opening in Nathaniel Plaza on East Main Street, the center's owners say many have found their way to their mediation, healing and Asian culture courses.
"I think people are looking for something in addition to their regular enjoyment in life," co-owner Amber Sarah Caldwell said. "They know about going out, having dinner, seeing movies, but they're looking for inner peace."
Caldwell said new people moving to the area and the growing popularity of yoga, acupuncture and other holistic regimens have boosted her business.
"They've heard of meditation," she said. "They're curious. There's more openness. It's changing."
Yesterday's meditation ended with Sirisavat blessing the store with water and the monks receiving lunch. Monks only eat once a day, before noon, and only eat what is offered to them.
Participants in yesterday's ceremony watched the monks fill their alms bowl and praised the meditation and the store.
"There's something peaceful about just going in," said Karin Spinney, a 56-year-old nurse from Hopedale. "It's OK to relax."