In Tibet or N.J., life is fleeting
BY JOHN WIHBEY, Star-Ledger, September 25, 2005
Buddhist monks use art to reflect the world
New Brunswick, NJ (USA) -- For Tibetan monk Thupten Chosang, demonstrating the impermanence of the world was all in a week's work.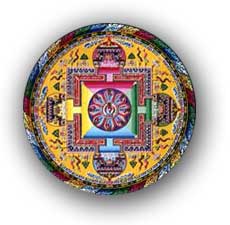 He and his fellow Tantric Buddhist lamas spent last week constructing and then dismantling a multicolored mandala sand painting. And yesterday they spread the remnants in the Raritan River at a packed religious ceremony in Middlesex County.
"We are dispersing the sand because we believe the sand contains many positive energies," Chosang said before a crowd of hundreds in the Zimmerli Art Museum at Rutgers University, New Brunswick.
Upon the mandala's completion yesterday, the lamas almost immediately swept away the beautiful art work. The painting symbolized compassion and the act of dismantling it represented the world's transience.
The working exhibit helped break attendance records at the museum each day last week, drawing nearly 5,000 people during the event, according to curator Alfredo Franco.
Chosang said the "painstaking" process of funneling sand into a swirling geometric pattern was meant to "reconsecrate the earth and heal its inhabitants." The five days, he said, had been "wonderful" despite New Jersey being "very crowded."
He said the local hotel the lamas stayed at is a little more luxurious than the spartan Drepung Loseling Monastery, where they live in India.
And since Chosang -- a 28-year-old who joined the monastery when he was 9 -- hardly gets to see the Dalai Lama, he's just as excited as everyone else in New Jersey about seeing His Holiness today at Rutgers Stadium in Piscataway.
The Dalai Lama is scheduled to speak at 10:30 this morning to an estimated 36,000 people about "Peace, War and Reconciliation."
Yesterday, once the mandala was dismantled, lamas gave some of the sand, colored with vegetable dye, to attendees and deposited some of it in their own golden urns. Museumgoers and lamas alike brought the sand to nearby Johnson Park.
Marching in burgundy robes and playing huge, bellowing horns and reed instruments, the lamas walked slowly to the Raritan River. Wearing high yellow hats, they chanted, sang and sprinkled the sand into the shallows of the water, the afternoon sun shining on perhaps 200 faces.
"It's a reminder that we just have to let things go," said Kathryn Glaser, 60, of Metuchen.
"I was just standing here in the shade ... and thinking this is a great experience," said Jan Reinhart, a 41-year-old Rutgers employee.
Rutgers student Alex Chan, 21, said he was thankful for the opportunity to view a different culture. "I'm glad so many people had such an open mind to see something they hadn't seen before," he said.
The lamas seemed appreciative of the large and curious crowd.
"It's a wonderful time," Chosang said. "Americans are so interested in Buddhist philosophy. They are searching for a peaceful life."