Dalai Lama Urges Peace Through 'Science of Emotions'
By Jeff Diamant And Maura McDermott, BeliefNet, Sept 25, 2005
Piscataway, N.J. (USA) -- Sharing the simple spiritual lessons that have become his calling card, the Dalai Lama drew the largest crowd for a non-athletic event in Rutgers University history Sunday for a wide-ranging speech on what he called the "science of emotions."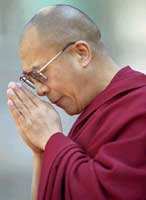 From a massive stage behind the goal line near the Rutgers Stadium scoreboard, the spiritual leader of Tibetan Buddhism spoke of inner peace and world peace, and of the connection between them.
With occasional help from a translator sitting next to him, the man believed to be the 14th incarnation of the Buddha of Compassion joked with an appreciative crowd and answered questions on morality submitted earlier via e-mail.
The audience that began arriving hours before the speech reflected the popularity of the 1989 Nobel Peace Prize winner among Christians, Hindus, Muslims and Jews.
Little in his speech was specific to Buddhism, and he urged listeners to think of his message not as religious "but rather (as) a science of emotions, the science of mind."
The chief themes in his talk, titled "Peace, War and Reconciliation," were the importance of being compassionate and of controlling negative emotions, and how doing so helps improve the world.
Compassion, he said, drives peace, and true compassion "is not just a mere feeling of pitiness (pity)" but a sense of concern for others that stems from feelings of equality with them.
That, he said, contributes to an "inner disarmament" that can help people get along and eventually lead to world peace.
Negative emotions like anger and hatred, he said, can cloud people's vision and better judgment.
The Dalai Lama, known as "His Holiness" to followers, made his points with stories of two Tibetan Buddhist monks.
The first monk, he said, had spent nearly 20 years in a Chinese prison, and when he was released to speak with the Dalai Lama in the 1980s, he told the Dalai Lama he had been in danger on a "few occasions."
The Dalai Lama asked the monk to elaborate, and he responded that he had been in danger of losing compassion for the Chinese: "He considered forgetting compassion as very serious and dangerous," the Dalai Lama said.
The second monk, on the other hand, was so angry at Chinese rulers for their actions in Tibet that "his face became red" when talking about them. "This kind of hatred brings more suffering to yourself," the Dalai Lama said he told him.
It was a message that held special significance for people in the crowd such as Lara Brewche of Monroe Township, who was paralyzed from the waist down in a car accident at age 16.
"I knew enough to let the anger go, and I made a wonderful life for myself," said Brewche, 34, who grew up Catholic and embraced Buddhism a year ago.
Urging Americans to help narrow the worldwide gap between rich and poor, the Dalai Lama asked his young listeners to grow into adults willing to help people outside American borders.
"You must develop self-confidence, awareness and holistic views ... particularly (on) global issues," he said. "You must look from wider perspective, not just talk America, America, America, like that."
He also made the crowd laugh repeatedly, like when he demonstrated his awareness of artificial turf on sports fields. Motioning toward the field before him, he discussed the sanctity of all living things, "including those trees and this grass -- I think this grass true grass, not artificial. I don't know."
The grass is actually an artificial variety called "Field Turf."
Earlier, he left the audience giggling with his introduction, given minutes after he received an honorary degree from Rutgers President Richard McCormick.
"I have nothing to offer (as) new ideas, or new views. Nothing special. So you may disappoint after listen my ... lecture. If you feel boring, then I'm sorry. But at least today this weather not hot, not cold. Quite pleasant. So just a few minutes you spend here OK. Not much problem."
Many in the far corners of the stadium had trouble hearing him on the sound system. But overall the Dalai Lama, author of "The Art of Happiness," a 1998 best-seller, was a hit.
"He was not pretentious, he was not a know-it-all person," said Rajul Shah, 58, of Basking Ridge. "You felt you were talking to a friend and listening to a friend, having a conversation with a friend. What he preached here wasn't religion, it was very spiritual. ... It just brings peace and satisfaction to yourself and others."
A married couple, Maya Sondhi, 33, and Binu Wariyar, 37, of Stamford, Conn., met for the first time at a Dalai Lama speech two years ago in Central Park and came Sunday on their one-year anniversary with their parents.
"It's a full circle. A year ago we got married, the families were together. The Dalai Lama brought us together," said Sondhi, whose in-laws flew in from Nebraska.
Her father-in-law, Bala Wariyar, 67, said he has considered himself a fan of the Dalai Lama since Wariyar was a college student in India in the 1950s. The Dalai Lama has been exiled from Tibet since 1959, when he fled to India after a failed uprising against Chinese Communist leadership, which conquered Tibet in 1951.
"He's a David against a Goliath," Wariyar said.
If it wasn't the largest crowd in Rutgers Stadium history -- that honor goes to the crowd of 42,612 for the Sept. 4, 2004, Rutgers-Michigan State game -- it may have been the least rowdy.
Most of the 36,000 people were quiet and still throughout the 90-minute talk. Now and then someone would hold up a cell phone to snap a photo of the Dalai Lama's image on the large screen, or laugh at a joke the spiritual leader made or applaud when he spoke against violence. And hundreds left during the last few minutes of the question-and-answer period. But for the most part, even babies in the crowd seemed quiet.
After his Piscataway speech the Dalai Lama traveled to Manhattan for another speech. The monk has also spoken in Arizona, Idaho and Texas this month.