Namgyal Monastery invites public to Losar celebration
By ANNE JU, The Ithaca Journal, March 1, 2006
Ithaca Buddhists welcome Year of the Fire Dog
ITHACA, New York (USA) -- With slow, rhythmic prayers, Ithaca's Tibetan Buddhist community rang in their new year Tuesday morning amid more than 50 onlookers.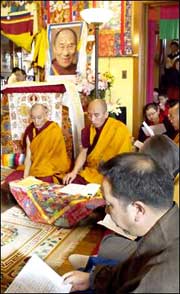 The Namgyal Monastery Institute of Buddhist Studies, housed on Aurora Street, invited the public to its annual celebration of Losar, or the Tibetan New Year. A holiday with both religious and secular roots, Ithaca's version of the tribute included an hourlong prayer ceremony and enough tea, rice and cookies to feed anyone who walked in the doors.
"This is the beginning of the year," said Tenzin Gephel, a monk in residence at Namgyal. "For us, it is important to begin with something auspicious, with special offerings in the shrine room."
Monks, local Tibetans, Namgyal students and curious onlookers all crowded into rows in the first-floor shrine room, where monks sat up front near a colorful altar, covered with food, flowers and butter sculptures, to lead prayerful chants.
A handful of children, clad in bright silks, were scattered throughout the crowd of hushed observers. Tibetans told each other "tashi delek," a New Year's greeting.
As part of the ceremony, participants passed around Styrofoam bowls of buttered rice and cups of sweet tea, traditional foods associated with the day. After the prayers, people draped offerings of white scarves under a large portrait of the Dalai Lama next to the front altar.
This year marks Tibetan New Year 2133, which is the Year of the Fire Dog according to the eastern lunar calendar. Before Tuesday's ceremony, monk Tenzin Kunkhen explained through translator and Namgyal staff member Palden C. Oshoe that the year falls on the dog zodiac sign and corresponds to the element fire.
The lunar calendar marks the cycles of other traditions, including the Christian season of Easter. Tuesday was also the last day of Mardi Gras, the celebration that precedes Ash Wednesday, the start of Lent.
The occasion of the Tibetan New Year, Kunkhen said, is a reminder to develop positive motivation for the upcoming year, and to live life in a "wholesome, productive way," he said.
For Brooktondale resident Sara Brown, Tuesday's New Year gathering was not only a chance to expose her 10-year-old daughter to a unique culture, but also, a time to take in the energy of the ceremony herself.
"It felt peaceful, and grounded," Brown said.
Ithaca's monastery, which offers classes, meditation and other programming, is the only branch of the main Namgyal Monastery that exists outside of India. The Ithaca institute was founded in 1992, and is in the beginning stages of a major facility expansion on Danby Road.
Kunkhen, in his explanation of the day, said Losar celebrations in India would happen over several days, with the Dalai Lama flanked by dignitaries at the Namgyal temple. During Ithaca's abbreviated observance, he wished for "peace and prosperity in Ithaca particularly, and also America in general."
In the spirit of universal peace and happiness, Kunkhen also urged those gathered to "Please, have fun."