The Art of meditation
Baltimore Sun, April 7, 2006
Buddhist monk creates sand mandala, an ancient Tibetan symbol of purity and harmony, in Baltimore's City Hall
Baltimore, Maryland (USA) -- Compassion came slowly to Baltimore City Hall yesterday after hours of meticulous work by Thupten Tsondu Tashi, a Buddhist monk from Mongolia.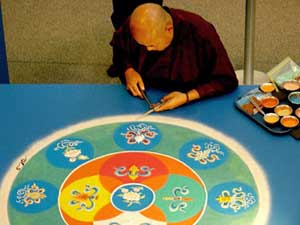 On a plywood board atop the building's immaculate marble floor, Tashi, dressed in his traditional red and yellow garb, created an intricate, flower-like pattern with fine Indian sands from his chakbu, an iron funnel.
His creation - called a mandala- is an ancient Tibetan Buddhist artwork that serves as a sacred home for a particular meditational deity and is usually reserved for the birthday celebration of a Buddha, Tashi said.
The mandala embodies qualities such as purity and harmony, which sometimes prove elusive in a place like City Hall.
But with City Council President Sheila Dixon embroiled in an ethics controversy and Mayor Martin O'Malley in a battle to become governor, who at City Hall couldn't use a little blessing?
Tashi, visiting the United States on a fund-raising tour, came to City Hall at the invitation of a mayoral aide.
"I jumped at the chance, I thought this would be such a unique chance for city hall," said Elizabeth Weiblen, the director of international affairs for the mayor's office. "This is a very timely thing ... I just think we need some positive energy."

Tashi was happy to oblige, and also to receive, as he pointed to the certificate making him an honorary citizen of Baltimore. His other gifts were a book about Baltimore, a Jefferson Cup, a city seal and a U.S. flag.
"I have to offer this [mandala], because this city's mayor wants to give me this certificate," he said, stopping his work to speak. "I said, 'OK, I will make this sand mandala.'"
The Ja Ling Tibetan Buddhist Cultural Center in Baltimore is acting as host to Tashi, who visited the city in an effort to raise money for a high school he is hoping to build in Mongolia, said Barbara Apolonio, director and founder of the center. He's already visited temples in Ellicott City, Fairfax, Va., Washington and Tampa, Fla., on his fundraising mission, and will visit Detroit next.
Apolonio marveled at the site of the mandala.
"It's kind of magical that this is happening here," she said.
Sitting cross-legged on a folded blanket, leaning low, Tashi worked quietly using his chakbu, tapping it lightly with a butter knife to disperse the fine sand onto a plywood base.
A steady stream of city employees and visitors marveled at his technique, the vibrant colors of his art and the sense of calm he seemed to bring.
Frank Perrelli, the art director and Web master for research and communications for the mayor's office, got a chance toward the end of his day to stop and watch.
"I'm having a really busy day, but this is nice and relaxing," Perrelli said. "I had no idea it was so intricate. It's great. It's really exquisite."
City Hall is a perfect place for such a display, he said. "City Hall is a rather somber place due to its municipal nature, so this is a welcome presence," he said. "I wish it were more permanent. It's a nice chance for people to sort of meditate."
A longtime meditator, Beth Hare, 56, of Lauraville sat transfixed. She came to City Hall, after hearing that Tashi would be there, to see her first mandala.
"There are societies in which spiritual practices and government are not separate," Hare said. "I think separation of church and the government is really important, but I think having a government that has awareness of spiritual life is essential."
Asked whether she thought the mandala would give O'Malley any luck in his quest to become governor, she replied, "I don't think it gets that specific." But she added, "It depends if the mayor is in harmony with the energy of the universe."
Naiyuah Chang, 33, a Buddhist who lives in Baltimore, said although the mayor hadn't yet gotten the chance see the mandala, he can still reap its benefits. "Some of his people work here, and it can spread [through his staff] to him and it will spread to all the citizens."
Chang said having a mandala at City Hall helps "so the people in government have compassion. They won't make wrong decisions to hurt the citizens."
A sand mandala could be even more beneficial at the White House, Chang suggested.
"War is definitely in contrast to the Buddha of compassion. I think Dali Lama already visited Bush. It takes times. He needs to open to them."
Like everything else, harmony is fleeting. Today at 4 p.m., the mandala will be dismantled, and the sand will be collected in a container and dumped into the harbor at Fells Point.
"When we offer the sand to the gods of the river, we'll receive certain goods and they'll be happy and they'll give us good weather," Tashi said. As Tashi sat emptying his chakbu of the white colored powder and refilling with a rich orange, a city worker dared to asked, "What happens if you make a mistake?"
Incredulous, he asked, "Mistake? Oh, I don't make a mistake. I learned to make this mandala in 1978. No mistake." He shook his head and laughed at the thought of it. "Maybe Buddha will give ticket to me."