Censorship in NY Prison: An open letter seeking help for William "Red" Graham
by David Seth Michaels, The Buddhist Channel, June 5, 2006
Spencertown, New York (USA) -- Although I've been involved in battles over prisoners' rights for 3 decades, I'm always disappointed when the same battle has to be fought over and over again.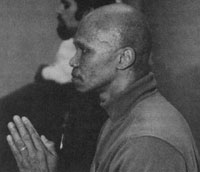 << William "Red" Graham
The present struggle: a friend, Kobutsu Malone, wrote a book called Prison Chaplaincy Guidelines for Zen Buddhism: A Source Book For Prison Chaplains, Administrators, and Security Personnel. He sent a copy of the book to a friend and student of Zen incarcerated in Gowanda Correctional Facility in Gowanda, New York. Gowanda is in the part of Mississippi southeast of Buffalo, New York, but I digress.

At Gowanda, the prison authorities decided that the prisoner should not be allowed to receive the book because it "depicts/describes procedures to be implemented solely by Administration." Significantly, that doesn't appear to be a basis for denying literature to prisoners under Department of Correctional Services Directives. The prisoner has appealed to the Facility Media Review Committee from this determination.

Meanwhile, the book has been allowed in numerous other New York State prisons, in US prisons, and in various death rows in other states.

Kobutsu, who wrote the book and sent it to the prisoner, wrote to the Superintendent of Gowanda. He received a response saying in essence that the prisoner has the right to appeal, I'm doing nothing about this, thanks for asking.

There you have the story.

Obviously, if the prisoner's appeal to the Media Review Committee fails, the prisoner can appeal to the Courts, and I'm willing to help him litigate this unnecessary case. This will take time and money. Obviously, Kobutsu can go to the Commissioner of Corrections about the inadequacy of the Superintendent's response and he may ultimately obtain relief. This too will take time. But that's not why I'm writing this.

Prison walls manage to keep the prisoners in. But as important, they keep us all out. We don't know, perhaps don't want to know, what goes on inside. And the difficulties of accomplishing even the smallest things-- like getting this book to this particular prisoner-- are overwhelming and embittering to those inside even with outside help.
Nobody inside or outside should have to fight about this small book. Nobody inside or outside should have to struggle against the millions of other crazy decisions affecting prisoners lives that are made on a daily basis that don't end up in the papers or in the courts. But if we don't pursue this matter vigorously, the one that has arisen for us, we weaken our already tenuous connection to those who are incarcerated and abandon them further to isolation and despair. It's that simple for me.

So I'm asking for your help. Will publicity cause somebody in DoCS to allow this book to be given to this prisoner? Will letters to the Superintendent at Gowand Correctional Facility, PO Box 311, Gowanda, New York 12407-0311 help? Will calling your state legislators help? Will forwarding this request for assistance widely ultimately find somebody with an idea of how to accomplish this apparently simple matter? I just don't know.

All I want in connection with this matter is for the prisoner legally to receive a copy of this excellent book. I've already said that I thought the exposition of Zen in this book is one the best I've read. Can you think about this and see if there's something you can do that might help?
David Seth Michaels
PO Box 96
1028 Route 203 at Beale Road
Spencertown, New York 12165
Tel.: (518) 392-9150
Fax: (518) 392-9130
Web: www.davidseth.com
Blog: www.dreamantilles.blogspot.com
email: davidseth@davidseth.com
"Things are not as they appear, nor are they otherwise."
The Lankavatara Sutra