Buddhism With a New Mind-Set
by James Estrin, The New York Times, June 13, 2006
New York, USA -- Western spiritual seekers who have focused on meditation have fueled a remarkable growth in Buddhist practice in the United States. So what to do if you are part of an ancient Buddhist tradition that is huge in Asia but has failed to catch on in the United States, in part because it has no real place for meditation?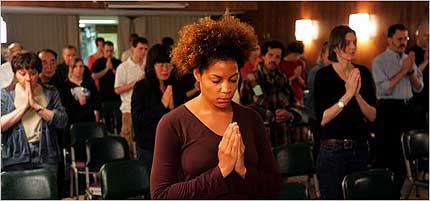 Mediation is part of the service at the New York Buddhist Church.
The practice is now embraced by more Buddhist groups.
By MICHAEL LUO, New York Times, June 13, 2006
Change the tradition.
That is what the Rev. T. Kenjitsu Nakagaki of the New York Buddhist Church and other leaders of the Buddhist Churches of America, one of the oldest and most established Buddhist movements in the country, are doing.
The 65 temples across the country that make up the church network are part of a school of Buddhism known as Pure Land that is one of the most widespread in the world and was once a thriving part of the Japanese-American community. Over the last few decades, however, the movement has lost two-thirds of its United States members as a result of assimilation and the diminishing numbers of Japanese coming to this country.
Spurred by a new reform-minded bishop, Koshin Ogui, a growing number of the movement's temples have abandoned their traditional lack of interest in meditation and are offering the practice as a way to survive by reaching out to non-Japanese adherents.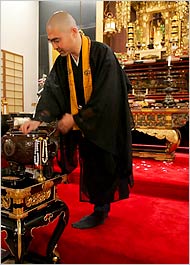 << The Rev. T. Kenjitsu Nakagaki says he wants to bring Buddhism to Americans - by James Estrin/The New York Times
In some ways, the story line is familiar. Religious traditions have long adapted to fit changing cultural circumstances. Consider how Hanukkah, a relatively minor holiday on the Jewish religious calendar, has leaped in importance among many Jews in the face of the crush of attention surrounding Christmas in this country. But while Zen and Tibetan Buddhism — the Buddhist forms that have largely driven the religion's surge among Western practitioners — focus on meditative practices as a way to achieve enlightenment, Shin Buddhism, the Pure Land school that the Buddhist Churches of America embraces, teaches that meditation is ultimately useless because of the inherent human limitations.
But the Rev. Marvin Harada, of the Orange County Buddhist Church in Anaheim, Calif., who started a Sunday meditation service several years ago, sees an interim use — to calm the mind so it can receive Buddhist teaching.
"It's really something that's needed in our modern lifestyle," he said, because that lifestyle "is so hectic, so fast-paced, we have a shorter attention span." Only by renouncing all self-effort in attaining enlightenment and trusting in what Shin Buddhists call "Other Power," embodied in the form of the Amida Buddha, revered by Shin adherents, can a believer attain birth in the transcendent realm of Pure Land. That is a place — similar to the Christian concept of heaven — where nirvana can be achieved.
"Shin Buddhism defines itself as a form of Buddhism that does not rely on meditation," said Matthew Weiner, a Buddhism analyst for the Interfaith Center of New York. "It's not just a stylistic difference. That's why this is so kind of radical, in a sense."
The growing incorporation of meditation into Shin Buddhism also offers an intriguing study of how white converts, who are actually outnumbered by their Asian immigrant counterparts in the United States but have driven the rising profile of Buddhism here, are reshaping Buddhist practice.
As a minister in Cleveland and Chicago, Bishop Ogui said he began offering meditation several years ago because 60 percent of the people who called his temple were asking about it. Any venture that turns away that many potential customers, he said, is bound to close.
Clergy members "are supposed to respond to the needs of the people," Bishop Ogui said. "Any program, including meditation, tai chi, yoga, anything which makes people feel comfortable, or willing to step into the temple, should be offered."
At the New York Buddhist Church, on the Upper West Side of Manhattan, Mr. Nakagaki has been leading meditation classes and incorporating the practice into his Sunday services for years. On a recent Wednesday evening, for example, Mr. Nakagaki, seated on a mat, led a small group of followers, most of them non-Asian practitioners, in an extended period of sitting quietly and concentrating on breathing.
It is a familiar scene to those accustomed to the Buddhism that has come into vogue among white spiritual seekers, many of whom have jettisoned Buddhism's other tenets to focus exclusively on meditation.
Colin Anderson, 47, a regular participant in New York Buddhist Church's class, drops in on meditation centers all over the city.
"I don't see it as a religion," he said. "I see it as more of a science of the mind."
The concept that is taught at many meditation centers — that controlling one's mind can lead to better controlling one's actions — which might lead to being reborn into a better life, makes sense to him.
"You're in control of your own life with your own karma," he said.
But that idea directly contradicts what Shinran, the founder of Shin Buddhism, taught some 800 years ago. Shinran came to Pure Land after growing frustrated with meditation and other practices taught by other Buddhist schools. He advocated that believers not pursue any specific practice but instead trust in the Amida Buddha's infinite wisdom and compassion for liberation from the endless cycle of life, death and rebirth.
"Shin is based on entrusting, entrusting in the idea that we as human beings are limited, and we're incapable of cultivating ourselves," said the Rev. Fumiaki Usuki of the West Los Angeles Buddhist Church, who described himself as wary of the growing use of meditation among his fellow Buddhist Churches of America ministers.
"Just because we have meditation doesn't mean these people are going to stay," he said. "They're driven by this Hollywood aura of meditation. They're supermarket shopping."
Nevertheless, on Sundays at the New York Buddhist Church, which is now about 70 percent non-Japanese, Mr. Nakagaki begins services with five to seven minutes of meditation.
The meditative practices are a bridge to usher the curious into a Buddhist tradition that can be difficult to grasp, Mr. Nakagaki said.
"My way of thinking, it is a form of kindness, a form of compassion to help them understand Pure Land Buddhism better," he said.
The growing use of meditation has sparked a debate within the Buddhist Churches of America about whether its priests are going too far in catering to the whims of an audience that many Asian Buddhists see as dabblers.
"I am maybe more conservative than some," said the Rev. Gregory Gibbs of the Oregon Buddhist Temple, who came to Shin Buddhism after years of Zen practice. "We don't want to obscure our fundamental teaching."
The debate has also highlighted fissures among Asian practitioners, who tend to be more traditional, and Western spiritual seekers.
"There's a split between converts and so-called ethnic Buddhists," said Jeff Wilson, a contributing editor to Tricycle, a Buddhist magazine, who is working on a doctorate on Buddhism in America at the University of North Carolina and has followed the debate over meditation in Shin Buddhist circles closely. "The people in the so-called ethnic component tend to think of the converts as very elitist, that they're taking over Buddhism and changing it."
Shin Buddhist leaders in Japan, worried about doctrinal purity, have also questioned the changes Bishop Ogui is encouraging.
"Whatever people worry about in Japan does not make sense most of the time here," Bishop Ogui said. "In America, we have to understand the American culture, and we have to go along with these unique differences."
In some ways, Pure Land Buddhism has always been at a disadvantage in this country because its teachings about the Amida Buddha make it appear similar to Christianity. During World War II, Shin Buddhist practitioners also started calling their temples "churches" and holding regular Sunday services as a way to appear more Christian in the face of anti-Japanese discrimination. Many Westerners looking for the exotic, or an alternative from their Judeo-Christian upbringing, have gone elsewhere. Now Shin Buddhist leaders are hoping to lure them back.
At the New York Buddhist Church, the meditation classes, along with other changes that Mr. Nakagaki has incorporated, including shaving his head and wearing a robe to look more like monks from other Buddhist branches, appear to have had some effect.
Mr. Nakagaki's congregation has grown to about 50 people on Sundays from fewer than 20 when he first started, a little over a decade ago. But attendance is not his primary concern, he said. He merely wants to bring Buddhism to the American people.