Buddhist fest draws 1,000 to Tier
By Dena Pauling, Press & Sun-Bulletin, June 19, 2006
Castle Creek, NY (USA) -- Anyone who traveled about 20 miles north of Binghamton on Route 11 over the weekend would not have missed it.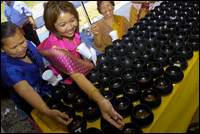 << Mou Senayauong of Johnson City, left, Intha Soumphonpha kdy of Johnson City, and Bouasone Bousavahs of Louisiana place coins in donation bowls during the annual festival Sunday at Wat Lao Samakhitham Buddhist Temple in Castle Creek - Photos by REBECCA TOWNS / Press & Sun-Bulletin
Marked by a golden arch and surrounded by hundreds of acres of countryside sits the Wat Lao Smakhitham Buddhist Temple. On Saturday and Sunday, the solemn community was upper Broome County's biggest attraction.
About 1,000 Buddhists, including at least 20 monks, journeyed from across New York and Pennsylvania to worship, listen to music, eat Laotian food and buy jewelry. About 50 multicolored Buddhist flags were erected for the Pra Vestasandon festival, celebrated annually to honor Buddha's birthday.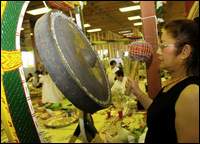 Som Chaimang of Johnson City rings a bell as >>
blessings are read during the annual festival Sunday at Wat Lao Samakhitham Buddhist Temple in Castle Creek.
"We have to remember him for life because he was such a great life," said Vanthong Kinthiseng of Cortland, as dozens of people clapped and cheered in a nearby social hall where a band from Laos was performing.
"I'm so happy," Kinthiseng's wife, Vilaysung, added. "It comes only once a year."
The Kinthisengs, who helped organize the festival, were two of only a few who could speak English well. Most knew Laotian, Vanthong Kinthiseng said, as the smell of barbecued chicken lingered in the air.
One popular item the children at the festival seemed to enjoy was a drink called "Bubble Tea." For $3 apiece, the children could drink the flavored tea poured inside a plastic bag and sipped with a straw. Kids carted the tea on their wrists by a rubber band that was attached to each bagged drink.
The temple itself was filled with barefoot worshippers, kneeling on rugs and singing. At the top of the hill was a small "water temple," which resembled a dock in the middle of a pond. Monks took turns praying and resting inside the tiny temple, Kinthiseng said.
About five monks actually live at the temple site, but about 15 more traveled from around the country to be at the weekend festival. After eating breakfast and lunch, monks can have only water and must do nothing except meditate until the next morning for "every day of their lives," he said.
"I became a monk once for three days," Kinthiseng said. "I couldn't do it." But those who can, Kinthiseng added, "are very happy doing what they are doing."