Vandals steal artifacts from Buddhist retreat center
By Katy Brandenburg, The Frederick News-Post, June 20, 2006
Vandals steal artifacts from Buddhist retreat center
BUCKEYSTOWN, Maryland (USA) -- The central philosophies of Buddhism include nonviolence, lack of attachment to material things and serenity of mind and spirit.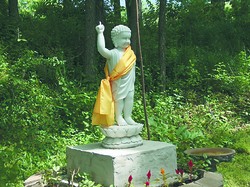 << This statue of the young Buddha was stolen from Chua Xa Loi Temple, a Buddhist meditation and retreat center in Buckeystown. The marble statue is worth about $200.
For someone to disrespect and vandalize the property of a Buddhist meditation center like Chua Xa Loi Temple is, according to Tatiana Robinson, a slap in the face.
Ms. Robinson, president of The Eternal Spring Association, the non-profit organization which oversees the temple, said trespassers have been using the retreat center as a place to party since the weather got warm.
"People have just come in and made themselves at home here," she said. "They have disregarded the signs and boundaries, left trash and beer cans all over. It's almost like you cannot feel at home on your own property."
People who come to meditate or pray at one of the temple's outdoor grottoes must often clean up litter or replace things that have been knocked down.
Within the last month, the intruders have been getting bolder, she said. They have smashed windows and broken into the meditation center -- a renovated barn surrounded by paths, statues and park-like landscaping -- and stolen or destroyed religious artifacts, paintings, candles and tools.
Worst of all, Ms. Robinson said, the vandals recently broke off and stole a 2-foot high marble statue of the Buddha, imported from Vietnam and paid for by temple members' donations. It is worth about $200, she said.
Ms. Robinson has filed several complaints with the Frederick County Sheriff's Office, hung signs and hired a security guard. Surveillance cameras are being installed across the 33-acre property, but it is a shame temple members are forced to take such measures, she said.
"The people who did this obviously have a lot of suffering," she said. "People with a balanced mind wouldn't do such acts. It's ironic that they came to a Buddhist center, because Buddha was such an expert in helping people with suffering."
Ms. Robinson said she hopes the perpetrators will look within and think about their actions. Neighbors and parents should also be aware, in case any found Buddhist objects or artifacts turn up.