UB's global reach provides key to Dalai Lama's visit
By JAY REY, Buffalo News, Sept 13, 2006
Two-thirds of the school's 4,000 international students are Asian
Buffalo, NY (USA) -- When the 14th Dalai Lama arrives for a three-day stop next week at the University at Buffalo, it will be the university's largest event ever.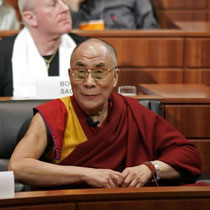 << The Dalai Lama, whose three-day visit to UB will begin Monday, gives his thanks to an audience in Vancouver, British Columbia, last weekend after being made an honorary citizen of Canada.
While a visit by the world's best-known Buddhist has created a buzz on campus and off, it ultimately raises one question:Why Buffalo? It's not the money - there is no speaker's fee.
It's because UB has one of the largest concentrations of international students in the nation.
"In this school, we have a lot of international students who will go back home and be leaders one day," said Kunchok Youdon, president of UB's Tibetan Student Association. "He sees them as future leaders who will have compassionate hearts."
UB enrolled nearly 4,000 international students last year, ranking No. 11 among major American universities, said Stephen C. Dunnett, vice provost for international education.
Only 10 UB students are from the exiled leader's native Tibet, but more than two-thirds of the international students are from Asian countries, where there are a large number of Buddhists, Dunnett said.
"It's not students alone," Dunnett said, noting UB's programs abroad and the number of American students at UB who study overseas. "When [the Dalai Lama's office] stepped back and looked at us, they saw a highly internationalized institute."
There's likely to be some political tension.
China took over Tibet in 1950, forcing the Dalai Lama to flee and run a government in exile from Dharamsala, India.
While the Dalai Lama - who was awarded the Nobel Peace Prize in 1989 - promotes greater cultural and religious autonomy for Tibet, the government asserts that he is dedicated to splitting the mountainous region in central Asia from the rest of the country.
Funds for scholarships
At UB, he has asked for a private audience with the roughly 500 students from China, some of whom may be protesting during his visit.
Views on the issue may differ widely among this younger generation of Chinese, but the visit should not be made political, said Dik Sze "Daisy" Wong, president of UB's Chinese Student Association.
"I would suggest students go listen to what he has to say," Wong said.
The Dalai Lama's visit has been years in the making.
After UB's Asian Studies program grew in popularity, there was interest in bringing him to campus as part of UB's Distinguished Speaker Series.
Dunnett and UB medical professor Dr. Richard V. Lee were invited to meet privately with the Dalai Lama during his visit to Toronto in 2004. An arranged 15-minute meeting turned out to be an hour long.
Not only did he accept UB's invitation, but his visit to Buffalo will turn out to be more than a brief stop.
The Dalai Lama will speak to local religious leaders at an hourlong interfaith ceremony at 4 p.m. Monday in Alumni Arena. He will kick off UB's Distinguished Speaker Series with a 3 p.m. address Tuesday, before an expected crowd of 31,000 people at UB Stadium. And he'll participate in an international conference on law, Buddhism and social change Wednesday.
His address at the stadium is sold out to the public, but tickets for the interfaith service still are on sale at the Alumni Arena ticket office for $15 each.
While UB spends hundreds of thousands of dollars to bring in speakers for the series, the Dalai Lama does not accept a fee, UB officials say.
Ticket sales and sponsorships will cover expenses for him and the dozen members of his entourage, while a local businessman offered his private plane to fly the party in from Denver, where the Dalai Lama will be attending an event Sunday, Dunnett said.
But part of the agreement stipulates that UB cannot make a profit from his visit, Dunnett said. Any profit from ticket sales will support scholarships for Tibetan and Asian Studies students, officials added.
"Opposite' of rock star
UB has hosted numerous dignitaries, leaders and personalities over the years, but the Dalai Lama's visit is expected to be unlike any other.
Dalai Lama banners hang on campus poles, freshmen were assigned to read his autobiography, and classes have been canceled on the North Campus for Tuesday so students and faculty can attend his stadium address and other activities related to his visit.
Some hope that the hype does not distract from the message of this "simple monk."
"He's not trying to convert people to Buddhism, but get them to be people who have a lot of loving compassion toward others," said UB law professor Rebecca R. French, an authority on Tibetan law and organizer of Wednesday's law conference, "and he has a very skillful way of doing it."
Contrary to his rock-starlike following, he is humble, intelligent, funny and remarkably disarming, said French, who studied at his compound in India and has met him several times.
"He doesn't come on like a rock star," French said. "If anything, he's the complete opposite of that."
Youdon, the Tibetan Student Association president, worked for the Dalai Lama's office before coming to UB two years ago to study for her doctorate in international relations.
"He wants to tell the students about the right path," said Youdon, 28. "Right now in the world, we have all the violence going on. He wants to carry the message of nonviolence."
She has seen him from a distance maybe 20 to 30 times, but will be among those greeting him upon his airport arrival.
"It's like a dream come true," Youdon said of the visit. "It's the greatest gift of my lifetime."