Former monk inspires teacher
by By AMY CALDER, Kennebec Journal & Morning Sentinel, February 11, 2007
WATERVILLE, Maine (USA) -- Art teacher Kelly Desrosiers walked away from a discussion about Buddhism inspired to help her elementary school students live happier, more meaningful lives.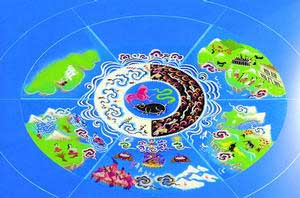 << The "Wheel of Life" sand mandala sits Saturday in the Colby Museum of Art in Waterville. Artist Losang Samten plans to finish it this week. - Photo by Jeff Pouland
Desrosiers, an art teacher in School Administrative District 3, attended a talk and panel discussion Saturday at the Colby College Museum of Art with sand artist and former Tibetan monk, Losang Samten.
Desrosiers acknowledged that in the current academic political environment of schools, it is difficult to both educate children and help instill in them a joy of living.
In these days of budget cuts, constant assessment and No Child Left Behind, schools tend to focus mostly on what is measurable and not so much on meaning, according to Desrosiers.
"There's nothing in our society that teaches kids how to achieve any happiness whatsoever," she said.
Samten, a former personal assistant to the Dalai Lama, is creating a circular sand painting at the Colby Museum of Art, a project that started Monday and will continue through Friday, when it will be dismantled.
Samten came to the United States in 1988, instructed by the 14th Dalai Lama to demonstrate the meditative art of sand painting, he said. It was the first time the art form was brought to the West.
The mandala art form dates back 2,600 years and is rich in color and filled with symbols representing principles and concepts fundamental to Buddhist philosophy. Unlike art tradition in the Western world, the mandala is a temporary creation, in keeping with the Buddhist idea that nothing is permanent -- that suffering is a result of people's desire to hold on to things instead of let go.
The central teaching of the mandala, or a wheel of life, is that suffering is due to the effects of three poisons -- anger, greed and ignorance -- and the cure for suffering is to train the mind to notice and eliminate the poisons.
Saturday's event included discussions about Buddhism by Colby professors Sarah Haynes of the Religious Studies Department, William Edelglass of the Philosophy Department and Trian Nguyen, assistant professor of art, and Luce Junior, professor of Asian studies at Bates College.
And while much of the talk focused on history and Tibetan Buddhism in North America, simple Buddhist ideas such as the importance of loving oneself, being comfortable in ones body, seeking clarity of mind and enlightenment and helping others were central to the discussion.
Samten stressed the importance of living peacefully and contributing to society to make things better.
"We each can make a difference -- it's true," he said.
Quiet, soft-spoken, and serene, Samten said there are a lot of things to learn intellectually. And living joyfully is a must.
His demeanor, words and messages were refreshing and inspirational to Desrosiers.
"His energy and his laughter are so infectious and make me realize that being a silly, funloving, happy infectious person is maybe all I need to bring to my students," she said. "Don't be discouraged -- go to work every day and bring the happiness and appreciation for every individual."
Desrosiers said she would have loved to bring her 400 students to hear Samten and see his mandala, but that is not possible as she teaches in a poor, rural school district. So she plans to bring her own children and their friends -- as many as she can fit into her vehicle -- to see and meet the artist and former monk before he dismantles the mandala.
"We have no money for trips -- I can't bring 400 children," she said. "I came to this alone to get understanding and background. There's no money for this and there's no spontaneity. You can't say, 'This is a wonderful opportunity -- let's take advantage of it.' "
About 100 students, teachers, religious leaders, artists and others attended Saturday's session, held in Given Auditorium.
Samten will be working on his mandala today at the Colby Museum.
He will lead a meditation session for the public from 6:30 p.m. to 7:30 p.m. Tuesday at the museum, and the dismantling ceremony will be held at 1 p.m. Friday.