Buddhist retreat center takes a gentle approach
By John Sullivan, Times Herald-Record, Martch 5, 2007
Shawangunk, New York (USA) -- Victor Lapuszynski had just finished his meal of turnip cakes, fried spring rolls and sushi rolls, when asked what he has gained most from the study of Buddhism.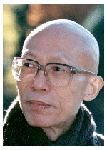 << Ven Sheng Yen, founder of Dharma Drum Mountain
The proper answer, he replied, was "nothing."
To understand that enigmatic response is to understand some of the wisdom Lapuszynski has acquired through 37 years of Buddhist study.
Located at the end of Quannacut Road, the Dharma Drum Retreat Center yesterday hosted nearly 300 visitors, including Lapuszynski. The center was celebrating the last day of the 15-day Chinese New Year celebrations, as well as marking a new chapter in its efforts to reach out to the local community.
"Before, the center was just for practitioners (from the Buddhist school's branch in Queens)," said Min-jae Hong, the retreat's outreach director. "Now, we're building more programs for locals."
The more aggressive outreach is timed partly to the arrival of the retreat's new abbot, the Venerable Guo Jun Fashi, one of the followers of Sheng Yen, a famous Chan Buddhist teacher. Yen currently has several branches of his Buddhist schools in New York and New Jersey.
Chan, which means "meditation" in Chinese, is related to Zen Buddhism of Japan. Its teachings emphasize meditation both for spiritual and emotional well-being, said Buffe Laffey, who, at 53 years old, has been studying the teachings of Yen for more than 30 years.
The practice has helped Laffey overcome numerous obstacles in her life, including losing her job, a divorce and even bleeding from a brain aneurysm, she said.
"There were a couple of doctors who said it (the slowing of her bleeding) was probably because I was meditating," she said.
"When you're doing this practice, you're really aware of just sitting and breathing, and you can settle deep enough that you become aware that you're nothing more than just a being in this world," Laffey said.
Yen's followers built the Quannacut Road retreat about 10 years ago and added two 40-room dormitories — one for men and one for women — two years ago. Yen's students number more than a million around the world. Only about 100 of his monks live in New York.
All local residents are invited to walk the center's 125-acre grounds, as well as to apply for a stay there, Hong said.
Yesterday's celebration included tours of the 4,000-square-foot meditation room, the building's reception house and the dining hall, where Buddhist practitioners performed dances, tai chi demonstrations and a magic show.
Visitors entering the dining hall were greeted with a sign on the door that said "Gentleness makes the World Different."
It was the retreat's biggest open-house event to date. As part of the event, the tax-exempt retreat center presented what will be an annual gift of $6,000 to the Town of Shawangunk as a gesture of its willingness to contribute to the community.
In explaining his enigmatic response to the question of what he has gained, Lapuszynski, a student of Zen Buddhism, said that Buddhists like to think that man already possesses what he needs.
"You don't really gain anything, you're just becoming what you are to begin with," he said about the road to enlightenment. "Practicing (Buddhism) is more about losing or getting rid of the stuff that is unnecessary."