Maha Ghosananda leaves Buddhist legacy in Leverett
By Bob Dunn and ANDREW HORTON, Amherst Bulletin, March 23, 2007
Leverett, MA (USA) -- The Venerable Maha Ghosananda, a leader of the Cambodian Buddhist movement and one-time nominee for the Nobel Peace Prize, died March 12 in Northampton.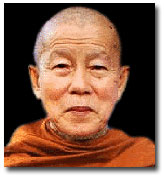 Ghosananda, who lived in Leverett and Providence, R.I., is credited with rebuilding Buddhism in Cambodia and in the international Cambodian community after the religion came under attack by the Khmer Rouge in the 1970s. The monk was in his late 70s.
"He was more than just the head of the Buddhist community in New England, he was a rare gift," said Mary Fitzhugh of Chicopee, who knew Ghosananda for 20 years.
"He did everything he could to restore Buddhism to Cambodia, and when he came back (to Cambodia from exile), he was active in training young men who were interested in becoming monks," said Jim Perkins, pastor of the Leverett Congregational Church and a friend of the religious leader.
"More than two decades later, there are many more Cambodian monks now," Perkins said.
Theanvy Kuoch, a family therapist from West Hartford, Conn., was mentored by Ghosananda and knew him for over 20 years. She said she was always impressed by his generous and appreciative nature.
The first time she met him, during a Cambodian New Year's celebration, Kuoch said, she gave him some ointment to relieve a headache he had.
"He acted like I had given him a diamond," she said. "It was just a little thing, but he acted like I had given him so much. I learned that he was special and gracious and different (from most people)."
Fitzhugh said Ghosananda put people at ease by his mere presence and was always happy to give advice to people who asked, although it might not have been the advice they expected.
"When you were in his presence, he was very calm and happy and in the now," she said. "If you asked him for advice, what he would give you was the eightfold path - he wouldn't micromanage."
Buddhists believe that adherence to the eightfold path will free the individual from attachments and delusions and thereby bring an end to suffering.
Ghosananda survived the Khmer Rouge regime of Pol Pot by being out of the country during its bloody repression of the population. Perkins said Ghosananda was one of the first Buddhist monks to return to Cambodia after the regime collapsed in the late 1970s.
Fitzhugh said Ghosananda was one of only a small number of monks to have survived the purge.
Paula Green, a Leverett neighbor of Ghosananda and director of the Karuna Center, an international peace center in Amherst, said the monk was known widely for his work to promote peace.
"He was a remarkable man and he was an extremely balanced leader of the Cambodian monks," Green said. "He was a peace-builder in the utmost sense of the word."
Fellow Buddhist monks elected Ghosananda a supreme Cambodian Buddhist patriarch in 1988 for his work to restore Buddhism in the war-torn country. He went on to lead the Dhamma Yatra movement, a program to rebuild religious life in Cambodia, in the 1990s. The movement used pilgrimages in a bid to create peace and hope in Cambodia. The first Dhamma Yatra led Buddhist followers on a 16-day, 125-mile pilgrimage walk across Cambodia.
"The Khmer Rouge was really tough on Buddhism, and his work brought a message of hope to the region," Perkins said.
In 1978, Ghosananda was traveling abroad when the Khmer Rouge began its campaign to denounce Buddhism by forcing Buddhist monks to give up their robes and leave their temples, or face torture or death.
Despite their actions, Fitzhugh said Ghosananda refused to see the Khmer Rouge as simply "the enemy" and instead worked toward reintegration and harmony between them and the rest of Cambodian society.
"What he taught me was that patience and gratitude are the two pillars (on which) a new, more beautiful Cambodia will be built," Kuoch said.
Kuoch said that during one of his return visits, Ghosananda was asked by Khmer Rouge soldiers to bless their weapons so they would not function properly and thus to prevent more bloodshed.
"His compassion and gratitude were incomparable," she said.
In exile, Ghosananda received Buddhist refugees at the Thai-Cambodian border with photocopied scriptures and a warm embrace. During his absence from the country, Ghosananda represented Cambodia as a nation-in-exile at the United Nations.
Pol Pot's Year Zero campaign virtually eliminated Buddhism from Cambodia, forcing those who practiced Buddhism out of the country.
Ghosananda settled in western Massachusetts when the Leverett-based Peace Pagoda invited him to set up residence. He split his time between that temple and Providence, according to Perkins. Cambodian Buddhist refugees in the eastern United States traveled to Leverett often to meet Ghosananda.
"There is a huge Cambodian Buddhism refugee population in Massachusetts that took a great interest in his teachings," Perkins said.
Fitzhugh said Ghosananda's passing leaves a huge void for those who came to see him as a surrogate parent, especially those who were psychologically scarred by the actions of the Khmer Rouge.
"He filled the same emotional place in the lives of those who lost their important elders," she said. "There are a lot of people who will be very, very distressed because he was a source of emotional support for them."