Bad investment crushes monk's dream to do good
By DOUG PARDUE, The Post and Courier, April 13, 2007
Ramsey, NJ (USA) -- Sean Malone planned to build a career as a genetic engineer after finishing college in New Jersey. That was five years ago.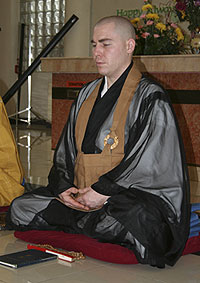 << Ven. Ryushin Sean Malone: "... I only wanted to be able to do good things and be helpful with my money, but now I am destitute."
His plans came to an abrupt halt in February 2002 when a car turned into the path of his car. The accident left him with severe spinal injuries. His backbone is fused and screwed together. He can't work because he can't stand or sit for long without pain.
To help, he continued studies of Zen Buddhism that he'd begun as a child under his father. His father is a Zen priest who serves as a prison chaplain teaching Zen meditation to prison inmates, including those on death row.
Malone said he got by on handouts from friends and family.
Then, last year, he received a $300,000 settlement from the accident.
Friends urged him to do three things: "invest, invest, invest."
He turned to his father for advice. A friend of his father's in Oregon talked highly of Al Parish, a college economics professor in Charleston. The friend's investment with the professor showed spectacular returns.
Malone invested his $300,000 with Parish.
"I called him, he said he'd take good care of me."
Still, something about Parish and the investments nagged Malone. It seemed so sketchy.
In March, a month before federal authorities would charge Parish with investment fraud, Malone called Parish and asked for his money back.
Malone said Parish told him, "OK, that's fine. You'll get your money back."
Parish said half would come at the end of the month and the other half in June.
At the end of the month, Malone heard nothing. Then he learned the FBI had charged Parish with investment fraud and that most of his money might be gone.
Malone said he planned to use the money to live on and to help others. He wanted to go to India with his dad to work with the poor.
"These were my hopes and dreams. Right now, I am stunned and frightened by what has happened. ... I only wanted to be able to do good things and be helpful with my money, but now I am destitute."
When he learned Thursday that the FBI arrested Parish on criminal fraud charges, Malone said, "Let's just hope he finds some way to recognize the pain he has brought to others and that it is not a healthy way to live."