Dalai Lama makes a stop in Stamford
By Christina Deka and Stephen Clark, Stamford Advocate, May 11, 2007
Stamford, CT (USA) -- The Dalai Lama made a stop in Stamford yesterday. The Nobel Peace Prize winner arrived at Bennett's Steak and Fish House on Spring Street about 1 p.m. in a heavily guarded motorcade.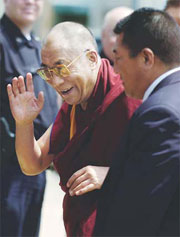 << The Dalai Lama arrives yesterday for a luncheon at Bennett's Steak and Fish House in downtown Stamford. (Kathleen O'Rourke/Staff photo)
As he was escorted into the building, the temporal leader of Tibet smiled and waved at patrons eating under the outdoor awning.
"I can't believe he's here, at a steak house," said Jackie Johnson, 48, of Stamford, who was among those who stood outside on the hot pavement waiting for the Dalai Lama to arrive.
The 71-year-old Buddhist leader maintains a vegetarian diet at his Dharamsala residence in northern India, but according to his Web site, he is not necessarily vegetarian when traveling.
The Dalai Lama is the leader of the world's fifth-largest religion, with an estimated 350 million followers.
A woman who answered the phone at Bennett's would not comment on why the Dalai Lama visited the restaurant. The spiritual leader spent Tuesday and Wednesday in Massachusetts, where he participated in several events at Smith College in Northampton.
The visit was organized by Smith College, Hampshire College and the Tibetan Association of Western Massachusetts. It was held in honor of the Five College Tibetan Studies in India, an exchange program with exiled Tibetan students in India, which was started by Hampshire College.
According to the Smith College Web site, the Wednesday event, "Wisdom, Compassion and Peace: His Holiness the 14th Dalai Lama Tenzin Gyatso at Smith College," came after a 2004 invitation that was the result of eight years of planning.
The Dalai Lama spoke to 5,000 students and faculty members at Smith's Indoor Track and Tennis facility.
Marti Hobbes, who works in the public relations office at Smith College, said the Dalai Lama was given an honorary degree.
The Dalai Lama also addressed members of the Tibetan community yesterday morning.
For the small crowd outside of Bennett's, many of whom waited for nearly an hour to catch a glimpse of the Dalai Lama, his appearance was a once-in-a-lifetime experience.
"It's exciting," said Valerie Romanello, 39, of Stamford. "I don't see many famous people."
Gus Arenas, parking valet for Bennett's Steak and Fish House, snapped pictures. But Arenas, 48, said he didn't know much about the Dalai Lama.
"Somebody told me he's an important person. He's a big guy," he said.
Passersby had similar reactions.
"Are you serious?" one asked.
"Why is he coming here?" another asked.
"This is awesome," Lauren DiBella said as she stood on the grass near the restaurant.
DiBella, who lives in the apartment complex next to Bennett's, stopped by her apartment to eat lunch before returning to work.
"I came home for lunch at the perfect time," she said.