Buddhists release creatures into Passaic
By SAMANTHA HENRY, North Jersey Herald News, August 13, 2007
Paterson, NJ, (USA) -- Hundreds of live eels, large frogs and turtles of all sizes narrowly escaped the fish markets of New York's Chinatown on Sunday and wound up instead in the Passaic River, released there by Buddhists as part of a religious ceremony.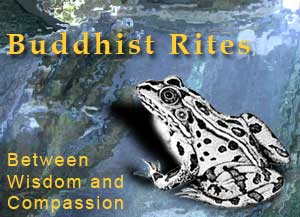 Several dozen followers from the Amitabha sect of Buddhism, led by two monks in saffron-colored robes, chanted and prayed as they walked in slow circles around a pile of wooden crates, plastic bags and nets filled with animals they had purchased for the purpose of setting free.
After nearly an hour of prayers, members of the group donned plastic gloves and crowded onto the steps leading into the water by the West Side Park pavilion.
There, they emptied the containers of reptiles until the surface of the water was nearly obscured by the floating creatures. When several large frogs tried to leap back up the steps, people picked them up, laughing, and tossed them back in.
"We pray for them, saying that all these reptiles in their previous life as humans did something bad," said Lawrence Phang, 29, of Brooklyn, offering a translation of the Chinese prayer the group was chanting. "It's a good day to return animals to nature."
Phang's mother, Ann Chin, explained that their sect of Buddhism conducts the ritual annually to release the souls of sinners who were reincarnated as lowly frogs and eels because of misdeeds in their previous life.
"In Buddhism, why they become animals is because they did bad things as humans," Chin said. "Now, because they're lucky to meet these people who set them free, they can go from animal to person in the next life, and go back to the world as good people and go to heaven."
The group traveled in rented mini-vans from New York City to Paterson. Chin said this was the second year they had done the ceremony in West Side Park. She said they chose the spot because it was a freshwater river near New York City, in a quiet park where no one bothered them.
When asked whether the group had permission to dump the animals in the river, and if they might harm the river's ecosystem, Chin pointed, by way of explanation, to a police cruiser parked nearby and said, "See, the police are here."
A spokesman for the Paterson Police Department said they were not aware of the event. Other city and state officials could not be reached for comment, as agencies were closed on Sunday.
Chin said they felt the animals were better off, as they would have been killed and sold for food in Chinatown fish markets if they hadn't been rescued.
She leaned over the low concrete barrier along the river's edge, and beckoned to three little turtles that seemed to respond to her call by swimming up to her.
"They know what we're doing," Chin said, gesturing to the turtles bobbing in the current. "They come back and say, 'Thank you.'"