All Faiths Welcome At Buddhist Temple
by YOON BYUN, The Hartford Courant, September 1, 2007
New Hartford, Connecticut (USA) -- It's more still than it is quiet. You hear the occasional friction between cloth fibers when someone moves a body limb for circulation. Deep breaths, unsynchronized, come from every corner of the room. You can't think about your grocery list, your upcoming weekend or your day at work. You must empty your mind.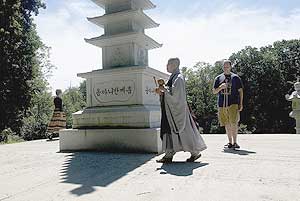 << Sue Yen Sunim ("Sunim" is Korean for monk) walks around the pagoda with Greg Zbell, right, of Meriden and Sheila Ivain, far left. The temple attracts a diverse crowd of congregants of other eligions as well as Buddhists. Photo: YOON BYUN
Each Wednesday and Saturday, occasional seekers, temple members and Buddhists alike experience this healing meditation at Dae Yen Sa International Buddhist Temple in New Hartford. Tucked away down Kinsey Road off Route 202, the small road sign written in Korean and English is the only hint of the temple's 25-year existence - nine years on East Main Street in Torrington and 14 years at its current location.
"To me, Dae Yen Sa seems like a hidden gem, but people seem to find it. They see the road sign, and they stop by," says Sheila Ivain of Torrington, who has been coming to Dae Yen Sa for about a year and volunteers as its publicist.
Master Dae San Sunim ("sunim" is Korean for monk) came to Connecticut 35 years ago from Korea to build a temple. With the help of temples in New York and in Korea, Master Dae San purchased a spot in New Hartford and built one, with all the statues, pillows, robes and ornaments coming from Korea.
The membership today is about 400, mostly Korean who come from as far as New York, New Jersey and even Washington. But Dae Yeb Sa's purpose as an international temple is to reach a wider following, including people of many faiths.
"It helps me be a better Christian," says temple member Eduardo Barrios of Torrington. He attends Christian services but also comes to the temple to keep him "on the path of a middle way. [The teachings] are a good complement to each other. You can be a more compassionate individual."
The temple will host a Sacred Art Tour from Sept. 18 to 23, welcoming Tibetan Monks, and will feature talks, cultural ceremonies and a Mandala sand painting.
"You can be anything you want to be - you can be a Buddhist; you can be a Catholic; you can simply not be anything at all, or undecided," says Ivain. "You can just come to the temple and have the experience."
For more information, visit groups.msn.com/DaeYenSa.