Buddhism builds a bridge to Ithaca
By Jennie Daley, The Ithaca Journal, Oct 6, 2007
New, 27-acre monastery to become study center
ITHACA, NY (USA) -- Despite years of planning, Palden Oshoe considers the long preparation for the Dalai Lama's visit next week not a challenge but a privilege.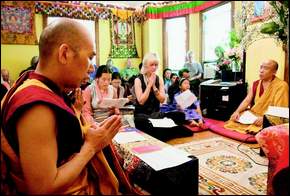 << SIMON WHEELER / Journal Staff
The Venerables Tenzin Thutop, left, and Tenzin Wangchuk pray with the other monks and members of Ithaca's Buddhist community on the Dalai Lama's July 6 birthday at the monastery on Aurora Street in Ithaca.
"It's seeing a living Buddha. For us, it's just such an honor," said Oshoe, the official translator for Ithaca's Namgyal Monastery.
That honor has entailed a lot of work for most of Ithaca's Tibetan community and its associates. There have been hours spent painting the entrance gate, days creating a sand mandala at Cornell University's art museum and months of dance practice, not to mention the massive amount of logistical work, organization and funding needed to construct a new monastery.
With all of these tasks, the work is approached not as drudgery, but as an opportunity to express delight at the visit and reverence for the spiritual and governmental leader of Tibet.
The official reason for His Holiness the Dalai Lama's visit Oct. 9 and 10 is to bless the site of the new Namgyal monastery, Dü Khor Choe Ling, or The Land of Kalachakra Study and Practice. Kalachakra is the school of Buddhist thought most closely associated with the current Dalai Lama, the 14th. In it, astrology plays a significant role because it uses time and cycles to guide many of its principles. That belief system informs much of the new compound's architecture.
The 27-acre site for the new monastery is just south of the King Road intersection with Route 96B. When construction is complete, there will be four buildings in a square around the main shrine room. The layout mimics the forms created in the sand mandalas built by the monastery's resident monks.
Traditionally the Namgyal monastery, which was first established more than 400 years ago, serves as the private residence of the Dalai Lama and his personal monastery, where monks undergo rigorous 13-year training in all the branches of Tibetan Buddhism.
For centuries the monastery operated out of Tibet's capital, Lhasa, in a majestic structure built into the side of a mountain called the Potala Palace.
When China invaded Tibet in 1949 the Dalai Lama was 15. By 1959, with violence between the Chinese and Tibetans erupting again, the Dalai Lama escaped over the mountains disguised as a soldier and sought political asylum in Dharmasala, India. The Dalai Lama established a new Namgyal Monastery in the northern Indian city the next year. It became the headquarters for his government in exile.
The Ithaca link
During this time Cornell graduate Sidney Piburn was traveling Southeast Asia, searching for Tibetan art to stock a New York City gallery. It was the early 1970s, and few Westerners had spent much time in the mountains that define the region around Tibet.