Buddhists to Make Church New Home
By Jacqueline L. Salmon, Washington Post, December 27, 2007
Tzu Chi Group Buys Building From Lutherans
Rockville, Maryland (USA) -- A Taiwanese Buddhist organization has purchased Good Shepherd Lutheran Church in Reston for use as a regional headquarters.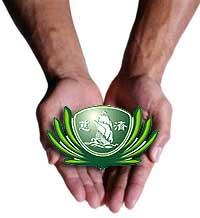 The Tzu Chi Foundation, a religious organization that performs charitable work worldwide, scooped up Good Shepherd's facility for $4.2 million and will move in after the church settles into its new building, under construction farther north in Reston.
One of the largest Buddhist congregations in the United States, the Tzu Chi Foundation has 50 chapters in the United States and more than 5 million followers worldwide.
Its regional chapter has operated for more than a decade out of an office suite in downtown Rockville, according to director Clara Cheng, who said the group has been looking for the past five years for a religious facility to purchase.
"We finally found it in Reston," she said. "There's not many churches on the market. To find the right size, the right location, was not an easy job."
The foundation plans to hold its religious services in the church's 224-seat sanctuary and to use the church's eight classrooms for its Saturday Chinese culture program.
Many of the foundation's followers have ties to mainland China and to Taiwan.
The organization also might establish a weekday community preschool, Cheng said.
Most of its work is charitable, and the group plans to expand that work in Fairfax County, she said.
Among other activities, many of the group's 250 volunteers work in homeless shelters, help out in schools, work with community groups and set up free medical clinics.
Good Shepherd pastor William Flammann said the church's new building, for which members raised $3 million, will be ready around Easter and will allow the church to consolidate.
Currently, he said, many Sunday school classes are held at Forest Edge Elementary School and in a restaurant in nearby Lake Anne Plaza because of space constraints.
The sanctuary in the new building can seat 474 people, about double the size of its current facility, and the number of classrooms will more than triple, to 28 from the eight that are in its current facility.