Seeking enlightenment
by SACHI FUJIMORI (Source: North Jersey.com, July 28, 2007), The Buddhist Channel, Jan 7, 2008
Garfield, New Jersey (USA) -- Every Sunday, Jun Kwon drives his mother to a Polish-Catholic neighborhood in Garfield, to a modest, red brick house. A Korean flag flutters outside of this house turned church turned Buddhist meditation center. Taking his mom to Sunday morning services at the Santisukha Meditation Center boosts Kwon's good karma.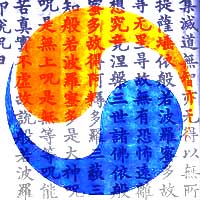 "She's pretty old," he explains. She's 43. Korean-American Buddhists, who in the United States represent just 5 percent of their ethnic community, have a double minority status, according to Sharon A. Suh, professor of theology and religious studies at Seattle University, and author of "Being Buddhist in a Christian World: Gender and Community in a Korean American Temple."
More than 70 percent of Korean-Americans self-identify as Christian. Belonging to a church can make life easier as a new immigrant to America. Beyond the spiritual, Korean-American churches provide social services, English classes, and an instant social network in tight-knit community.
But what about the Korean immigrants who don't convert to Christianity, and continue to practice Buddhism, a traditional religion brought to their home country via China in the fourth century. Viewed more as a set of teachings than a "religion," the goal of Buddhism is to seek enlightenment -- or detachment from all human desire, which is the cause of our suffering. Korean Buddhist congregations in America are not the social centers that churches are. And monks don't try to convert new members. Trying to fit in with their peers, some second-generation Korean-Americans stop following the Buddhist traditions of their parents.
But the 19-year-old Kwon, who lives in Edison and attends Rutgers, brushes off the peer pressure he sometimes gets from Christian friends. "They try everything possible to degrade Buddha," he said. Kwon, whose family has practiced Buddhism for generations, said he's comfortable with his religion.
"What I like most is that we don't criticize other religions," he said. Led by two monks from Korea, Garfield's Santisukha Meditation Center practices a blend of two forms of Buddhism, Mahayana and Theravada. The former is most widely practiced in East Asia and familiar to the some 40 Korean immigrants who attend weekly Sunday services conducted in their native language. Less familiar to them is Theravada Buddhism, which traces its roots to South Asia and uses a form of meditation called Vipassana that is easier for beginners, said Sung-Hyang Bu-Nim, assistant monk at the center since 2003.
Recently filling in for the head monk, Pannaloka Sayadaw, who was visiting Korea, Sung-Hyang, 32, explained his goals in teaching Buddhism in America: "I want to teach other people to be happy. To take their minds off of everything," he said. Our bodies are like cups, he explained. Our minds, the water inside the cups. In our modern lives, we have too much information clouding this water. When we're angry, the water boils. When we have too much desire, the water undulates in waves. Calming the water is a goal of Buddhism, he said, to see clearly.
On a recent Sunday morning, Kwon dropped his mom off at the front steps to the center and went to look for street parking in the neighborhood crammed with cars. Instead of heading into the main hall, where worshippers, seated on brown square cushions, chanted in Korean, Kwon lingered on the lawn outside with some other boys, who came along with their parents for the two-hour service. "The monk encourages us to have fun, not to be bored," said Kwon. That day he met 13-year-old twin brothers, who recently moved here from Korea. Offering them advice from his own experience immigrating here as a teen, he told them: "Try to make friends at school who don't speak Korean. Don't speak Korean at all outside the family."
Inside the main hall, worshippers sat with their legs folded beneath them or cross-legged, chanting the name of an ancient monk, "Ji Jong Bosal." Legend says he gave up a chance for enlightenment in order to stay behind and protect the dead from hell. Last Sunday began a 49-day holiday honoring dead relatives. Before services, congregants scribbled names of deceased relatives on white sheets of paper that would be called out during the ceremony. At the front of the hall, a glimmering gold Buddha gazed outward; beneath his feet, sat heaping bowls of fruit: bananas, pineapples, tomatoes, mangos.
An air conditioner hummed. Faint clouds of sweet, smoky incense twirled across the room, mostly bare except for the white and magenta lotus flower lanterns dangling from the ceiling. Seated in a gray robe, with a crimson sash, assistant monk Sung-Hyang, led the chanting, punctuating mantras by striking a round, wooden instrument. "Ji Jong Bosal. Ji Jong Bosal. Ji Jong Bosal." After services, worshippers descended to the basement for a small vegetarian meal of white rice, kimchi pickles and seaweed broth. Seated at a table, Il Hwan Cho and his wife, Soonja, of Alpine spoke about how following the Buddhist teachings has helped them run their business importing men's clothing.
There's lots of stress in the United States, said Cho, who emigrated from Korea more than 40 years ago. If customers don't pay on time, or have to return an order, he doesn't get upset. Following the way of Buddha, he lets the customers return orders, even if he has to take a loss. "If the customer becomes happy, we become very happy," he explained. And besides, he added, if they start up business again months later, they'll order six to seven times as much.
After most congregants had filed out, the teens who had been hanging around outside during the services helped clean up and put away the folding chairs in the basement. Kwon doesn't mind doing chores at the center. "These people are not that energetic," he said.