A ritual ingrained in Buddhist monks
BY JOYCE J. PERSICO, The Times of Trenton, February 6, 2008
Sand demonstration planned at The College of New Jersey
EWING, New Jersey (USA) -- A Tibetan Buddhist sand ritual, rare to New Jersey, will be performed by Buddhist monks during a week-long demonstration starting Saturday at The College of New Jersey Library.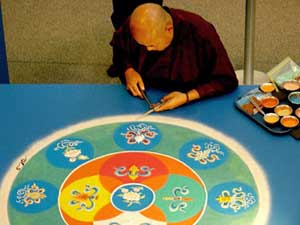 << A monk creating a mandala
Part of an ongoing campus series called "Religion, Culture and Identity," the project combines a one-day symposium and the sand mandala ritual under the umbrella title "The Creation and Contestation of Sacred Space," an exploration of the importance of sacred spaces within a variety of global religious traditions.
The sand ritual's opening ceremony is from 9 to 9:30 a.m. Saturday in the library lobby and will be immediately be followed by the symposium, which runs until 4 p.m., in the library auditorium.
"The monks are from a monastery in Ithaca, N.Y.," explained Deborah Hutton, assistant professor of art history. "They will bring the sand in different colors from there and create a mandala that is a cosmic map that leads to enlightenment.
"They will begin on Saturday and take a week to finish. When they're done, they will sweep it away because Buddhists believe nothing was meant to be permanent."
The public can observe the ritual during regular library hours. On Feb. 15, the last day of the sand ritual, the monks will conduct a forum explaining the process of "painting with colored sand" and answer audience questions from 3 to 4 p.m.
Hutton pointed out that the sand ritual is rarely done in the state but was performed at Rutgers University in 2005. The monks who are coming, Lobsang Gyaltsen and Tenzin Thutop, are both from Ithaca's Namgyal Monastery, the personal monastery of the Dalai Lama.
During Saturday's symposium, Xinru Liu, assistant professor of history and a member of the Chinese Academy for Social Science in Beijing, will introduce the monks and answer audience questions. Among the featured speakers will be: Jodi Magness of the University of North Carolina; Maria Subtelny of the University of Toronto and Bernard Haykel of Princeton University's Institute for the Transregional Study of the Contemporary Middle East, North Africa and Central Asia.