At Buddhist Temple, Cleansing Rituals to Ring in the New Year
By ANN FARMER, The New York Times, February 7, 2008
New York, USA -- Ha Tran was applying the final swipes on Saturday to a 20-foot Buddhist statue inside a Chinatown temple. It took two days, but Mrs. Tran, a 62-year-old Vietnamese immigrant, lovingly washed every one of the deity's thousand arms and did the same for its 10 heads. Balanced on scaffolding, she painstakingly removed 12 months of accumulated dust and incense in time for the Chinese New Year on Thursday, her yearly rite for 22 years.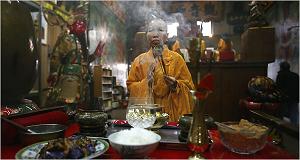 << Nicole Bengiveno/The New York Times
Sheng King Shi, a nun at the American Society, making an offering to Buddha before calling devotees together at lunchtime.
"My mom says that we get to bathe once a day," said Terri Ma, a 34-year-old acupuncturist, translating for her mother, Mrs. Tran. "But Bodhisattva only gets to bathe once a year. So we have to do a good job."
Ms. Ma accompanied her mother from their Brooklyn home to the American Society of Buddhist Studies on Centre Street in Chinatown, where the enormous golden deity dominates the main worship area of the temple.
The temple, housed inside a five-story building, is also home to about a dozen Buddhist nuns who live in rooms on floors above the worship area. Mrs. Tran is a volunteer as well as a worshiper.
Many passers-by have no idea the temple exists, even though it was established more than 30 years ago and is open daily to the public. The yellow brick exterior is nondescript, and thick security gates pulled across the ground-floor windows mask its ornate interior. Inside, however, the temple is humming with activity in preparation for the new year.
The nuns, wearing yellow robes and with their heads shaved, have spent weeks cleaning every inch of the temple. Volunteers are helping prepare vegetarian foods in the kitchen basement to feed the huge numbers of people expected on Thursday to burn incense and cast their first prayers for the Year of the Rat.
"The people stand in line for hours in the cold," said Ms. Ma, explaining how worshipers will arrive early in the morning and throughout the day for their opportunity to enter, bowing first to the plump Buddha that sits at the entrance surrounded by glowing candles and offerings of oranges.
"They pray for a better life, good health, marriage, money, grandchildren," Ms. Ma added. "Whatever it is they want."
To accommodate worshipers, the nuns opened the doors on Wednesday night, taking turns sleeping and tending to the visitors. For them, however, Chinese New Year is just another day to focus on the eternal and to let go of earthly attachments.
One of the nuns, Sing Yeh See, 45, was born in Vietnam and worked as a nurse in California before deciding to move to New York. As a nurse, Ms. Yeh See said that encountering sickness and death made her more aware of how temporary life can be.
She said that Buddhism, the religion of her upbringing, focuses on "infinity — life is too short."
Two years ago, following Buddhist tradition, she had incense burned into the top of her scalp to create nine permanent bald spots. "It hurt," she said, but added that it was an expression of her devotion.
Like most of the nuns, Ms. Yeh See was reluctant to go into much detail about her personal life. She explained that the focus of Buddhist practitioners is on the spiritual journey, not on themselves.
The temple, which relies on donations of money, food and other supplies from people who pray there, was founded in 1974 by Sik Tai Fong, a Buddhist grand master who was born in China and died in 2001 at age 94. The new leader is a Vietnamese-born woman, Sik Wai Fong, who is a master. Some nuns stay for many years before returning to their home countries, which include China, Taiwan, Malaysia and Vietnam.
Sing Sun See is from Hong Kong and, at 56, is one of the older nuns at the temple. She rises at 4:30 a.m. to begin her daily routine of studying, chanting and maintaining the temple, while working on the qualities of awareness, kindness and wisdom that define her spiritual path. At the temple, there is no television or radio.
"Outside they have their own life; inside we have our own life," said Ms. Sun, adding that the nuns lead humble lives so they can cultivate good karma for the next life.
"A lot of things," she added, "you cannot explain."
The nuns recite Buddhist chants at specific times of the day while sitting on saffron cushions placed around low tables. They always begin with multiple bows to the 1,000-armed Buddha, which involves getting down on all fours and pressing their foreheads to the ground. At the close of the afternoon chant, one of the nuns deposits some rice or water on a pedestal outside as a symbolic offering for the invisible spirits that they believe wander the streets of New York.
Because some lost souls did not lead good lives, the nuns explained, they are agonizingly stuck between this life and the next. So each night, at precisely 8:30, the nuns take turns striking a large gong with a wooden mallet and reciting a "hell-breaking mantra" to release them from their pain.
"When they hear the bell, they get peaceful," Ms. Sun said.
A tenet of Buddhism is not to kill animals, and sometimes local devotees request that their donations be used to free caged birds or animals. The temple's founder used to buy big lots of live frogs, turtles, fish and lobsters from Chinatown vendors and release them into the city's rivers and ponds. That is, until the New York Police Department threatened to ticket him.
Now, Ms. Sun said, they buy and free animals outside the country. "Everybody likes freedom," she said. "Nobody wants to be killed."