Dalai Lama Edifies Campus on Happiness
by Andrew Wickerham, The Colgate Maroon-News, April 24, 2008
His Holiness speaks to crowd of 5,000
Hamilton, New York (USA) -- The power of happiness was clear on the faces of 4,900 students, faculty, parents, and community members as they packed Sanford Field House on Tuesday for an address by His Holiness the 14th Dalai Lama as part of a two-day visit to the University.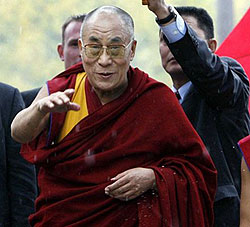 Audience members were treated to an hour-long lesson on achieving and maintaining happiness in everyday life from the leader of Tibetan Buddhism and 1989 Nobel Peace Prize winner as he concluded a series of lectures in the United States.
A series of introductions was offered by Colgate Parents' and Grandparents' Fund Co-Chair Maxine Kerschner, President of the University and Professor of Philosophy and Religion Rebecca Chopp and Trustee Emeritus Robert H. N. Ho '56. Ho and the Parents' and Grandparents' Fund sponsored the event, which was second installment of Colgate's Global Leaders Lecture Series and was simulcast on television and the Colgate website.
"Happiness is a topic simple in theory, but complex in practice," Chopp said in her introduction of Ho, who in turn turned the stage over to His Holiness.
In his address, His Holiness spoke to students directly.
"I am very, very happy to have this opportunity to share some of my own thoughts and experiences with students," he said, calling upon them to embrace the 21st century as a "century of dialogue" and strive for a peaceful world order.
His Holiness spoke of this hope as emerging from his observations over the course of his own life.
"The 20th century was a century of bloodshed, of war," he said. "Now in this century there is real hope for a century of peace, of non-violence … so therefore you have the responsibility to make this century the century of hope."
He built a picture of happiness as emerging through a combination of optimism, compassion, intelligence, and ethics.
"These positive emotions are the antidote to hate, fear, anger," His Holiness said.
He concluded that the path to happiness demands each individual maintains a sense of inner peace.
Following the lecture, Chopp led a question-and-answer session with prepared questions from Colgate students and faculty that touched on topics of religion, the afterlife and the future of the nation of Tibet. Chopp also presented His Holiness with a Colgate hat, to the delight of the audience members.
"Speaking from the Buddhist tradition, unless someone specifically asks you to teach them the Dharma, you should not teach them," His Holiness said to a round of applause when asked how religious university students might make spirituality more accessible to non-believers.
In closing, His Holiness offered an exhortation to audience to further their understanding of happiness.
"Those who were in the audience and who think I have said something worthwhile think more, investigate more," he said, adding humorously, "and those who think that my talk was just an empty talk, just forget it."
Security for His Holiness's visit was extremely tight as a result of the recent international uproar over the Chinese government's crackdown on public protests in Tibet in advance of the Beijing Olympic Games. Multiple local and state law enforcement organizations maintained a tight security cordon around the Field House and private security agents were present to provide crowd control. Some students felt that the intense security and requirement that audience members enter the venue half an hour before the lecture was excessive, but most were just pleased to be in His Holiness's presence.
"This is the event I've been most excited for since I've been at Colgate," sophomore Caitlin Baber said. "He's such a relevant figure today, it's great to have him."
Many who attended the lecture do not reside on campus, or even in Hamilton, but drove from surrounding areas to share in the experience of hearing His Holiness speak.
"I thought his very presence, his complete lack of ego was great," Dr. Shari Weldon, parent of sophomore Jordan Eipper, said. "And I particularly liked his comment about secularism meaning respect, respect for religion and non-believers alike." Weldon drove to Hamilton Tuesday morning from her home in Deerfield, MA to attend the event.
Likewise, members of local, national, and international news media organizations traveled to Hamilton to cover the event.
Still not everybody was pleased to hear the Dalai Lama's message. As His Holiness spoke, a crowd of protestors from the Western Shugden Society, a group of Buddhist separatists who do not recognize the Dalai Lama's legitimacy, chanted demands for "religious freedom" outside the event entrance on College Street. Members of the sect would not comment directly to the Maroon-News, but many in the audience reported that the protestors admitted to being paid by the Chinese government to attend and denounce the Dalai Lama's appearance.
On Wednesday, His Holiness continued his visit to Colgate with a series of panel discussions and a luncheon, also sponsored by the Parents' and Grandparents' Fund.
"My class attended a panel on science and religion in response to [Professor of Physics and Astronomy] Vic Mansfield's book relating quantum physics and Buddhism," sophomore Sam Levine said. His Holiness wrote the forward to Mansfield's book, Tibetan Buddhism and Modern Physics: Toward a Union of Love and Knowledge.
His Holiness's overall message was extremely well received by the Colgate community and there is much hope that his teachings will continue to resonate with students.