Inmate wins case vs. state over diet
By Jonathan Saltzman, Boston Globe, June 19, 2008
His civil rights were violated, judge says
Worcester, MA (USA) -- Fourteen years ago, Henry K. Boateng was sentenced to life in prison without parole after a Worcester jury convicted him of beating his 5-week-old son to death and viciously attacking the baby's mother.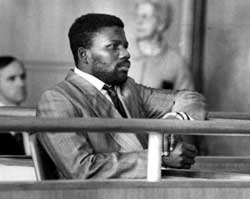 << Henry K. Boateng was convicted in the beating death of his infant son. Henry K. Boateng was convicted in the beating death of his infant son. (Worcester Telegram & Gazette/File 1994)
Now, Boateng, who has changed his name to Daniel Yeboah-Sefah and identifies himself as a Buddhist, has won a significant legal victory: A federal judge found that the state prison system violated his civil rights by denying him a vegan diet.
US Chief District Judge Mark L. Wolf concluded that the system violated a 2000 federal statute that protects religious freedom in prison. In a judgment entered Tuesday, Wolf ordered the head of the system, beginning Friday, to provide the inmate at the Old Colony Correctional Center at Bridgewater with a vegan diet that hews to his religious beliefs.
Although the prison system had offered Yeboah-Sefah a standard vegetarian diet, he has spent nearly a decade unsuccessfully seeking a vegan diet that excludes all animal products, including eggs and milk products.
Yeboah-Sefah's lawyer, Beverly B. Chorbajian, said her client was pleased by the decision, which Wolf reached following a nonjury trial.
"The statute is designed to protect these people who are stuck in institutionalized settings," said Chorbajian, a Worcester lawyer. "We're all free to change our behavior or do things to accommodate our own religious practices. They are not."
Steve Kenneway, president of the 4,500-member state correction officers' union, condemned the lawsuit as an example of when inmates "manipulate the system."
"How does a person's religious diet become a priority with what goes on in the prison system?" he said. "I'm shocked that it got to a federal court. Religious rights are very important, but this is an inmate who murdered his child."
Because Yeboah-Sefah could not be sure that standard vegetarian meals in the prison did not contain trace animal products, he has relied heavily on beans and rice that he bought at the prison canteen, his lawyer said.
Diane Wiffin, a spokeswoman for the Department of Correction, said the prison system will not appeal the ruling, although lawyers for the state asked Wolf yesterday to postpone the starting date until Aug. 1.
"We thought we had met his dietary needs," Wiffin said. "The chief judge disagreed. We will comply."
Chorbajian said the prison plans to serve her client prepackaged vegan meals, including soy milk, supplied by a vendor. Jewish inmates with kosher diets receive similar prepackaged meals, she said.
Wolf's ruling was not the first time a court in Massachusetts has sided with inmates on dietary issues stemming from religious concerns.
In 2006, the Supreme Judicial Court unanimously ruled that the prison system had failed to justify denying special meats to a Muslim inmate on Islamic feast days.
Two months ago, US District Judge Richard G. Stearns ruled that by not providing daily halal meals to two Muslim inmates, the prison system violated the 2000 federal statute.
In the case of Yeboah-Sefah, Wolf did side with the prison in another claim. The judge ruled that the prison had not violated the inmate's rights by denying him a meditation cushion and pillow, called a zabuton and a zafu, for use in his cell.
Yeboah-Sefah had contended that he needed the items to pray and meditate at least 2 1/2 hours a day. Prison officials, however, testified that the cushion and pillow could be used to hide contraband.
They also said that they give Buddhist inmates access to such items in group meditation sessions in a classroom once a week. If Yeboah-Sefah wants to meditate more often, they said, he can use his prison-issued pillow and mattress.
As Henry Boateng, Yeboah-Sefah was convicted in Worcester Superior Court in the Oct. 25, 1992, beating death of his son, Jameel Moore, and the beating of the baby's mother, Alecia Moore, in the couple's Worcester apartment.
In her trial testimony, Moore said Boateng attacked her after she asked him to move out. She said he kicked her, punched her in the face, and bit her nose.
Then, she said, he took the infant from the bedroom, threw him onto the hardwood floor, and repeatedly stomped and kicked him.
Boateng's lawyer, John H. LaChance, contended that his client was not guilty by reason of insanity.
A psychiatrist called by the defense testified that Boateng probably suffered from "schizoaffective disorder" or possibly a "major depressive disorder with psychotic features" at the time,
After spending several years in prison, Yeboah-Sefah became a practitioner of the Quan-Yin Pure Land Method of Buddhist religious beliefs, according to a federal complaint he filed in 2002.
During the federal civil trial, Chorbajian presented three specialists on Buddhism, who "explained why it was wrong to consume food derived from animals and explained the concept of karma and suffering," she said.